The Big Problem With Free Wifi Hotspots
| | |
| --- | --- |
| Coffee shops, restaurants, bookstores, airports, hotels, and other public places often provide free access to wireless Internet hotspots. But along with the freedom to move around while computing comes the danger of being digitally mugged. Here are some some simple tips you can use to make sure you're not broadcasting your business to snoops and hackers while using wifi hotspots... | |
Understanding Wifi Security Risks
While you're sipping that latte and working on a business plan, someone at the next table, or in a car outside, may be stealing sensitive data from your laptop through the same wireless hotspot you are using. As you browse your email or Facebook on your iPad, someone nearby may be reading along with you. As you walk down the street, your smartphone may automatically connect to a rogue hotspot run by identity thieves, allowing them an opportunity to steal passwords and other data. You may never know your pocket has been picked. This is why it's important to understand wireless hotspot security and use it wisely.
Unsecured wireless networks are convenient - you don't have to enter a password, just fire up your laptop, tablet, or smartphone and let it connect to the wide-open wireless network. But anyone within range of that network can do the same, and without an encrypted connection you may be vulnerable to data theft. Whenever possible, use wireless hotspots that at least require a password.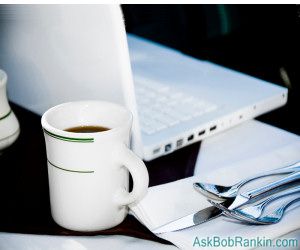 It's also a good idea to enable the firewall built into your laptop, even when using secured hotspots. A personal firewall can protect your data against other hotspot users. If you are connecting via wifi on a Windows computer, choose the "Public" option when asked what type of network you're on.

Disable file and printer sharing on your laptop before going out in public with it. Whatever data you allow to be shared on a network is available to other users of a wireless hotspot.
Extra Layers of Wifi Security
A few years ago, I met with a group of Internet professionals, all of us sporting laptops with wireless connections to the hotel's access point. On the second day of the conference, one of the attendees put up a slide showing logins and passwords from a dozen of the attendees. Needless to say, many jaws dropped open! He was running a "wifi sniffer" to spy on the internet traffic floating around in the air. Fortunately, he was a trusted colleague, and was nice enough to tell us that we were caught with our virtual pants down.
If you use webmail, or any other website that requires a login password, look for the "https" in the website address. As long as you're on a page with an address that begins with https, the data you send and receive is protected from sniffers and snoopers. That little "s" is your assurance that your connection is encrypted. If you use Outlook or another email client, adjust your account settings to require a secure connection when sending or receiving mail (if your email server supports secure connections, as it should).
Your connection is almost always encrypted when using online banking, or making a purchase on the web. But other venues, such as Facebook and your web-based email may NOT use an encrypted connection. Gmail is fully encrypted, so you're safe there. Yahoo Mail, Hotmail and Facebook all offer a secure login page, but after you're logged in, they revert to non-encrypted mode!
What does this mean? Anything you read or post on Facebook, as well as any email you send or receive while using a public wifi connection may be exposed. If you enter a username and password on a website that doesn't offer encryption, that account can be compromised. That may sound alarming, but it gets worse. Wifi sidejacking is a technique whereby someone can literally take over a web session from another user. You could be logged into Facebook and suddenly someone else is posting on your wall and impersonating you. Read more about Wifi Sidejacking.
If you dig through the settings in Yahoo, Hotmail and Facebook, they do offer a way to turn on secure browsing. I highly recommend that you do this.
Remote Access and Other Wifi Security Tips
Even better, if your company has a Virtual Private Network (VPN), use it for all business communications. A VPN encrypts all data passing through it so that even if data is intercepted it cannot be read. If you're not on company business, use one of the free remote access services to protect your data against thieves. You can use these tools to connect to your home computer, and do your surfing through your own secure internet connection. Learn about the options in my related article Free Alternatives to GotoMyPC.
Consider disabling your device's WiFi adapter when it's not in use. This prevents your device from automatically connecting to any wireless hotspot you may pass. On smartphones, this will be found in the Settings dialog. Most laptops have a button or switch that makes enabling and disabling a WiFi adapter quick and easy.
Oh, and there are the "shoulder surfers" to watch out for. Just like when you're entering your PIN code at an ATM, you need to keep an eye open for anyone who might be glancing over your shoulder while you hunt and peck. I always use two fingers when entering my pin or password... one presses the correct key and other is a decoy. So even if someone was watching from across the street with binoculars, it's almost impossible to steal a password.
Wireless hotspots are essential these days. But just as you wouldn't sit in a cafe with your wallet open on the table, you shouldn't leave your laptop or other mobile device wide open to thieves. If you must use public wifi in an airport, coffee shop, or hotel room, awareness and encryption are paramount. If the web address displayed by your browser starts with HTTPS, you're safe. If not, everything is potentially exposed to hackers or snoops in the vicinity.
Do you have something to say about wifi hotspot security? Post your comment or question below...
How Else Can I Help You?

(Enter your question in the box above.)




---

Check out other articles in this category:
Posted by Bob Rankin on 5 Feb 2013
---
---
Link to this article from your site or blog. Just copy and paste from this box:
---
Post your Comments, Questions or Suggestions
---
---
Article information: AskBobRankin -- The Big Problem With Free Wifi Hotspots (Posted: 5 Feb 2013)
Source: http://askbobrankin.com/the_big_problem_with_free_wifi_hotspots.html
Copyright © 2005 - Bob Rankin - All Rights Reserved