What is Hulu?
| | |
| --- | --- |
| I checked out Hulu and was impressed by the amount of popular TV shows available for free there. Almost seems too good to be true, so… is it? | |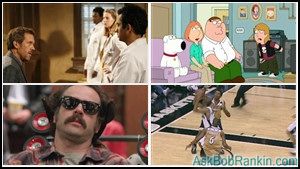 Hulu - TV Shows and Movies Online
With the rising demand for TV and movie content available online, many Internet companies have been working hard to give consumers what they want. With P2P services like Bittorrent and LimeWire, it's easy to download movies and TV shows, but doing so can get you in legal trouble. (See Sued For Downloading.) However, Hulu offers a solution to legal issues and copyright problems associated with downloading and watching TV shows and movies online.
Hulu enables you to watch popular TV shows and movies online. No downloads required. No cost. We're not talking small and unheard of shows and Youtube-quality home movies, either. Hulu is home to popular network TV shows and films you would find on TV. Hulu has thousands of videos and movies from Fox, E! Entertainment, MGM, Sony, NBC and many, many more. Popular shows like The Simpsons, The Office, House, Firefly and others are archived and made available for audiences. They are all archived and you can view the content by genre, or alphabetical order, or by doing a search.
The content is viewed online. No need to download the movie or even some sort of application to view. If you have Flash 9 or better, you should be able to view the programs you want. You can view the programs in your screen, in a pop up window, or view the show in a full screen setting. The content is pretty fast loading as well.
Hulu Subscriptions And How It Works
You don't need to subscribe to Hulu to try it out. A number of TV shows and movies can be viewed without signing up. Signing up for Hulu is completely free though, and worthwhile. Signing up for the site makes it possible for users to save their favorites and subscribe to shows.
There is a queue, which acts sort of like your own personal DVR. You can add your selections to a list to be played. You can also sign up and subscribe to your favorite shows. When another new episode is added, you are notified so you can watch it.
For now, only people in the United States are permitted to view the content of Hulu. There are plans to make it available worldwide when possible. It comes down to intellectual property rights and those contacts that Hulu must agree to. They hope to make Hulu available in more areas in the very near future, as the work out contracts with the entertainment companies.
Joost Versus Hulu
Joost is similar to Hulu. It offers a way to view programs for free when you like. You can sign up and view different movies and TV shows. Joost offers a different variety of content, so you're not just signing up for two different sites that have the same content. (See also What is Joost? for more info.)
A big difference between the two is that Joost requires you to download a specific player in order to view the content. Joost starts out as a 10 MB download and expands to about 50 MB, but then you have to download the films and store them in a cache, which can be as much as 1 Gig of space after just 10 hours of watching. Hulu requires no downloading. It only requires Flash 9 or better and a fast Internet connection.
While both sites allow you to share films with friends via sending them email or inviting them to sign up, Hulu also allows you to embed films into your website. You can embed the whole film, or just show your favorite clips. Joost offers a feature of watching at the same time as your friends, and chatting with them in the window while you are watching.
Hulu appears that it will give Joost a good amount of competition, especially when it comes down to ease of use. It probably comes down to your preferences of shows and which one happens to have that particular film or show at that time. One bonus for Joost is that some of the content is available at different geographical locations outside of the United States. The website will let you know which programs you are able to view.
In all, Hulu offers a nice alternative to having to watch your favorite TV shows when it is shown on actual television. It is nice to be able to view the shows when you want. If you missed an episode, you can go back and review it before catching up on next week's on TV. Hulu's version of video on demand is bound to become a very popular way of viewing films online.
Got comments or questions about Hulu? Post your thoughts below...
How Else Can I Help You?

(Enter your question in the box above.)




---

Check out other articles in this category:
Posted by Bob Rankin on 28 Apr 2008
---
---
Link to this article from your site or blog. Just copy and paste from this box:
---
Post your Comments, Questions or Suggestions
---
---
Article information: AskBobRankin -- What is Hulu? (Posted: 28 Apr 2008)
Source: http://askbobrankin.com/what_is_hulu.html
Copyright © 2005 - Bob Rankin - All Rights Reserved