Are You (and your password) on The Naughty List?
| | |
| --- | --- |
| It's for your own good, I promise... please see this list of the worst 200 passwords of 2021, and I hope none of yours is found there. If so, you and your password will be on every hacker's "naughty list" and you'll get digital coal in your stocking. Find out if your password is on the naughty list, and what you can do about it. Read on... | |
The Most Popular (and WORST) Passwords
NordPass's list of the 200 Worst Passwords of 2021 is an interesting read, which shows not only the most commonly used (and therefore insecure) passwords, but also how their rankings changed from year to year. The list also shows how much time it would take for a hacker with easily available tools to guess each of them. (The majority of them can be guessed in under a second.)
They also offer some tips on how to create stronger passwords. The list comes from NordPass, and was compiled with the assistance of cybersecurity researchers. NordPass specializes in analyzing data breaches, so they're not revealing anything the bad guys don't already know.
It's very likely that all 200 of the Worst Passwords are among the first ones tried in simple "password spraying" attacks, where a hacker throws common passwords at a target until one of them works. These are easy pickings; if you use any of these passwords, you are far more likely to get hacked. A quick glance at the list will show why some passwords are particularly fool-hardy. Topping the list is 123456. Also in the top ten are 12345, 123456789, 111111 and 123123.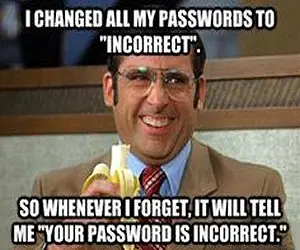 New this year is a breakdown of the naughty list passwords by country and gender. Unsurprisingly, it shows that "123456" tops the list regardless of gender or geography. But "liverpool" is in the top three for men in the UK, while "charlie" sits in that spot for women in the UK. French women prefer "doudou", "loulou" and "chouchou", while the men prefer "marseille" and "azerty". That last one results from the fact that "azerty" is the top row of the French keyboard, instead of "qwerty" for English speakers.
These and similar passwords epitomize the first two "don'ts" of password selection: don't use an obvious word, or a simple pattern of keystrokes. Popular examples include qwerty, iloveyou, and (drumroll, please…) "password".
Longer combinations of letters and symbols like "Password1" or "qwerty123" don't make strong passwords, although many sites will tell you they are strong. The pattern or root word is too obvious. It's also a bad idea to reuse passwords across multiple online accounts. If one is breached, all are exposed.
The "fun facts" section of the report includes such tidbits as "people love using their own name as a password," men use swear words as passwords more often than women, "iloveyou" is used more often by women, and in the battle of the bands, men chose Metallica (88,543) more often than Slipknot (75,204).
You might chuckle at some of these ill-considered passwords, and wonder why you should care if "stupid people" have easily hacked online accounts. Here's why:
The people who use these lame passwords are not just harmless idiots. They are serious threats to the security of the entire Internet. Any compromised, connected computer or online account can and will be used to spread spam, malware, and other mischief to thousands of others. It's tempting to think of the idiots' own suffering (ID theft, financial fraud, data loss, etc.) as karma. But instead, let's take pity and share some information about how to avoid those perils.
Use a Password Manager to Generate, Save and Recall Your Login Credentials
A commonly recommended best practice for password management is to use unique passwords for each account, at least 12 characters in length. Many websites impose a mix of upper and lower-case letters, numbers, and symbols to lower the risk of getting your passwords guessed or cracked. But unless you have perfect recall, following these guidelines is difficult.
However, there is absolutely no excuse for weak passwords anymore. Not surprisingly, Nordpass offers a free password manager called NordPass which will generate, store, and recall strong passwords for you. NordPass automatically enters your login details when signing into your favorite websites.
Other password manager software such as Roboform, Lastpass, KeePass, and Dashlane take the work out of creating and using long, strong passwords. Most of them provide a way to sync your passwords across multiple devices. Dashlane even has a feature that will change the passwords on multiple sites with just a few keystrokes; it's good practice to change passwords on a regular basis.
Google Chrome also has a built-in password manager. When registering at a new site, Chrome can suggest a long, strong password. One click, and it is applied to your new account. If the sync feature is turned on in Chrome, your passwords are saved to your Google Account. Otherwise, your passwords are only stored on Chrome on your computer. Chrome will alert you if you use a password and username combination known to be compromised in a data breach. You can learn more about Google password management here.
NordPass, Roboform, Dashlane, Lastpass and Chrome can all store your passwords in the cloud, with strong encryption, to enable access to your saved credentials from any computer or mobile device. If you recoil at the thought of storing all your passwords in cloud storage, consider KeePass. Unlike purely cloud-based password managers, KeePass will store your encrypted password vault where you tell it to. That could be on a local hard drive, a USB flash drive, or even in the cloud if you need to sync across desktop and mobile. Keepass is free, but not as user friendly and full-featured as the paid options I listed above.
Every now and then, you should review your saved passwords to see if there are any online accounts you no longer use. Go to the site(s) and delete or close such inactive accounts. The fewer opportunities to hack you, the better.
How do you handle passwords? Don't give away any family secrets, but I would like to know in general how you create and manage your passwords; feel free to share ideas in the comments below.
 

Ask Your Computer or Internet Question



  (Enter your question in the box above.)

---

---

| | |
| --- | --- |
| | Check out other articles in this category: |

| | |
| --- | --- |
| | Link to this article from your site or blog. Just copy and paste from this box: |
This article was posted by Bob Rankin on 29 Nov 2021
---
---
---
Post your Comments, Questions or Suggestions
---
Article information: AskBobRankin -- Are You (and your password) on The Naughty List? (Posted: 29 Nov 2021)
Source: https://askbobrankin.com/are_you_and_your_password_on_the_naughty_list.html
Copyright © 2005 - Bob Rankin - All Rights Reserved