Who is Bob Rankin?
| | |
| --- | --- |
| Every so often, people ask about my background, and how I got started with computers and the Internet. I've published bits and pieces of my bio before, but never a detailed account of my professional life. So here it is, with a few interesting personal asides... | |
About Bob Rankin
Hi, I'm Bob Rankin. I'm a geek, a computer programmer, a writer, a publisher, and an online entrepreneur who enjoys exploring the Internet and explaining technology in plain English. My degree in Computer Science (RPI 1984) got me a job at IBM, but after spending 15 years there, the Internet literally sucked me out. I've been called a "Translator for the Technology Impaired" and I think that fits pretty well.
Over the years, my work has appeared in Yahoo! Internet Life, Boardwatch Magazine, ComputerWorld, NetGuide, NY Newsday and other publications. In 1995, I began publishing The Internet TOURBUS, which was one of the first sponsored email newsletters. I have written several computer books, including "Doctor Bob's Painless Guide to the Internet", "JUNO: Free Email and More", and "The No B.S. Guide To Linux". I am also owner/operator of Flowers Fast, the popular online florist, and creator of the Lowfat Linux tutorial.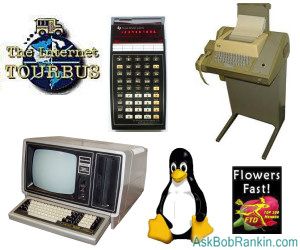 This website has a very diverse audience, with people from all over the world, and every level of computer knowledge. I try to present Internet tools and technology in a way that appeals to both gurus and grandmas. My goal is to help you solve your computer problems by yourself.
Everyone Has a "First Computer" Story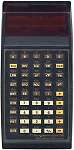 Ahh, my first computer... it was actually a TI-58 programmable calculator, which I taught to bark, sit, and play yahtzee, circa 1977. I also found that by making it flash "8888888888" near my old stereo console, it would interfere with the audio signal and generate a buzzing sound. So I programmed it to act as an alarm clock. My high school had a Model 33 Teletype, which was the first computer terminal I used. It was connected to a nearby university mainframe computer with a 110-baud modem (about 50,000 times slower than broadband today) and could save and load programs with paper punch tapes. There was an "OP" command to communicate with the system operator, but none of my messages ever got a reply. However, one day I logged in to find that my programs had been deleted. I sent a string of profanties to the operator, certain that nobody would ever read it. But the next morning, sitting in the assistant principal's office with my father, I learned that someone did. Oops.
Later, I had access to a Radio Shack TRS-80 with 16KB of RAM, a monochrome monitor, and a cassette deck for storage. More than 30 years later, I can still remember my teletype login (HEL-N703,MTH), coding the Fibonacci sequence generator in Fortran, and writing my own games in BASIC, or machine language on the TI-58. "Decrement and Skip on Zero..." that was hardcore!
So I guess it was only natural from that point that I would pursue computer programming as a career. I studied Computer Science at Rensselaer Polytechnic Institute (RPI) at the tail end of the punch card era, passed my Turing Test, and after two summer internships at IBM (Poughkeepsie NY) I was hired in May 1984. My group provided programming support for the engineers that designed mechanical, thermal and power components of the IBM mainframes. I wrote programs that interfaced with the the CADAM, GDP, and CATIA 2D/3D graphical design systems. I also wrote software for an expert system called CADAR that helped engineers design and route electrical cables through the 3080 and 3090 mainframes. Some of the languages I used include JCL, CLIST, CLIC, FORTRAN, PL/I, PLS, C++, EXEC2, REXX and Unix shell scripts.
At the end of my career at IBM, I was coding DB2/SQL database programs to enable the company to consolidate graphical design data from all IBM sites worldwide, in a single "mega-center" across the pond in Germany. The project, which was estimated to save the company over $20 million, hit a snag because the transfer of large files across the globe was not going fast enough. I spent an afternoon reworking the code, and as El Exigente used to say in the Folger's commercial, "The crop is saved!" But sadly, management did not seem to value my contributions, despite glowing peer reviews.
"Sucked Out By the Internet..."
An ever-growing sense that the Internet held the key to my future, coupled with an entrepreneurial streak, motivated me to walk away from my IBM career in February 1997. It also helped me understand that I was pretty good at explaining technology to non-technical people. For three years prior, I had been doing freelance writing for newspapers and computer magazines. I became more and more fascinated with the Internet, both as an information resource and as a means of conducting business.
In 1994 I wrote the "Accessing The Internet By E-Mail" guide which explained how to access almost anything on the Net using simple e-mail commands, and gave it away for free. I took a little heat for having Delrina as a commercial sponsor in my FAQ, but it was hugely popular, eventually being translated into 30 languages. I then sold $5 guides explaining Internet tools for personal and business users. In 1995, I began publishing the Internet Tourbus newsletter, and got my first book published in 1996. I was confident that things would work, so I made the leap to being "gainfully unemployed" and have never regretted it.
Flowers Fast began in 1998 as an adjunct to a retail flower shop that I owned with my ex-wife. I schooled myself in e-commerce, learning about website design, search engine optimization, merchant accounts, fraud prevention, online advertising, email marketing, and other needed skills. Flowers Fast is still going strong, just in case you need to send flowers to someone special.
Lowfat Linux started as "The No B.S. Guide to Linux," a book that was published in 1997. After the rights reverted to me from the publisher, I put the entire contents online as a free Linux tutorial. I'm a big fan of Linux and open source software, so if you're looking for help understanding Linux, especially the command-line interface, check it out.
In July 2005, I began publishing Ask Bob Rankin, a free tech support blog where I answer your burning questions about computers, the Internet, gadgets and technology in general. I operate on the premise that in order to succeed online, you need to offer a high-quality resource for free, build a reputation as a contributor to the Internet community, and be committed to a long-term view.
That's my story, and I'm sticking to it! Feel free to post your comment or question below...
 

Ask Your Computer or Internet Question



  (Enter your question in the box above.)

---

---

| | |
| --- | --- |
| | Check out other articles in this category: |

| | |
| --- | --- |
| | Link to this article from your site or blog. Just copy and paste from this box: |
This article was posted by Bob Rankin on 10 Aug 2011
---
---
---
There's more reader feedback... See all 51 comments for this article.
Post your Comments, Questions or Suggestions
---
Article information: AskBobRankin -- Who is Bob Rankin? (Posted: 10 Aug 2011)
Source: https://askbobrankin.com/who_is_bob_rankin.html
Copyright © 2005 - Bob Rankin - All Rights Reserved