Do I Really Need a Firewall?
| | |
| --- | --- |
| I've heard conflicting reports on whether or not I should be using a firewall. Some people say they are only needed for dialup users. Others say you MUST have a firewall if you have a high-speed DSL or cable connection. Can you give me some advice on this? | |
What Happens When You Yell "MOVIE!" in a Crowded Firehouse?
Well all the firemen go running out into the streets, of course. Okay, it's a bad joke. But it illustrates the point that even people who are supposed to be experts in computer safety are often confused about firewalls. Here's the scoop on WHO needs a firewall, WHAT they do, and WHY you might be wasting your money on firewall software.
First, let's look at what a firewall is supposed to do. A firewall is hardware or software that limits access to a computer from an outside source. If your computer will ever be connected to the Internet, a firewall is an essential tool needed to prevent malware and hackers from accessing or damaging your computer.
So YES... you do need a firewall. Without a firewall, your computer can be compromised within SECONDS after connecting to the Internet. If you're a dialup user, it might take a little longer, but it will happen. The reason for this is the automated hacking drones that are constantly scanning Internet-connected computers, looking for any vulnerability.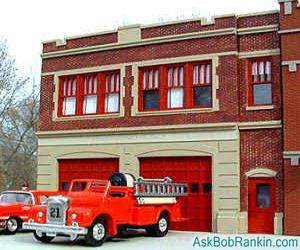 What Kind of Firewall Do I Need?
The real question is "Do I need a software-based firewall or a hardware-based firewall?" If you have a high-speed Internet connection such as DSL, cable or fiber optic, then you should have a little black box inside your home, that was installed by the phone/cable company. This is sometimes called a modem, but in most cases it's actually a network router, or a combination modem/router. If you have a router with the NAT feature (Network Address Translation), you already have a hardware firewall which effectively makes your PC invisible to the attacking hordes. However, there are some cable internet providers that still install cable modems WITHOUT routers.
If you're not sure that you have a NAT router with built-in firewall, ask your internet service provider. You can also do a web search for your modem or router to find the manufacturer's specs or a review that answers the question. Most routers allow you to login and customize the firewall settings, and also offer content filtering and parental controls. See my related article Securing Your Router for details on how to login, as well as other router security tips.
If you have a dialup connection, where the telephone line connects directly from the wall socket to your computer, you definitely don't have a hardware firewall. So in the absence of a hardware firewall, you absolutely need a software-based firewall.
What About the Built-In Windows Firewall?
If you have Windows XP with the latest service pack, Windows Vista or Windows 7, then you already have a software firewall. Windows Firewall has been part of the operating system since 2004, and the default setting is ON. To check or change the firewall setting, click on Start / Control Panel / Security, then click on the Firewall link.
My position is this: If you have a hardware firewall, there is no need to run a software firewall in addition. It doesn't matter if you have a wired or wireless connection to your router.
If you do turn off the Windows firewall, you should tell Windows that you have your own firewall solution, or it will nag you about the firewall every time you start up your computer. For XP, click Start / Control Panel / Security Center. Then under Firewall, click the Recommendations box. On the next screen, check the box labeled "I have a firewall solution that I'll monitor myself." Follow these instructions for Vista or Windows 7 systems.
Other Software Firewalls
I know there is heated debated on this topic. Some people claim that you MUST have a software firewall to protect you from malware that might be trying to make an OUTBOUND connection for nefarious purposes. My position is that anti-virus and anti-spyware programs should be installed to remove and prevent the malware in the first place. Sure, you can use the Windows Firewall, or install ZoneAlarm, Black Ice, etc., but my experience shows that many users are confused and unnecessarily alarmed by the constant stream of "warnings" that these programs present.
Lots of good programs DO need to make outbound connections to the Internet. Your browser, email program, FTP client, media player, and any software that checks for available security updates will need access. So if you're not very careful you'll end up blocking them, and then they don't work correctly. I've also seen cases where software firewalls malfunction and either interfere with certain programs or end up blocking ALL connections. And don't get me going about all the times when a software firewall prevented access to a shared folder or a networked printer... arrgh!
But I will grant you this. Installing a software-based firewall as an extra layer of protection is not a bad thing. If you have kids in the house that are likely to click on or download almost anything, it could be helpful. See my related article on Free Firewall Protection for some excellent free software.
A Word About Laptops
If you have a laptop that's connected to the Internet through your home network, thre's no difference in terms of the firewall setup. But if you take that laptop on the road and make a wired connection (as in a hotel room with a network cable) or go wireless (in the airport or a coffee shop), you are no longer protected, so it's a very good idea to turn ON your software firewall. See the instructions above for details on how to do this with the Windows Firewall.
To summarize, YES you need a firewall. My personal opinion is that if you have a hardware firewall, don't bother with a software firewall. Can you run both? Yes, but the "benefits" may be outweighed by the problems.
Do you have something to say about firewalls? Post your comment or question below...
 

Ask Your Computer or Internet Question



  (Enter your question in the box above.)

---

---

| | |
| --- | --- |
| | Check out other articles in this category: |

| | |
| --- | --- |
| | Link to this article from your site or blog. Just copy and paste from this box: |
This article was posted by Bob Rankin on 16 Aug 2011
---
---
---
Post your Comments, Questions or Suggestions
---
Article information: AskBobRankin -- Do I Really Need a Firewall? (Posted: 16 Aug 2011)
Source: https://askbobrankin.com/do_i_really_need_a_firewall.html
Copyright © 2005 - Bob Rankin - All Rights Reserved