Don't Fall Victim to Scareware
| | |
| --- | --- |
| A reader asks: 'I have heard of software, shareware, freeware, trialware and malware. And I think I know what all those things are. But what exactly is scareware?' Here's the scoop on these rogues that prey on misinformation and fear... | |
What is Scareware?
You're surfing the Net and a popup warns you there is a problem on your computer. You're not sure if it's real or not, so what do you do? Here's another example. Windows displays a cryptic error code, and you Google it to find a solution. A free download promises to diagnose the problem, but after running the program, it demands money to apply the fix. Be careful, it could be scareware. I define scareware like this:
SCAREWARE: Software that is created for the purpose of tricking people into downloading or purchasing it, when in reality it's either unnecessary, marginally useful, or outright dangerous. Scareware programs often run a fake or cursory scan, then present the user with a list of hazards that must be corrected. Fixing these "problems" then requires the user to pay a fee for a "full" or "registered" version of the software.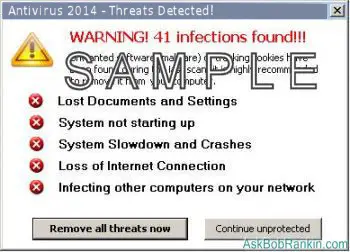 If you see a popup like the ones on this page, or messages like "CRITICAL ERROR! - REGISTRY CORRUPTED" or "WARNING - PRIVACY VIOLATIONS FOUND" ...then your scareware spider-sense should be kicking in. Scareware popups often warn about problems with the Windows registry, tracking cookies, spyware or viruses. The names sound innocent enough... AntiVirus Plus, WinDefender, or ErrorEND.
Some people are tricked into downloading free diagnostic tools that run a scan (or pretend to) and then present you with warnings about spyware or evil cookies that were detected. Typically, you must "register" the software to activate or download the code that will fix your problems. You may be charged you $29, $49, or another amount, but you may also be giving your credit card and/or bank information to identity thieves.
For years, scareware scammers have used popups appearing on web pages to lure people into their lairs. Flashing text and urgent warnings are common elements used. But a friend recently alerted me to a new technique, which appears more legitimate, but is equally insidious.
While setting up an email account, he got this message: "Error code 0x800CCCDD IMAP server closed the connection." He Googled "Error code 0x800CCCDD" and the first result that popped up was this:
How to Fix "0x800CCCDD" - Takes only 2 minutes<
0x800cccdd.wiki-errors.com/
(Recommended)

Not realizing at first that it was an ad, he clicked on the link, trusting that his antivirus would warn him if anything was amiss. The domain name wiki-errors.com and the style of the pages there are designed to imitate a widely trusted source: Wikipedia. It looks familiar, and familiarity breeds complacency. People tend to believe what they read on a "wiki" of any sort.
The article on the page looks legit. It explains that there could be many configuration and system errors on a PC, and that they can cause actual damage to your system. Then it offers two methods of curing the errors: one apparently difficult and the other blissfully easy. The easy solution is to download and run a program called ErrorEND. It will discover all the configuration errors in your system and fix them while you watch, the article promises. ErrorEND's technology is even touted as "patent-pending" to add to the air of legitimacy.
My friend was tech savvy, so he sensed trouble, but decided to proceed, just to see what he could learn. He downloaded the file, ran a virus scan on it: "no problems found," Avast reported. (That doesn't mean there won't be problems. Any executable program with access to the Internet can download and install something else without you even realizing it.) After starting the program, up popped a screen that showed ErrorEND very busy for several minutes. The result is in this screen capture image: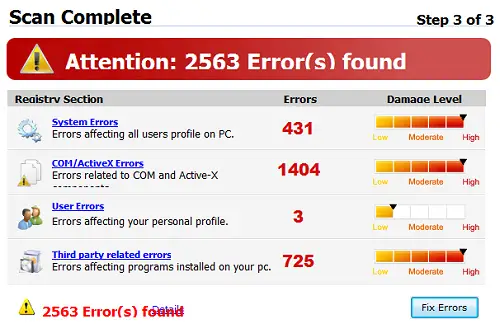 Over 2500 errors, and his computer was in the red zone, indicating a "High Damage Level!" In addition, a warm contralto female voice warned that he had better run the "fix" and urged him to "register" ErrorEND for a limited-time discount off the regular $79.95 price. His computer could be saved from imminent meltdown for only $29.95! Of course, he backed away slowly at that point. Subsequent scans by Avast, Advanced System Care Pro and Privazer revealed no problems at all. I think it's pretty obvious that ErrorEND's "scan" doesn't really scan anything; it just presents nearly the same alarming results every time it's run. I wonder how many people have paid $29.95 for no good reason. I also wonder what else was downloaded when they bought and downloaded the "fixer" part of ErrorEND.
Some scareware programs are marginally useful, and will actually diagnose certain problems. But there are plenty of free and reliable tools to do these things for free. See my articles Five Free PC Maintenance Tools and Clean and Sanitize Your PC With PrivaZer for some examples that are trustworthy.
BOTTOM LINE: Do not click, do not pass go, do not fall for the scam. If you have ANY doubts about a popup or error message, ask a computer savvy friend or your tech support person at work. If you have no friends and no job, try Googling the message on your screen.
What About the REAL Error Messages?
Of course you may occasionally see a warning or error message appear on your screen that's legitimate. Windows may ask for permission to install some new software, warn you that some other program is trying to modify your system settings. If you are in fact installing new software, you can be pretty sure that it's safe to proceed.
Your anti-virus program may find something, and ask you if it should be deleted or quarantined. If you recognize the warning as definitely coming from a security tool you have installed, then it should be safe to heed to warning.
And of course take pro-active measures to protect yourself. Use a firewall to lock out intruders. See my article Do I Need a Firewall? for more info on firewalls. Install high-quality anti-virus and anti-spyware protection. My article Free Anti-Virus Software will point you to some excellent FREE tool to protect against viruses, spyware and other cybernasties.
Have you been affected by scareware? Do you have any tips, words of warning, or questions? Post a comment below...
 

Ask Your Computer or Internet Question



  (Enter your question in the box above.)

---

---

| | |
| --- | --- |
| | Check out other articles in this category: |

| | |
| --- | --- |
| | Link to this article from your site or blog. Just copy and paste from this box: |
This article was posted by Bob Rankin on 4 Nov 2013
---
---
---
Post your Comments, Questions or Suggestions
---
Article information: AskBobRankin -- Don't Fall Victim to Scareware (Posted: 4 Nov 2013)
Source: https://askbobrankin.com/dont_fall_victim_to_scareware.html
Copyright © 2005 - Bob Rankin - All Rights Reserved