[HOWTO] Change Your Email Address (or not)
| | |
| --- | --- |
| A reader asks: "I have had the same email address for years, and now I'm thinking about changing Internet providers. But I'm afraid that changing my email address might cause some unintended problems. What do you recommend?" | |
Changing Your Email Address
The Bible says "When I was a child, I spoke and thought and reasoned as a child. But when I grew up, I put away childish things." (1 Corinthians 13:11) Is it time to put away your first email address… the "clever" one that's just a wee bit embarrassing now?
Or maybe you've gotten married and changed your surname everywhere except on your email account. Perhaps you want to ditch your ties to an Internet service provider, or move away from a desktop email program, to a more flexibile web-based email service like Gmail or Yahoo.
The good news is you can do that, but it takes a bit of planning and effort. Changing your email address is a hassle equivalent to changing your legal name at the county courthouse. Like Social Security Numbers, email addresses have become de facto unique identifiers for many personal, business, and government purposes.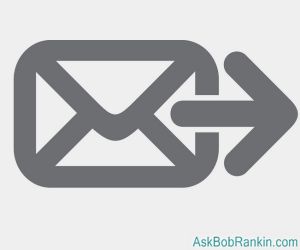 Notifying human correspondents of your address change is fairly easy. Just compose an announcement and address it to all of your human contacts. You may have to remind a few people to update their address books with your new address. Some people put a reminder of their email address change in the signature block at the bottom of their outgoing emails.
Be sure to use the BCC (blind carbon copy) line when sending your change-of-address emails to avoid the security/privacy issues of broadcasting the contents of your address book to all recipients. Include both your old and new addresses in your message, to help recipients find your entry in their address books to make the change. It's also a good idea to send your change-of-address message from both your old account and your new account. The reason for this is some recipients may have spam filters that will trash any email coming from someone not in their contact list.
Many websites require a verifiable email address as a username, even though that's very poor security practice; a lot of people know your email address, and with half the key it's easier to crack the lock. It's possible that, once your address/username is verified, you can change your email address and keep using the old one as a username; but that may vary from site to site. You may need to login and update your profile at every site that requires a username.
But if you subscribe to email newsletters, "daily special" offers, paperless utility billing or bank statements, the address in the "From" field is probably of the "do not reply" variety, sent by a computer that can't read any announcement you may send. You will have to follow every publisher's process for changing your address. Hint: "update email address" links are often found at the bottom of such messages.
Forwarding and Transferring Emails
If your old address supports forwarding of mail to other addresses, enable that option for a few weeks or months after you start using your new address. That way, mail from people that are slow to get your change of address will still reach your new one. And any website profiles you might have forgotten to update will be covered this way, too. Contact your Internet service provider for instructions on how to set up a forwarding address.
Most email programs have an "export" feature that allows you to create a CSV file containing all of your contact information. You can then use the "import" feature of your new email provider to transfer your address book.
But what about all those email messages that have accumulated over the years at your old address? Archived mail may contain messages and contacts you don't want to leave behind when you move. Fortunately, you can move those too, if your new address is with Google Gmail. If you don't already have a Gmail account, you can sign up here.
Google's Gmail has a procedure for importing contacts from Yahoo, Outlook/Hotmail, AOL, Apple, and other email providers that's dead simple. Microsoft used to provide a third-party mail migration service, but that option is now gone. Yahoo never has gotten this function right. (That might be reason enough to switch to Gmail.)
That takes care of your contacts, but if you want to move your saved messages as well, here's how. Click the gear icon in the upper-right corner of the Gmail inbox page, then click Settings. Next, click Accounts and Import, then click Import Mail and Contacts. Enter your old email address, press Continue, then click Agree to give the app permission to access your old account.
Next, select the import options you want: import contacts, and/or import existing mail. Finally, click Start Import. It may take a couple of days for Google to import all of your old emails. Keep in mind that Google only imports the messages in your old inbox, not drafts, sent email, or email saved in other folders. To import such items, you will need to manually move them to your inbox, then let Google import them. In my article Moving Yahoo Mail to Gmail, I describe a method to do this, while preserving your existing email folders.
UPDATE: How About NOT Changing Your Email Address?
After publishing this article, I got an email with some good advice from a guy named Charley Kline. At the end of the message, he said "I think you know who I am. If not, Google me." But I knew already. Charley was the guy who sent the first message over a computer network. He was part of the team at UCLA in October 1969 that connected the first two computers on ARPANET, the forerunner of the Internet. So it stands to reason that he knows a thing or two about email. Here's what Charley wrote:
Hi Bob. Having had email for 45 years (in various forms – it was single time sharing system email prior to 1971), I hated having to change it. So I stopped changing it! My first email user names (from the late 1960s) were just my initials, csk. That was common then. In fact, many time sharing systems only allowed user name of 3 or 4 characters.
So ever since then, I have tried to keep my email address as "csk" at some domain or another. But I hated changing my email address. I didn't have to change it very often since I kept my affiliation with UCLA and also had my own software company. But by the mid 1990s I needed a new one. About 1995, iname.com registered a bunch of domains and offered a free forwarding service. I signed up as csk at mail.com (mail.com was one of their domains then) and have had that ever since. My real email addresses were csk at netcom, earthlink, interramp, etc., wherever I could get a decent ISP. But my public email address always remained as csk at mail.com.
So my recommendation is to find a good provider that will be around (google, aol, hotmail/outlook, etc.) and get one permanent one. Keep your password good and hope that your account doesn't get hacked so you need to change it.
I should have mentioned that I use a similar strategy to avoid having to change my email address. The rankin.org domain in my email address is a forwarding service that sends incoming emails to my preferred inbox. That final destination has changed several times over the years, but I've never had to change the email address by which the world knows me. Using this idea, and changing the "From" address in your email client is one way to make sure you never have to change your email address when you change jobs, move to a new ISP, etc.
Have you ever changed your email address? If you have any additional tips to share, post a comment or question below.
 

Ask Your Computer or Internet Question



  (Enter your question in the box above.)

---

---

| | |
| --- | --- |
| | Check out other articles in this category: |

| | |
| --- | --- |
| | Link to this article from your site or blog. Just copy and paste from this box: |
This article was posted by Bob Rankin on 15 Jan 2018
---
---
---
There's more reader feedback... See all 26 comments for this article.
Post your Comments, Questions or Suggestions
---
Article information: AskBobRankin -- [HOWTO] Change Your Email Address (or not) (Posted: 15 Jan 2018)
Source: https://askbobrankin.com/howto_change_your_email_address_or_not.html
Copyright © 2005 - Bob Rankin - All Rights Reserved