Prepaid Wireless Phones: A Good Deal?
| | |
| --- | --- |
| Verizon, AT&T and other mobile phone providers are offering pre-paid cell phone service with pay-as-you-go billing. If you like the idea of NOT having a long-term contract, and you don't use a cell phone all that much, a pre-paid mobile phone plan could be a good option. But first you'll have to sort through all the confusing plans and offers... | |
Prepaid Wireless: Confusing on Purpose?
Prepaid wireless is a way to keep things relatively simple. It works just like rent: you pay for a month's worth of use in advance, and if you don't pay you get kicked out almost immediately. There are no heart-stopping surprises at the end of the month, when you learn that you (or someone else) ran up a four-figure tab. With a prepaid wireless plan, you pay for a certain number of minutes, texts, or data in advance, at a certain rate. When you run out, you have to buy more. That's simple, honest, and true. But of course, phone companies make less money when things are simple. Here's how your seemingly simple prepaid mobile phone bill can get complicated.
First, there's the "use it or lose it" aspect of the bundle of minutes and/or data you buy at the start of each month. Again, this works just like rent; you pay $X for the ability to use an apartment for a month, but it's up to you how much time you actually spend in the apartment. That sounds reasonable, but it isn't with phone service. With rent, the landlord gets the same profit no matter how much or little you use the apartment. But phone companies make more profit when you don't use all your prepaid minutes. That 7 cents a minute bargain becomes 14 cents if you use only half of your prepaid minutes.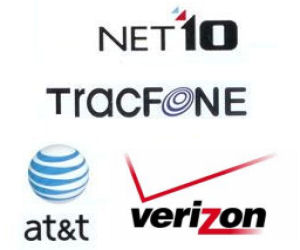 Phone companies want you to buy more minutes and data than you will actually use, and so they make their pricing plans complex. Here are some examples, from several companies offering prepaid cell phone services.
Comparing Prepaid Wireless Plans
AT&T's prepaid wireless, formerly known as GoPhone, is now branded AT&T PREPAID. It might have been better named GoAway because the pricing plans are so complex they actually discourage people from buying. In fact, AT&T deliberately makes it difficult to find out what it costs. For some reason, they force you to compare the specs of various phones, then they ask you to "enter your ZIP Code so we can show you the best offers available in your area." It doesn't get any less simple than that.
I'll save you the trouble of drilling down into the geo-spatial specifics. AT&T offers a $65/month "unlimited" talk/text/data plan, which actually has quite a few limits. For starters, your data speed is limited to maximum of 3Mbps (and a maximum of 1.5Mbps for video content). After 22GB of data usage, AT&T will slow your data speeds to the point where you'd enjoy watching paint dry. There's a $45 for 6GB plan, but if you exceed that cap, you're throttled to 128Kbps (dialup speed) for the rest of the month. The cheapest $30/month plan gives you unlimited talk and text. But if you have a smartphone, you'll have to buy a monthly data plan ($5 per 250MB) to use web, email and apps.
---
Verizon prepaid wireless has four pricing tiers. For $40/month, you get unlimited talk/text, the ability to make a mobile hotspot, and your first 3GB of data at high speed. Thereafter, you're limited to 128Kbps. You won't be watching any cat videos at that glacial download speed. Verizon may also "prioritize your data behind other customers during times/places of network congestion." Which other customers? They don't say, but one can assume it's those customers who pay the most. There's a $50 for 7GB plan, and a $60 for 10GB plan, both with the same throttling and prioritizing caveats as the 3GB plan. If you want an unlimited plan, that costs $80/month, but with no mobile hotspot option. (Isn't that a limit?) There is a "Basic Phone Plan" which gives you unlimited talk and text (but no data) for $30/month. If you have a good old-fashioned "dumb phone" this would be the best choice.
---
Net10 is a bit simpler, but not by much. If all you need is talk time, you can prepay $20 for 200 minutes, $30 for 300 minutes, $60 for 900 minutes or $100 for 1500 minutes per month. If you buy larger chunks, the minutes are cheaper and won't expire as soon. For example, if you buy 200 minutes for $20, they expire in 30 days. 600 minutes will cost $45, and they expire in 60 days. A block of 1500 minutes for $100 is the best deal (6.7 cents/minute), and gives you 180 days to use them. But none of these plans lets you simply buy a chunk of minutes and use them whenever you like, without worrying about them expiring.
If you want data for your smartphone, Net10 has you covered. You can purchase 2GB for $35, 4GB for $40, or 8GB for $50. Net10 calls them all "unlimited" plans, but if you exceed those caps, you are limited to "2G" download speeds. Good for checking email, but not much else.
---
You may not have heard of Net10, but Tracfone is one of the best known names in prepaid wireless. The companies are owned by the same corporation, but they offer completely different sets of prepaid calling plans. At the entry level is the 90 minutes Pay As You Go Plan for $9.99/month, which gives you 30 service days to use those minutes. There's a bewildering array of Pay As You Go options, with 90-day plans that offer discounts for auto-refills, all the way up to $200/year for 4500 minutes and 365 service days.
Smartphone plans start at just $15/month, for 200 minutes, 500 texts, and 500MB of data with 30 service days. For $35/month, you get 750 minutes, 1000 texts, and 1GB of data with 60 service days. There are 90-day plans with more data, 365-day plans, some with auto-refill, and some without. Figuring out how many minutes, texts, service days, and data you'll need requires a bit of math, some hair pulling and a little fortune telling.
---
You can also shop around for prepaid wireless service from other providers. Over the years, lots of readers here have mentioned Consumer Cellular for their low-cost, no-contract plans. If your usage is minimal or for emergencies only, the Billed Per Use plan is the cheapest. You pay $10/month plus 25 cents per minute used. Beyond that, there is the 250 minutes/month plan for $15, 1500 minutes for $20/month, and unlimited minutes for $30/month. These are talk-only plans, with no texting or web data.
A Consumer Cellular "Connect Plan" gives you 300 texts and 30MB of web data for $2.50/month. You could use 30MB of data in 30 seconds online, so that seems like a strange offering. More reasonable data plans include the 500MB for $10/month (still barely useful), the 1.5GB for $20/month, 3GB for $30/month, and 5GB for $40/month. All but the first plan come with unlimited texting.
Some Tips to Help You Decide
Prepaid cell phones are great if you don't use your mobile phone that much. They simplify the process of owning and using a cell phone by allowing you to buy the phone that you want and prepay for minutes and/or data that you will be using during the upcoming weeks. You don't need to have a credit card, you don't have to sign a contract and you can cancel your relationship with the company at any time. It can be a good deal if you want to give a cell phone to a child or senior who will only need it on an occasional basis. However, if you use your prepaid cell phone a lot during a month you will have to frequently load your phone with more minutes.
Keep in mind -- since prepaid minutes are generally more expensive than contract cell phone minutes, you may rack up a larger monthly bill using your prepaid cell phone than if you had a contract cell phone plan that offers you unlimited minutes.
When shopping for a cell phone service package you need to determine what is going to be better for the amount of time you spend on your cell phone. People who use their cell phones infrequently, or who just want a cell phone in case of an emergency, are generally better off using a prepaid cell phone, while people who spend a lot of time on their cell phones are better off signing up for a regular cell phone contract.
Here's my advice... talk to friends or neighbors in your area who have cell phones, and find out which carrier has the best signal and coverage in the locations where you plan to use the cell phone. It's not uncommon for phones from one carrier to work great in a certain location, while another carrier has a weak signal or none at all. Then use the information above to compare the pre-paid plans offered by the cellular companies that have good service in your area. Try a pre-paid cell phone for a month or two, and if you find you're using it more than you anticipated, upgrading to a service contract with a set monthly fee may make sense for you.
Do you have something to say about prepaid wireless phone service? Post your comment or question below...
 

Ask Your Computer or Internet Question



  (Enter your question in the box above.)

---

---

| | |
| --- | --- |
| | Check out other articles in this category: |

| | |
| --- | --- |
| | Link to this article from your site or blog. Just copy and paste from this box: |
This article was posted by Bob Rankin on 15 Aug 2017
---
---
---
There's more reader feedback... See all 43 comments for this article.
Post your Comments, Questions or Suggestions
---
Article information: AskBobRankin -- Prepaid Wireless Phones: A Good Deal? (Posted: 15 Aug 2017)
Source: https://askbobrankin.com/prepaid_wireless_phones_a_good_deal.html
Copyright © 2005 - Bob Rankin - All Rights Reserved