Spyware or Virus?
| | |
| --- | --- |
| I had an anti virus program by McAfee but uninstalled because it was bogging my computer down. I now have anti spyware software, so do I still need to get an anti virus program? What is the difference between viruses and spyware? To me they seem very similar... | |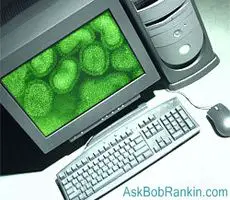 Viruses and Spyware - Are They Different?
A computer virus is a malicious self-replicating computer program that spreads by inserting copies of itself into other programs or documents, similar to the way a real virus operates. When the infected program or document is opened, the destructive action (payload) is repeated, resulting in the infection, destruction or deletion of other files. Sometimes the infected programs continue to function normally, albeit with the side effects of the virus; in other cases the original program is crippled or destroyed.
Technically, viruses are just one of several types of malicious software (malware), which differ mainly in the way they are transmitted. In common usage, the term virus is often used to refer to other sorts of malware such as worms, trojan horses and spyware. Following are definitions of each of those terms.
What is a Computer Worm?
A worm is a malicious computer program that is self-contained and does not need help from another program to propagate itself. Typically, they exploit the host computer's email transmission capabilities to send copies of themselves to everyone found in the email address book. Some even look in the cache of recently visited web pages and extract other email addresses to target.
The main difference between a computer virus and a worm is that a virus requires some action from a user to propagate, while worms replicate without any intervention. Another difference between the two is that worms generally do not harm the target computer, but can harm the surrounding network by clogging it with copies of itself. In some cases, a worm can spread so quickly within a large organization that the network either slows to a crawl or collapses under the strain.
What is a Trojan Horse?
A Trojan horse is a malicious program that is disguised as or embedded within legitimate software. The term is derived from the classical myth of the Trojan Horse. Such a program may look useful or interesting, but is actually harmful when executed. Examples may include web browser toolbars, games and file sharing programs. A Trojan horse cannot operate or spread on it's own, so it replies on a social engineering approach (tricking the user into taking some action) rather than flaws in a computer's security.
What is Spyware?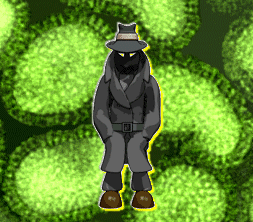 Spyware is a type of malicious software designed to intercept or take partial control of a computer's operation without the informed consent of the user. While the term taken literally suggests software that surreptitiously monitors the user, it has come to refer more broadly to software that subverts the computer's operation for the benefit of a third party. In simpler terms, spyware is a type of program that watches what users do with their computer and then sends that information over the internet. Some spyware tracks what types of websites a user visits and send this information to an advertisement agency. More malicious versions try to intercept passwords or credit card numbers. Others may launch annoying popup advertisements.
Who Writes Viruses?
Remember that kid in high school, the one with the uncool sneakers, the no-name jeans, or the tape on his glasses? You should have been nicer, because now he's in charge of the computer system where you work. He can see all your files, your emails, and he knows what websites you visit. The creator of a computer virus may have revenge, corporate sabotage, or political upheaval in mind; he or she may be naively experimenting with software techniques; or the writer may be looking for notoriety. But the typical virus writer may not be the malcontented miscreant in our stereotypes. Some research shows that most live apparently normal lives, but share an undeveloped sense of ethics. Hmmm, sorta like serial killers...
In March of 1999, the Melissa virus began spreading through the Internet via a Word document with an infected macro. The virus exploited Outlook Express to email itself as an attachment to the first 50 people in the user's email address book. The virus-laden emails were sent with a subject line of "Important message from [name]" and text reading "Here is that document you asked for" in the message body, which caused it to spread very quickly. Over a million computers were infected, causing an estimated $80 million in damage. David Smith, the author of Melissa, first posted the infected Word document to the alt.sex newsgroup on Usenet, claiming that it contained passwords allowing free access to adult websites. Smith was caught within a few days, and plead guilty to a federal charge of spreading a computer virus. He paid a $5000 fine and served 20 months in prison.
What's In A Name?
But was Melissa really a virus? It did infect other files, but it also propagated on it's own. And it used social engineering tactics to appear as if it was a useful document from a known person. Some might call Melissa a hybrid virus/worm/trojan. And that might underscore the point that it really doesn't matter what you call a malicious software program. I tend to support the populist trend of calling them all viruses, even though I am trained as a computer scientist.
What does matter is that your computer has the proper protection. You do need both anti-virus and anti-spyware protection on your computer. Some security software suites roll it all into one program, but for now the best protection I've found is a combination of several programs. Read the article Should I Buy Anti-Spyware or Anti-Virus Software? to learn how I protect my own computers.
Got comments on this article? Post your thoughts below...
 

Ask Your Computer or Internet Question



  (Enter your question in the box above.)

---

---

| | |
| --- | --- |
| | Check out other articles in this category: |

| | |
| --- | --- |
| | Link to this article from your site or blog. Just copy and paste from this box: |
This article was posted by Bob Rankin on 11 Sep 2006
---
---
---
Post your Comments, Questions or Suggestions
---
Article information: AskBobRankin -- Spyware or Virus? (Posted: 11 Sep 2006)
Source: https://askbobrankin.com/spyware_or_virus.html
Copyright © 2005 - Bob Rankin - All Rights Reserved