What is Broadband?
| | |
| --- | --- |
| I see commercials on TV telling me to switch to broadband, but I'm not sure what that means. They talk about DSL lines, cable access, satellites and megabits, which further confuses me. I've had dialup access through AOL for years and I'm pretty happy with the service. What is broadband, and do I need it? | |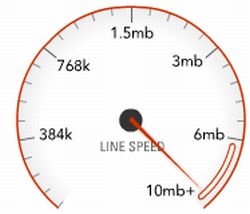 Should I Switch to High-Speed Internet?
I agree with you... all the terminology surrounding internet access is unnecessarily confusing. There are two basic types of internet access: dialup and high-speed. Dialup (connecting a regular phone line to your computer) has been around for many years. Unless you have specifically requested a high-speed connection from a cable, telephone or satellite provider, you have dialup.
Dialup connections are fine for casual email usage and visiting the occasional website. But since the speed of a dialup connection tops out at about 6000 characters per second, it's frustrating when someone emails you a large photo or you try to view a website rich with graphics or video content. It's common for a photo to be 1 megabyte (one million characters) or larger, so that means you'll be waiting about three minutes for it to download. Videos can be hundreds of megabytes, which makes them all but impossible to view with dialup.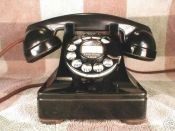 Should you switch from dialup to high-speed internet? The answer is YES, if you feel you are spending way too much time waiting for photos, websites or other Web content to load. You may also be concerned about tying up your phone line for hours, or getting flack from friends who always get a busy signal.
A high-speed connection can be 20 to 100 times faster than dialup, depending on the option you choose. And a high-speed connection won't tie up your phone line -- you can surf the Web while you make and receive phone calls. High-speed costs more though... expect to pay between $25 and $45 per month. If you're paying AOL $20 a month for dialup, the switch to high-speed may be a no-brainer.
And just to stir the pot a little more, there's an intermediate option offered by some service providers like Earthlink and NetZero. This so-called "high-speed dialup" or "accelerated dialup" CAN make your dialup connection go 4-5 times faster, but only for certain types of data. It will help with some web pages, but it will NOT speed up web-based music or video, nor will it help with emailed photos or secure sites. I'd go for this ONLY if the cost of high-speed access is outside your budget, or high-speed is not available in your area.
What is Broadband?
Getting back to your original question, broadband is just another term for a high-speed internet connection. It's a little geeky in its origins, and refers to the size of the wire connecting you to the internet. You may hear people talk about their connection as a "pipe" or say things like "online video requires a fat pipe." Just remember this: Broad=Fat=Fast and Band=Pipe=Connection. Broadband is ANYTHING faster than dialup.
Remember before when I said a high-speed connection can be 20 to 100 times faster than dialup? The difference in speed comes from the fact that there are three basic types of high-speed access: DSL, Cable and Satellite.
DSL service is offered in many residential areas by the local phone company, usually costs around $25/month, and typically has a maximum speed of 768 kilobits/second, or roughly 100,000 characters per second. Your phone company may advertise that DSL is "up to 50 times faster than dialup" but that's only true if you have a REALLY bad dialup connection. (Some DSL packages only offer 384 kilobits/second, so buyer beware.) In practice, DSL will be 10-20 times faster than dialup, and because it replaces your old analog phone line, you can make or receive calls while you're online. Contact your phone company (or visit their website) to see if DSL is offered in your area.
Cable Internet service is offered by most Cable TV providers, costs about $45/month and typically has a maximum speed of 6500 kilobits/second, which is almost one Megabyte (a million characters) per second. Some cable providers limit you to 1500 or 3000 kilobits/second, so be sure to ask. A cable internet connection is ideal if you're into online music, video, or software downloads. Check with your cable provider to what packages they offer (speed vs. price) and choose the one that fits your budget.
Satellite Internet service should be considered only if DSL and cable are not available in your area. Top download speeds on a satellite connection are slightly less than DSL, and upload speeds are about 10X slower. (Upload speed is important if you email photos, or upload files to maintain a website.) Satellite is typically priced higher than DSL or Cable, usually requires a long-term contract, and is more likely to be flaky when the weather is bad.



There is fierce competition between the phone, cable and satellite companies, and there's even some crossover in their offerings. For example, some phone companies are offering television service, and cable companies are offering telephone service. So look for package deals that combine your phone, TV and Internet access on one bill to save money.
Got the Need for Speed?
I know I said there are only three types of high-speed access, but I think it's worthwhile to mention that Fiber Optic connections are being rolled out in some areas, offering speeds of 10-30 Megabits per second at prices that are comparable to (or less than) cable internet service. I recently got Verizon's FIOS service for $25/month, and it's blazing fast! And unlike cable access (where your whole neighborhood shares available bandwidth) with fiber you have a direct line to the Net.
If want to go REALLY fast, or you have a business where the Internet pipe must be shared by many employees, you can opt for a T-1, DS-3, or OC-3 connection. These options are MUCH more expensive than residential DSL or Cable service, but I mention them for completeness.
What type of connection do you have? Are you satisfied with the speed? Post your comments below...
 

Ask Your Computer or Internet Question



  (Enter your question in the box above.)

---

---

| | |
| --- | --- |
| | Check out other articles in this category: |

| | |
| --- | --- |
| | Link to this article from your site or blog. Just copy and paste from this box: |
This article was posted by Bob Rankin on 16 Nov 2006
---
---
---
Post your Comments, Questions or Suggestions
---
Article information: AskBobRankin -- What is Broadband? (Posted: 16 Nov 2006)
Source: https://askbobrankin.com/what_is_broadband.html
Copyright © 2005 - Bob Rankin - All Rights Reserved