Should You Invest in Bitcoins?
| | |
| --- | --- |
| The banking crisis in Cyprus has some people pulling their cash out of banks and investing them in Bitcoins. Media coverage of this phenomenon leads a number of people to ask, 'What is a Bitcoin, and should I invest in some, too?' Here is my primer on the first subject, a link to in-depth info, and some opinion on the second. Read on to learn more about Bitcoins... | |
What is Bitcoin?
Bitcoin is a form of currency that relies on cryptography for authentication (verifying that the currency is legitimate and hasn't been tampered with) and peer-to-peer networking technology for transaction processing and records archiving. A unit of currency, also called a Bitcoin, is created out of thin air and given to someone in exchange for his/her work: processing transactions for the Bitcoin community. That person may then exchange Bitcoins for other things.
Existing Bitcoins are used in trade just like traditional currencies, with records of transactions being kept by the Bitcoin community. In fact, the first thing a desktop or Android Bitcoin app (called a "wallet") does is download every single transaction since the first Bitcoin was created. That takes more than a day, I can attest! (Future apps are supposed to eliminate the need for this.)
No government controls or manages the Bitcoin system; the community of Bitcoin users does so through open-source software that implements the Bitcoin protocol. The peer-to-peer network that supports the Bitcoin system is as elusive and resilient as the Bittorrent network that continually defies government interference with music and video trading. Government taxation, confiscation, and direct manipulation of the value of a Bitcoin are practically impossible; a good thing, in many opinions.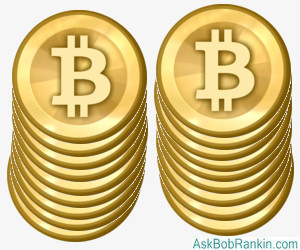 On the other hand, no government can protect Bitcoin users from getting ripped off. If you pay with Bitcoins and don't receive what was promised, you are on your own. No one has figured out how to break into the Bitcoin network and steal Bitcoins yet, but no computer system is invulnerable. If someone gets into the software "wallet" from which you manage your Bitcoins, they can spend all of your virtual money. There is no way to challenge unauthorized transactions; there is no one in charge to accept such a challenge.
Bitcoins vs. Real Money
If all of this seems preposterous, consider how you acquire and use "real" money. Government creates it by saying it's created. It's distributed to people who work for it, trade for it, or borrow it. A network of bank, credit card, and other financial institutions' computers keeps records of who has how much money and their exchanges of it. Still, people can get ripped off for millions of dollars and they get no satisfaction from government.
The Bitcoin Wiki is a vast labyrinth of knowledge about how Bitcoin works and how to use Bitcoin as safely as possible. Comparing the Bitcoin system to traditional monetary systems can be educational and disquieting, no matter which system you use.
Speculators – pardon me, "investors" - have become interested in Bitcoin lately because the currency's value in terms of other currencies has been rising rapidly. In March, 2013, the dollar value of a Bitcoin jumped 360 percent. But let's look at what happened in just one day: April 3, 2013.
Somebody launched a DDoS (Distributed Denial of Service) attack against Mt.Gox, a currency exchange handling 70 percent of worldwide trade that uses Bitcoins. The ensuing panic caused people to sell their Bitcoins and the currency's value dropped 20 percent overnight. This probably was not idle mischief. Someone made money by borrowing Bitcoins and selling them for $X before the attack, then buying devalued Bitcoins for $X – 20% to repay the loan. The same thing happens regularly, and it will work as long as people panic and DDoS attacks are possible.
Bitcoins are a very risky investment that carries a high potential reward. As Max Gunther, author of "The Zurich Axioms," wrote, "Every occupation has its hazards. If you keep bees, you get stung. If you invest, you worry." Putting into Bitcoins a portion of your retirement fund that you can afford to mostly lose is not crazy; pulling it out after every DDoS attack is. The long-term outlook for Bitcoins is rather good, in theory and by design.
Like gold, Bitcoin is a limited and rare resource. By design, there can never be more than 21 million Bitcoins. As of April 9th, there were about 11 million Bitcoins, worth about $2 billion after April 3's devaluation. It is possible for the supply of Bitcoins to max out while demand grows much more. The value of Bitcoins would soar. There is evidence that some people are hoarding bitcoins, resulting in a rapid rise in the value of the currency. The graphs and factoids in this article show it rather well.
NEWS FLASH (11 APR 2013): In another indication of how volatile the Bitcoin market can be, there was a huge Bitcoin selloff on April 10th. The BBC reports that some Bitcoin holders panicked when Mt.Gox was unable to keep up with volume of trading yesterday. Will prices rebound today? Who knows?
Demand for Bitcoin depends heavily on its widespread acceptance as a form of payment, and the ease of converting it to local currencies. If a Bitcoin currency exchange can partner with a traditional bank, as Paypal did years ago, Bitcoin debit cards that work like any others would appear. Dollars could be transferred between bank accounts, as Paypal allows today. Semi-solid rumors abound that Bitcoin exchange Bitinstant is close to doing just that.
WARNING: as of this writing, any "Bitcoin debit card" being offered is a scam. Hold onto your dollars. Also, if you use Bitcoins, keep your security software up to date. There's already at least one instance of bitcoin mining malware spreading online.
Of course, the more integrated with traditional money systems Bitcoin becomes, the more vulnerable it becomes to government regulation. Witness Paypal's recent collection of users' Social Security Numbers and other identity info to comply with new banking laws, and its required reporting to the IRS of users who exchange more than $25,000 annually.
So Bitcoin is not to be dismissed as a crackpot utopian pipedream or a criminal enterprise. As an investment, it should be approached with due diligence and guarded optimism. If you're going to bet on Bitcoins, bet enough to worry about but not enough to hurt you badly should you lose it all.
Your thoughts on the Bitcoin currency system are welcome! Post your comment or question below...
Ask Your Computer or Internet Question



(Enter your question in the box above.)

---

---

| | |
| --- | --- |
| | Check out other articles in this category: |

| | |
| --- | --- |
| | Link to this article from your site or blog. Just copy and paste from this box: |
This article was posted by Bob Rankin on 11 Apr 2013
---
---
---
Post your Comments, Questions or Suggestions
[an error occurred while processing this directive]
---
Article information: AskBobRankin -- Should You Invest in Bitcoins? (Posted: 11 Apr 2013)
Source: http://askbobrankin.com/should_you_invest_in_bitcoins.html
Copyright © 2005 - Bob Rankin - All Rights Reserved