[SCAM WARNING] Gadget Insurance and Extended Warranties
| | |
| --- | --- |
| I've never been a proponent of insurance, protection plans, or extended warranties for electronic devices or even appliances. In fact, I make no bones about my disdain for these "protection rackets," which are all heavily rigged in the seller's favor. Why else would they try so hard to sell these plans at the point of purchase? Here's what you need to know about mobile device insurance, extended warranties, and my thoughts on what's wrong with them... | |
Are Extended Warranties and Device Insurance a Waste of Money?
First, let me explain why device insurance is a scam. Device insurance policies do not provide any protection until the manufacturer's warranty expires. Every device comes with at least a one-year warranty from the manufacturer. So the first 12 payments you make to a device insurer give you absolutely nothing!
Consumer Reports tells us that 57% of insurance-covered accidents that happen to electronic devices happen within the first year of ownership. In my experience, the percentage is even higher for big ticket items and appliances. So there is a better than even chance that your high-priced device insurance won't be there when you need it.
Even when you are covered, "some restrictions apply." AT&T's so-called "comprehensive" mobile phone insurance plans have deductibles and maximum numbers of claims per year. These variables are calculated by beancounters who know, to the penny, how many claims to expect in a year and what the average cost of a claim is. The restrictions are cunningly set to ensure that you pay more than you can expect to lose. The difference is AT&T's profit on device insurance; if it's not enough, AT&T just raises the price as it has done over the past few years, from $7 for a single device, up to $15 per month. There's also a Multi-Device Protection plan which covers 4 devices. That costs $40 per month. Do you think you'll get $960 worth of value over the course of 24 months?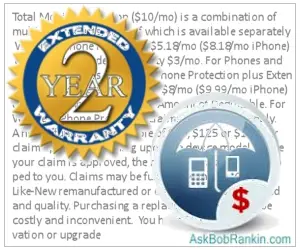 Some extended warranties provide that you must accept a refurbished device if a replacement is granted. Others go further, saying that you may receive a replacement of the "same or comparable model." Guess who decides what "comparable" means?
And speaking of refurbished replacements, here's a scam that at least one insurer (Assurant) failed to get away with: counterfeit refurbished replacements! The long sordid story is here. The short story is: Melvin Williams called Assurant, T-mobile's device insurer, when his daughter dropped her iPhone. Assurant charged him a $250 deductible to replace the damaged iPhone with a refurbished one.
Six months later, the replacement phone first stopped charging, then died completely. "That's not one of our phones," the Apple Store geniuses told Williams; a sharp eye for iPhones could spot the differences in the chassis, and when the fake phone was opened all the components were cheap imitations. Assurant, of course, claims this was an isolated aberration in its supply chain. But the company also admits it does not inspect the refurbished devices it buys from third-party refurbishers, so how would it know?
Complications and Considerations
Verizon is the best at making a simple subject complicated. You have to choose whether you want the Verizon Protect Multi-Device, Verizon Protect Single Device, Total Mobile Protection Multi-Device, Total Mobile Protection, Total Equipment Coverage, or Wireless Phone Protection plan. For most phones, you pay between $7 and $17 per month per covered device, or $50 per month to cover three devices. There's a deductible of $199 - $229 per approved claim for devices lost, stolen, or damaged. You get up to 3 replacements or repairs in a 12-month period. That's the large print -- and it gets more complicated from there, as plans, prices and claim limits vary from state to state.
Other big-ticket consumer electronics merchants invented the extended-warranty scam years ago. You cannot escape Best Buy with a simple phone charger without answering the question, "Do you want to add the extended warranty" thing that cost three bucks, delivered, on eBay. Of course, Best Buy charges $19.95 plus sales tax. And of course, as the price tag goes up, so does the cost of these "Protection Plans". As an example, plan on spending an extra couple hundred dollars for two years of coverage on a big-screen HDTV. And after 24 months, they'll hit you up again to extend your coverage.
If you're just a little adventurous, you can fix almost anything with the help of YouTube. I've replaced a few cracked smartphone screens with a $30 repair kit, a hair dryer and a sharp blade. I've found parts and instructions online to fix my own washer, dryer, and lawn mower. Most components in your computer can be easily replaced without a soldering iron or a degree in electronics. If you know how to use a screwdriver and a socket wrench, and you're willing to do a bit of online research, chances are you can fix a lot of things on your own.
Some credit card companies offer extra warranty protection at no cost. American Express will automatically add one year to the original manufacturer's warranty on any product that you purchase with it. Costco includes a 2 year warranty with most electronics and extends that to 4 years if you use the Costco Visa card. Check with your credit card issuer to see if they provide a similar benefit.
The Bottom Line is YOUR Bottom Line
My advice: Don't ever buy add-on insurance for any appliance or electronic device. If you're not a do-it-yourselfer, talk to your insurance agent about adding a rider to homeowner's or renter's insurance that covers all such devices. One savvy reader told me that his "home computer" endorsement also covered smart phones with a $50 deductible. The cost was only $18/year for $5000 of coverage on all computers, smart phones, tablets, etc.
If you feel that you MUST purchase an extended warranty or protection plan, don't buy it from the service provider or store where the item is sold. A third-party like SquareTrade will provide similar coverage damage for a fraction of the price. AKKO is a Squaretrade competitor, and they offer a clear comparison of their prices and services. Upsie is another warranty provider that claims you'll save up to 70% compared to in-store, and promises confusion-free coverage with no surprise fees.
So am I wrong to call mobile gadget insurance, extended warranties and protection plans a scam? I don't think so. These things prey on your fear of the improbable. The likelihood that you'll come out ahead in the long run is very small. The fact that insurance companies are very profitable should confirm that. Factor in those confusing terms, exceptions, and deductibles, and you'll almost always end up paying more in the long run.
At the very least, device insurance is waste of money. Don't buy it. Your thoughts on this topic are welcome. Post your comment or question below...
 

Ask Your Computer or Internet Question



  (Enter your question in the box above.)

---

---

| | |
| --- | --- |
| | Check out other articles in this category: |

| | |
| --- | --- |
| | Link to this article from your site or blog. Just copy and paste from this box: |
This article was posted by Bob Rankin on 13 Jan 2022
---
---
---
Post your Comments, Questions or Suggestions
---
Article information: AskBobRankin -- [SCAM WARNING] Gadget Insurance and Extended Warranties (Posted: 13 Jan 2022)
Source: https://askbobrankin.com/scam_warning_gadget_insurance_and_extended_warranties.html
Copyright © 2005 - Bob Rankin - All Rights Reserved