What (NOT) To Do When Your Credit Card is Stolen
| | |
| --- | --- |
| What should you do to protect yourself from fraud or identity theft when your walletful of credit cards is lost or stolen? There is a bulletin of advice that's been floating around the Internet for at least 15 years. Purportedly written by an attorney, the copy I received recently is entitled, "ATTORNEY'S ADVICE - NO CHARGE." Yes, it's free, but is it good advice? Here's the scoop on that, and my best advice for how to handle a lost or stolen credit card... | |
Lost Your Wallet? Here's What to Do...
A friend recently forwarded a list of things that you should do to protect yourself from identity theft and fraud. It advises what to do if you you lose your wallet, how to protect your credit cards, and some check writing tips. I had a feeling of deja vu when I read the email from my friend. So I did some digging and found copies of that message in my email from 2008 and 2006. A little more digging, and a Google search turned up a nearly identical copy of the "ATTORNEY'S ADVICE" bulletin posted on a web page dating from 2005.
Call me skeptical, but I don't believe an attorney would pass around free advice without his name and contact info on it. It's more likely this advice is written by some layman who decided to attribute it to an anonymous attorney in order to lend it an air of authority. Some of the advice is good, but some is outdated or was always wrong. In this article, I'll try to sort the proverbial wheat from the metaphorical chaff. Here is the advice, along with my comments:
"Do not sign the back of your credit cards. Instead, put 'PHOTO ID REQUIRED."
Technically, a merchant is required to reject unsigned cards. But when was the last time any merchant did so? And if they do look at the signature, how could they possibly know if it's legit? More often than not, you just shove your card into a terminal and the merchant never sees the back of it. And if you shop online, no signature is required. So in practice, it is rarely necessary to sign the back of a card.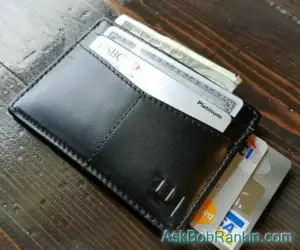 It's true that signing a card gives a thief your signature to practice forging. But writing "PHOTO ID REQUIRED" in the signature space will only confuse the cashier. I leave mine blank, and only sign the card with my initials if I run into an especially dogmatic merchant.
---
"When you are writing checks to pay on your credit card accounts, DO NOT put the complete account number on the 'For/Memo' line. Instead, just put the last four numbers."
Who writes checks to credit card companies these days? But this outdated advice leads to interesting facts about the data that is encoded in a card number. It turns out that digits 1-6 identify the card issuing bank and credit card network. Digits 7-15 identify the cardholder. Digit 16 is a "check digit" that is used to verify the other digits. If you're mailing a check along with the payment coupon, the last four digits of the card number will appear there as well. So there's no good reason to include ANY of your card digits on the check.
---
"Put your work phone # on your checks instead of your home phone. If you have a PO Box use that instead of your home address. If you do not have a PO Box, use your work address. Never have your SS# printed on your checks. (DUH!) You can add it if it is necessary. But if you have it printed, anyone can get it."
Check your credit report on a regular basis, to see if there is any incorrect information, or accounts you don't recognize. My article
Free Credit Reports Online
explains how U.S. citizens can get four free credit reports per year, and avoid the credit report scammers. See also my article
Ten Ways to Protect Yourself From Identity Theft
for some common sense things you can do to protect against scams, credit card fraud and identity theft.
This tip is like a drink from a firehose; let's parse it out. No explanation is given for why it's better for thieves to know your work info than your home info, and I cannot think of one. It's trivial to find the street address of almost anyone with a bit of online sleuthing. And more often, employers rely on the fact everyone has a mobile phone, and do not provide phones to workers.
But yes, keep your Social Security Number to yourself. Business often ask for your SSN because they need a "unique identifier" for you. Instead, ask if you can provide some other proof of identity. Don't write it on a check, ever. The only exception might be when mailing your tax return to the IRS. Remember your SSN is also on the tax form included in that envelope.
---
"Place the contents of your wallet on a photocopy machine. Do both sides of each license, credit card, etc. You will know what you had in your wallet and all of the account numbers and phone numbers to call and cancel. Keep the photocopy in a safe place."
This advice is okay if the contents of your wallet never change; it would get tedious fast if you follow other advice to carry only cards you plan to use each time you leave your house or hotel room. Also, it may be difficult to read those tiny phone numbers on a photocopy without a magnifying glass.
But there's a HUGE caveat to this tip... Don't do this at work, the library, a business center, or with a photocopier in any public place. Modern copiers have hard drives that store images of every copy made. Copiers are often sold or discarded with those hard drives intact. You see where I'm going with this, right?
My advice is to create a document that lists all of your important info that is stored on cards: driver's license, credit/debit cards, library cards, rewards cards, insurance cards, etc. Next to each of them list the appropriate phone number to call to report a lost/stolen card. Here are some other important phone numbers to include in this document.
"Fraud reporting" phone numbers of the major national credit reporting agencies; call them immediately after reporting your cards missing, and request a "fraud alert" on your file. This will prevent unauthorized applications for credit in your name that thieves may make. You should also call the fraud reporting line of the Social Security Administration. The phone numbers to include in your document are:
Equifax: 1-800-525-6285
Experian (formerly TRW): 1-888-397-3742
Trans Union: 1-800-680 7289
Social Security Administration fraud line: 1-800-269-0271
Now save your document to Dropbox or some other place you can access from anywhere. If you print a copy, DO NOT carry it around with you! Keep this document in a safe, a safe-deposit box, or some other secure location.
---
Some later versions of the bulletin include this advice about hotel stays:
"When you check out of a hotel that uses cards for keys, do not turn the "keys" in. Take them with you and destroy them. Those little cards have on them all of the information you gave the hotel, including address and credit card numbers and expiration dates. Someone with a card reader, or employee of the hotel, can access all that information with no problem whatsoever."
This one made me laugh. The hotel obviously has your name, address, and credit card information! You gave all that to the desk clerk when checking in, and he or she can recall it easily on their display. Further, no hotel chain actually does this. The key card simply grants access to the specified room, and once you check out, it is deactivated and useless.
---
And finally, the "attorney" advises people who have experienced a stolen credit card to file a police report. This is not a bad idea, but even though it isn't likely to get your credit card back, it might keep other people from becoming victims. If there is an increase in burglaries or pickpockets at a certain location, local police can direct resources to target that problem. If no one files reports, they have no way of knowing those crime patterns.
Aside from logging your report, they'll probably just tell you to call your bank and refer you to the list of contacts above. If the officer has a sense of humor, he may even tell you to do a Google search for "ATTORNEY'S ADVICE - NO CHARGE."
So that's my advice on how to deal with a lost wallet or credit card. Your thoughts on this topic are welcome. Post your comment or question below...
 

Ask Your Computer or Internet Question



  (Enter your question in the box above.)

---

---

| | |
| --- | --- |
| | Check out other articles in this category: |

| | |
| --- | --- |
| | Link to this article from your site or blog. Just copy and paste from this box: |
This article was posted by Bob Rankin on 20 May 2020
---
---
---
Post your Comments, Questions or Suggestions
---
Article information: AskBobRankin -- What (NOT) To Do When Your Credit Card is Stolen (Posted: 20 May 2020)
Source: https://askbobrankin.com/what_not_to_do_when_your_credit_card_is_stolen.html
Copyright © 2005 - Bob Rankin - All Rights Reserved