Battery Backup Power - Here's What You Need to Know
| | |
| --- | --- |
| A concerned reader asks: 'Can you recommend a backup power supply for computers? During the last storm, my PC crashed and we lost power for several hours. If I had a battery backup, I could have saved the document I was typing, and gotten online to check for email and weather updates. I've read about Uninterruptible Power Supply units - is that what I need?' | |
What Kind of Backup Power Do You Need?
A sudden loss of electrical power can cause your computer to shut down or reboot. Of course, you will lose anything you were working on at the time of the power glitch. But power failures can also cause head crashes in hard drives, which can damage a disk and the data on it. To guard against power failures, I do recommend that you get an uninterruptible power supply (UPS) to provide a backup power source for your computer.
A UPS, at its core, is a battery backup power supply. It includes circuitry that instantly switches from line power to battery power in the event of a power outage. The simplest and cheapest type of UPS, called a standby UPS, does nothing more. But power outages are not the only hazards your computer faces.
Fluctuations in line power quality are much more common than blackouts. A voltage spike or its opposite, a voltage drop, can adversely affect your equipment's performance and lifespan. If you live in an area where the lights sometimes flicker, or the power drops for just a second a comes right back, your computer could be damaged. Protections against these types of electrical power hazards should be part of your UPS.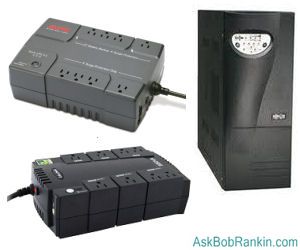 A line-interactive UPS is also relatively inexpensive; it filters and conditions line power as well as providing battery backup. An on-line UPS provides the highest quality line power and the greatest protection against power outages. Most home computer setups require no more than a standby or line-interactive UPS.
What Features Do You Need in a UPS?
A UPS may include other features as well. Monitoring ports on a UPS can tell attached equipment to shut down gracefully in the event of a power outage, in case no one is around to shut things down manually. Fax and modem telephone-style outlets may be provided on a UPS to give these devices surge protection. Some unprotected power outlets may exist for printers and other devices that do not need backup battery power but should be protected against power fluctuations.
The capacity of a UPS is measured in volt-amperes (VA). How much capacity you need in a UPS is a function of the power needs of all the components you wish to protect and the amount of time that you want to be able to run on battery power. APC, a major UPS manufacturer, has a handy calculator that can help you determine what the capacity of your next UPS should be. Plug in the devices you have (desktop, laptop, monitor, and peripherals) and it will estimate the power needed to keep them running, and give suggestions for APC products that will do the job.
One of the most popular consumer-level UPS models is the APC Back-UPS 600VA ($60) which provides battery backup and surge protection for your home computer, router, and peripherals. It has 7 total outlets (5 provide both battery backup and surge protection; 2 offer surge protection only). There's also a USB charging port for your smartphone or tablet. APC says the battery in this model should last 3-5 years, and are replaceable. This model gives you about 25 minutes of battery backup with a 100-watt load. That's enough time to save your work and shutdown, but not a good solution if you want to stay up and running during a longer power outage.
The APC 1500VA Back-UPS Pro ($165) is a significant step up. It has 10 outlets, and will keep your gear powered up (100-watt load) for 68 minutes. A display on the unit will tell you how many watts are in use, and the amount of battery time remaining.
Another popular UPS model to consider is the CyberPower 900VA ($99). It offers 6 battery backup & surge protected outlets, and 6 surge protected outlets. Data line protection prevents power surges that travel through telephone, coaxial and ethernet lines. CyberPower has a 3-year warranty, including the replaceable battery.
The Tripp Lite 1500VA ($171) is also highly rated, and provides up to 90 minutes of runtime for an entry level PC system. Includes user-replaceable batteries, software to enable unattended system shutdown, and 3-year warranty.
Amazon Basics also has a lineup of Standby UPS models, ranging from 400VA ($39.99), to 600VA ($59.99), to 800VA ($82.99).
Don't Forget About Your Internet and Phone and TV
During a storm or other hazard, it's quite possible that the electrical supply lines might be down, but the telephone, cable or fiber optic lines are just fine. A battery backup unit can power your landline phone's base unit, as well the modem/router for your Internet connection. Some internet service providers install an interface box with a battery backup unit. When I had Verizon FIOS service, that battery would only last about 15 minutes. So during power failures, I plugged the FIOS battery backup into a UPS so I could continue to make phone calls and exchange electrons with the Interwebs. For outages longer than a half-hour or so, a gas-powered generator will be necessary.
I've found that purchasing a gas-powered generator is a great way to ensure that you'll never need one. In 2012, Hurricane Sandy heavily damaged the power infrastructure in my area, resulting in outages that lasted for several days. The year before, Hurricane Irene also knocked out power. I assumed that we'd be seeing more of the same, so I purchased a beefy gas-powered generator. But in the past eight years, we've had no outages lasting more than a few minutes. Your mileage may vary. :-)
It's important to conserve every watt of power when running from backup power. So if you have your computer and other gear connected to a UPS, I recommend turning off the printer, speakers, external hard drives and other non-essential items unless you're actually using them. I have a dual-monitor setup, so I power one of them down, too. Laptops and tablets use a lot less power than desktop rigs, so consider moving to a smaller screen when running on auxiliary power.
But I Already Have a UPS...
I had a Tripp-Lite TE-600 UPS for many years, and there were many times when the lights flickered in the house, causing televisions and alarm clocks to shut off or reset. My computer never even flinched. Even during power outages, my trusty computer plugged away, while the rest of the house was dark. But during the winds that Hurricane Irene brought to my area, we lost power and my UPS failed when the internal batteries died of old age. Fortunately, I only lost the document I was working on, and I've since replaced that unit with a beefier model that'll run my desktop appliances for at least 30 minutes.
A UPS contains a battery, of course; typically, a lead-acid battery much like the one in your car. Such batteries are generally good for several years, but eventually they do need to be replaced. UPS units and replacement batteries are available online, but pay close attention to shipping charges; these things are heavy and expensive to ship! I found a good deal on a $12 battery from BatterySharks https://www.batterysharks.com/ but the shipping cost added another $10. You might want to shop locally when purchasing a UPS or replacement batteries.
Do you have a battery backup UPS? Post your comment or question below...
 

Ask Your Computer or Internet Question



  (Enter your question in the box above.)

---

---

| | |
| --- | --- |
| | Check out other articles in this category: |

| | |
| --- | --- |
| | Link to this article from your site or blog. Just copy and paste from this box: |
This article was posted by Bob Rankin on 12 May 2020
---
---
---
There's more reader feedback... See all 28 comments for this article.
Post your Comments, Questions or Suggestions
---
Article information: AskBobRankin -- Battery Backup Power - Here's What You Need to Know (Posted: 12 May 2020)
Source: https://askbobrankin.com/battery_backup_power_heres_what_you_need_to_know.html
Copyright © 2005 - Bob Rankin - All Rights Reserved