Build Your Own Computer
| | |
| --- | --- |
| You can save a good deal of money by building your own computer from components. It doesn't require advanced electronics or soldering skills; everything just plugs and screws together. Your chest will swell with pride, and your friends and family will look at you in awe. Plus, you will end up with the perfect PC for you! Let's start from the core of a PC and see what's needed, where to get it, and what it costs... | |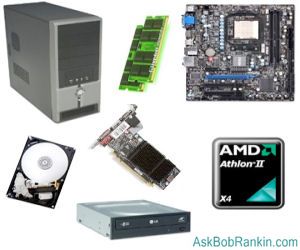 Yes, You Can Build Your Own PC!
So you want to build your own computer from scratch, using off-the-shelf parts? It's really not that hard. Here's a guide to get you started. You'll learn what parts you need, where to buy them, and what to do next...
Let's start with a case. There are several options, but the most common, and the one I recommend for novice computer builders, is the mid-tower case. Pick one that includes a cooling fan, and will accommodate standard ATX motherboards and power supplies. It's also very nice to have USB and audio ports on the front of the case. I like Tiger Direct for buying computer cases, or almost any computer part for that matter.
The motherboard is the foundation of every PC. It's a large circuit board that fills all of one side or the floor of the PC's case. Already wired into the motherboard are processor chips for things like graphics display and hard drive control; USB ports, WiFi adapter, and CD/DVD drive controller; and so on. There are thousands of makes and models of motherboard from which to choose, and their prices vary depending on the features you select. You can explore various motherboard manufacturers at the Escape From Hardware Hell site. You'll find most vendors have interactive Web applications to help you choose the right motherboard for your needs.
The CPU (central processing unit) is a critical component. The two major manufacturers are Intel which holds the overwhelming majority of the CPU market, and AMD, which helps keep Intel on its toes. Generally, choose the fastest CPU you can afford; AMD will almost always be the cheaper option for a given level of CPU performance. You needn't worry that your software won't work if you choose AMD over Intel - they are 100% compatible. Tiger Direct and other online vendors have a wide variety of CPUs to peruse. If you're not sure which CPU to buy, refer to the motherboard specs, which should give you a list of compatible processors.
The more RAM your PC has, the better it will perform up to a point. Less than 2 GB is inadequate, and more than 4 GB gives only marginal improvements in ordinary consumer and business use. If you work with very large databases or video files that must be held in RAM while they're edited, you may want to go up to 8 GB of RAM. Kingston Technologies is a highly reliable source of quality RAM. I also like MemorySuppliers. And again, your motherboard documentation will help you select the correct RAM memory.
If the motherboard you choose doesn't have onboard graphics, you'll need a graphics adapter, which is sometimes called a video card. If you're not a gamer or a video editor, a basic model like this GeForce 9500 will do fine. Just make sure you get a video card that is compatible with your motherboard.
Once you have all those components, you'll need to secure the power supply and motherboard to the case with the screws that are provided. The CPU and RAM pretty much snap into place on the motherboard. If you need a graphics card, it will plug into a slot and you'll secure it with a screw.
You'll see a tangle of wires emanating from the power supply. Some of them will plug into the motherboard, and others will power the components we'll add later. Refer to the motherboard manual to figure out which wires go where. Oh, and you definitely don't want any electricity flowing while you're working under the hood of a computer. Connecting the AC power cord should be the LAST thing you do.
Connecting Hard Drive and CD/DVD Drive
For file storage, the magnetic disk hard drive is the standard and most inexpensive option. But if you have a very generous budget, consider solid-state storage. It's essentially a very large flash drive such as the thumb drives that plug into USB ports, only it's housed semi-permanently in your computer's case.
For hard drives, rotation speed heavily impacts read/write speed; get a 7200 rpm hard drive instead of the standard 5400 rpm speed. Seagate, Maxtor, Western Digital, and Fujitsu are just a few of the popular hard drive makers. I suggest you go with at least a 250GB hard drive, because you get better bang for the buck when you buy a larger drive. Aside from brand, the only choice you need to consider is whether to get an IDE or SATA drive. If your motherboard only has the newer SATA connectors, your choice is already made.
An optical drive is very useful, for installing software, enjoying music or movies, and for creating the occasional mix or backup disc. Your choices, in ascending order of speed and capacity, include CD, DVD, and Blueray. An optical drive that writes data as well as reads pre-recorded discs is recommended.
The disk drives must be mounted in the racks that are built into the case, and usually a couple of screws does the job. Next, you'll need to connect the data cables from the drives to the matching labelled connectors on the motherboard. Finish the installation of the drives by connecting one of the power cables to each. There will probably be a few extra power cables, and it doesn't matter which ones you use, as long as the connectors match the drives.
The Peripherals, and Another Option
A monitor is essential, of course, and the bigger the better. I've seen the price of 19 and 21-inch monitors come down quite a bit, so that might be your best bet in terms of maximizing screen real estate and minimizing cost.
You'll also need a keyboard, and some sort of pointing device such as a mouse or trackball. And you'll probably want a set of speakers for audio output. But that rounds out the basic hardware components you'll need to assemble your own computer. All of the peripherals plug into the back of the system unit, and if you're lucky all the ports will be labelled. If not, it should be pretty obvious anyway.
There are many choices to make in assembling your own PC, and you must be careful to ensure that all the components will work together. The motherboard must support the CPU and other peripherals you choose. Before you buy RAM, you must know what types of RAM chips and how many your motherboard will accept. It's a bit of a challenge, but so is choosing the right car. Unlike cars, self-assembled PCs actually save you money.
It's impossible to mention every detail you might need to know about assembling a computer in a thousand words or so. But there's plenty of help in online forums if you get stuck. If you don't think you're ready for the task of assembling all the parts on your own, consider a barebones kit. These kits are so named because they include the essential components you need, but not the peripherals, the Windows operating system or application software. The nice part is that you can rest assured that all the parts are compatible.
A barebones kit like the AMD Vision Premium will give you a case, power supply, motherboard, cpu, RAM, graphics card, hard drive, and CD/DVD drive for about US$500.
Do you have something to say about building your own computer? Post your comment or question below...
 

Ask Your Computer or Internet Question



  (Enter your question in the box above.)

---

---

| | |
| --- | --- |
| | Check out other articles in this category: |

| | |
| --- | --- |
| | Link to this article from your site or blog. Just copy and paste from this box: |
This article was posted by Bob Rankin on 22 Jun 2010
---
---
---
Post your Comments, Questions or Suggestions
---
Article information: AskBobRankin -- Build Your Own Computer (Posted: 22 Jun 2010)
Source: https://askbobrankin.com/build_your_own_computer.html
Copyright © 2005 - Bob Rankin - All Rights Reserved