Can This Gadget Suck Money Out of Your Wallet?
| | |
| --- | --- |
| In June 2016, it was revealed that the Oklahoma Department of Public Safety has purchased and tested handheld electronic devices that allow law enforcement agents to collect data from any magnetic-stripe card. The alarming news is that police can now tell how much money is "stored" on a prepaid debit card, freeze it so that no one can access it, or even transfer the stored funds to the police department's own bank account. But that's only part of the story… | |
Police Can Now Seize Money From Prepaid Cards
The Electronic Recovery and Access to Data (ERAD) Card Reader traces its origin back to the Department of Homeland Security Science and Technology Directorate, which began research back in 2012 that led to the ERAD Card Reader.
According to the DHS, "During arrests of criminal couriers, law enforcement officers rarely find bundles of cash wrapped in rubber bands anymore. Instead, they find stacks of plastic cards — bank credit and debit cards, retail gift cards, library cards, hotel card keys, even magnetic-striped Metrorail cards — that have been turned into prepaid cards."
The official purpose of ERAD is to cut down on identity theft. If the cardholder information stored on a prepaid card does not match that of the person who has it, that's considered grounds for "reasonable suspicion" that the card is stolen. Further police investigation and action is justified, up to and including civil asset forfeiture action against the card itself.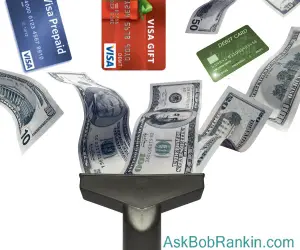 DHS brags on its site that ERAD "is becoming a vital tool for law enforcement seizing these cards and funds associated with criminal activity." But unfortunately the technology is not confined to use against suspected drug couriers with stacks of cards. There have been reports of police using it to extract funds from a single card in a driver's wallet during a traffic stop.
Now, let's consider a hypothetical case. You buy a prepaid gift card from Visa, Starbucks or Bed, Bath, & Beyond. As the buyer, it is your personal data that's encoded into the gift card's magnetic stripe. Then you give the card to someone because, you know, you bought it as a GIFT! The recipient - perhaps your spouse, child, or co-worker - gets stopped for having a broken taillight. When the police officer discovers the gift card and runs it through an ERAD reader, he suddenly has "reasonable suspicion" that the card has been stolen. Then the fun begins in earnest.
A lot more questions may be asked by the officer, all of them designed to trip up the increasingly nervous and frustrated "suspect" into making contradictory statements that can be added up to "probable cause" for seizing the card.
"Can You Prove It?"
"But if the person has proof that it belongs to him for legitimate reasons, there's nothing going to happen. We won't seize it," promises Lt. John Vincent, public information officer for the Oklahoma Highway Patrol. What proof of "legitimate reasons" for having a gift card would an innocent party be carrying? By what authority does a patrol officer decide what is a "legitimate reason?"
Why is it necessary for police to be able to transfer money from a prepaid card to their own bank account, a capability stipulated in the contract for ERAD Card Reader that Oklahoma signed with DHS? Seizing the card and freezing any funds stored on it seems sufficient for prosecution purposes.
The answer seems pretty obvious when we look at what police do with cash seized from travelers, innocent and guilty. The police spend that windfall money on perks for themselves, even pizzas for the Little League teams they sponsor.
"If you can prove that you have a legitimate reason to have that money it will be given back to you. And we've done that in the past," Vincent said about any money seized. He makes it sound as simple as a phone call to the person who gave you the card and his/her affirmation that yes, he gave you the card as a gift. Only it isn't that simple.
Civil asset forfeiture is a long, expensive, soul-draining legal process, a lawsuit filed by the government against the asset that was seized, not the person from whom it was seized. It takes months or years to get a court ruling that you should receive your money back, and it may be months longer before the law enforcement agency actually gives it back to you. And that's assuming your legal costs don't exceed the amount of money you're trying to recover.
"I know that a lot of people are just going to focus on the seizing money. That's a very small thing that' s happening now," said Vincent (who, I think, might be better suited for another job). But in a two-month test of ERAD by a small group of Oklahoma law enforcement agents, over $1 million stored on cards was seized. If that still seems "very small," consider this: civil asset forfeitures now exceed all burglaries in terms of money seized - or "stolen."
ERAD is not limited to Oklahoma City police and the State Highway Patrol. DHS says that police departments in 24 States have received ERAD devices and are in the process of testing and deploying them.
Is This Unreasonable Search and Seizure?
I've seen other stories about ERAD which claim that the device can siphon funds from a credit card or a bank account linked to a regular (non-prepaid) debit card. Fortunately, that is not true. The damage that ERAD can do is limited to prepaid debit cards.
Still, at least a few politicians see something unconscionable about ERAD. Oklahoma Governor Mary Fallin ordered a halt to ERAD's deployment on June 14, only a week after the story broke. The Commissioner of the Oklahoma Dept. of Public Safety has been ordered to undertake training to teach exactly what ERAD does… something he admits not having bothered to do before!
"Whether someone has 100 debit cards or one, that in and of itself is not illegal," state Sen. Kyle Loveless (R), who has spearheaded an unsuccessful push to overhaul Oklahoma's civil forfeiture laws, told The Huffington Post.
Loveless said he has little confidence that ERAD readers will only be used in the most conspicuous cases. "Law enforcement's going to say that there are good uses for it and that they use it on a limited basis, but this is deja vu all over again," he said. "We heard that last year and we've seen innocent people's stuff taken. We've seen how [law enforcement] spins it and it's just not right."
No, it isn't. The Fourth Amendment that was intended to protect citizens against unreasonable searches and seizures of their personal effects is in tatters (especially when it pertains to digital matters) but it still clings stubbornly to the Constitution.
Your thoughts on this topic are welcome. Post your comment or question below...

 

Ask Your Computer or Internet Question



  (Enter your question in the box above.)

---

---

| | |
| --- | --- |
| | Check out other articles in this category: |

| | |
| --- | --- |
| | Link to this article from your site or blog. Just copy and paste from this box: |
This article was posted by Bob Rankin on 4 Nov 2016
---
---
---
There's more reader feedback... See all 31 comments for this article.
Post your Comments, Questions or Suggestions
---
Article information: AskBobRankin -- Can This Gadget Suck Money Out of Your Wallet? (Posted: 4 Nov 2016)
Source: https://askbobrankin.com/can_this_gadget_suck_money_out_of_your_wallet.html
Copyright © 2005 - Bob Rankin - All Rights Reserved