De-Geekify-ing the Backup
| | |
| --- | --- |
| The simple sounding task of backing up one's data is not so simple when you start reading advertisements and reviews of backup software. "It does full, partial, and incremental backups; mirrors and clones disk drives…" If that makes your head spin, let's take these terms and explain them all in plain English. Read on! | |
Making a Backup: Options and Terminology
What do all these geeky buzzwords mean, and what kind of backups should you being doing? If you're just as confused about backups as the guys on the Seinfeld show, you'll find this article helpful. Let's start by explaining some common types of backups, without the techie jargon.
A "full backup" is also called a "system image" in computer parlance. It is a copy of an entire hard drive's contents, from the boot record to the last file you created or changed by clicking Save or Send. System settings, the Windows registry, hidden files such as the page file and hibernation file, everything on your hard drive is saved as a single file on your backup media (usually an external hard drive or network-attached storage device). If you've ever created a ZIP file, it's similar in concept -- lots of files combined into one large file.
Sometimes compression or encryption techniques are used to save space or secure the image file. The advantage of an image file over just copying a bunch of files to a backup device is the convenience of having just one file, especially if you want to store the backup in more than one location.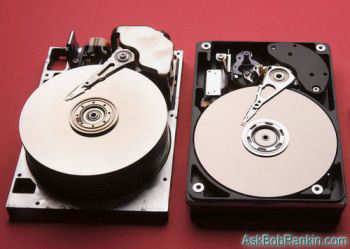 Full backups are somtimes made when a system is "just right," with everything installed and set the way its owner wants it. A computer can be restored to that ideal state from a full backup copy. Another benefit of a full backup is that it's easily restored; just read the whole file, unravel the digital "packing material" from each system file, and write it to the hard drive.
If you need to recover from a disk disaster quickly, a full image backup is good to have. Depending on your needs, and how often you add, delete or update files, you might decide to make an image backup on a weekly, monthly or other timeframes.
But full backups can take a long time, and a lot of storage space, so it's generally not a good idea to do them on a daily basis. Only a small percentage of files change from one day to the next. So why should they be copied and stored in a backup file again and again? That's where incrementals come in handy.
Incremental and Differential Backups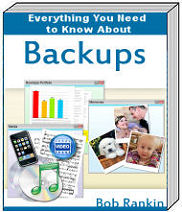 Are you prepared for a total loss of your hard drive due to a virus, hardware failure or other disaster? Are you confused by the terminology related to backups? Read my ebook
Everything You Need to Know About BACKUPS
, where you'll learn about backup software, backup strategies, and how to protect the data in your computer, tablet, smartphone, email, social media, and other online accounts.
Incremental backups make backup copies only of files that have been modified or created since the last backup session. First a full backup is made; it serves as a reference point. Thereafter, only the files that have been created or changed (since the last full or incremental backup) are backed up. To restore a crashed system, you need to start by restoring the full backup copy. Then every incremental backup made since that full backup was created must be applied in the order they were made.
A differential backup is similar, in that it saves data that has changed (or been created) since the last full backup. Each differential backup contains ALL of the differences between the last full backup and the current state of the hard drive. It has the advantage of requiring only two sets of data – the full backup and the latest differential backup – to restore a system to its most recent state. The downside is that more data needs to be backed up in each differential since the last full backup.
Here's a simplified illustation to make that a bit clearer. Let's say you make a full image backup every Sunday morning, then every day, you create one new document. Daily incremental backups would each contain ONLY that one new file. But the daily differential backups would contain one, then two, then three, and finally six files by the end of the week. The nuances of incremental and differential really aren't so important. Years ago, when hard drives were much slower, storage space was more expensive, and processing power was limited, it made more of a difference. The more important thing is that you actually DO make an image backup on a regular schedule, and supplement it as files are created or updated.
More Backup Buzzwords
A bit of confusion exists over the terms "image," "clone," and "mirror." All three are full backups of a hard drive, but they're each distinct. I've already defined image, which is basically the entire contents of a hard drive rolled up into one large file. Cloning means making an exact file-for-file copy of one hard drive on another drive. Mirroring is an ongoing process; as data is added, deleted or changed on the original disk, it is mirrored to the backup disk.
Synchronization, or "sync," is a two-way street. In a traditional backup, data from the source drive is backed up to a destination drive. In syncing, data is continuously copied from drive to drive so each drive contains exactly the same files and versions of those files as the other. Syncing is most commonly used on a folder basis, for example, when you want all of your music or documents to be available on multiple devices.
Versioning is a feature that some backup programs offer, which allows you to keep multiple backups of frequently updated files. If you have a document or spreadsheet that's updated on a daily basis, and you want to see what it looked like yesterday, last week or last month, versioning is just the ticket. It can also save your bacon if you make accidental changes to a file and then save it, wiping out the original. Think of versioning as the "undo button" you can use *after* you save and close a file.
Whatever sort of backup you do, you will end up with multiple backup copies taken at different points in time. How long you want to keep backup copies is up to you, unless you're in a business whose "records retention" policies are regulated by law.
Are you using backup software to protect your most important data? Post a comment or question below...
 

Ask Your Computer or Internet Question



  (Enter your question in the box above.)

---

---

| | |
| --- | --- |
| | Check out other articles in this category: |

| | |
| --- | --- |
| | Link to this article from your site or blog. Just copy and paste from this box: |
This article was posted by Bob Rankin on 21 Oct 2019
---
---
---
Post your Comments, Questions or Suggestions
---
Article information: AskBobRankin -- De-Geekify-ing the Backup (Posted: 21 Oct 2019)
Source: https://askbobrankin.com/degeekifying_the_backup.html
Copyright © 2005 - Bob Rankin - All Rights Reserved