Dual Monitors: Good Reasons to Upgrade
| | |
| --- | --- |
| A reader asks: I'm considering dual monitors because my 17-inch monitor seems to be shrinking. Sometimes it seems like I spend more time scrolling and tabbing between programs than on actual work. But I'm still not sure... should I upgrade to a big 30-inch monitor, or go with a dual monitor setup? | |
Dual Monitors For Increased Productivity
If you've ever wished for a bigger computer screen, here's an even better idea. Get two! Use a dual monitor (or multi monitor) setup to extend your desktop across two or more screens. Windows, Mac and Linux computers have the ability to simulate one BIG screen using a dual or multi monitor configuration. Adding a second monitor will be cheaper than upgrading to a super-size screen, and there are other advantages too.
I've used two monitors on my PC for many years. Ten years ago, I got a pair of 22-inch monitors with a new computer. When they finally died (with two days of each other) I replaced them with dual 25-inch flat-panel monitors and I love it. I set both monitors on my desk, side by side, and a bit of software magic creates the illusion of one giant screen. I can open a website on one screen, and a word processor on the other, then copy and paste from one screen to another. I can even open a spreadsheet and stretch it A-L-L T-H-E W-A-Y across the full width of both screens if I want.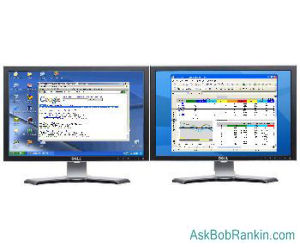 Personally, I find that all the extra desktop space makes me much more productive and greatly enhances the fun of computing. When I am forced to use a laptop or desktop computer that has a single screen, I notice the limitations right away, as the extra scrolling and alt-tabbing becomes tedious. Others have told me that after ten minutes of using a dual monitor setup, they can't imagine living without it.
Here are SIX good reasons to have dual monitors:
Published studies indicate that having a dual monitor in a workplace setting can increase productivity by 20 to 50 percent. For example, if you're a computer programmer, it should be obvious that having your source code on one side and your program on the other side of a dual monitor display would be very helpful.
Real multi-tasking requires enough screen space to keep two or more apps in full view simultaneously. If you have ever tried to size and align windows on a single monitor, you'll appreciate the ability to have several apps fully open at the same time. Customer service reps and web designers are additional examples of people that would benefit from dual monitors.
Cutting and pasting between documents is much easier when you don't have to alt-tab between them and scroll up or down so much. If you create newsletters or PowerPoint presentations, you'll identify with this.
Picture and video editing is a whole new experience with dual monitors. You can have all of your editing tools on one screen while you work on the project in the other. You can compare before and after views of the same work, or supersize panoramic pictures.
Comparing products is easier when you have dual monitors. You can show two video cameras' specs side by side in separate browser windows, for example.
Video and gaming take on a whole new dimension with dual monitors. You can view much more of a virtual world and see bad guys coming from a distance. Some gamers like to have Skype or another chat app open on a second screen.
Windows 8 and 10 offer some new multi-monitor features, such as the ability to use different backgrounds on each monitor, span multiple screens with your background image, and multiple taskbars.
Hardware Required For a Dual Monitor Configuration
Okay, that was seven reasons, and I'm sure I could list more if I rubbed a few brain cells together. Despite all that, a Microsoft study showed that less than 15 percent of all PC users have a multiple monitor configuration. But now that you know all of the benefits, let's move on to the actual nuts and bolts of adding a second screen, to make your dual monitor dreams come true.
Windows XP, Vista, 7, 8 and 10 and Mac OS X have built-in support for dual monitors. Setting up dual monitors takes about five minutes. But first, you need to make sure you have the right hardware. Almost all laptops have a VGA, DVI, HDMI or DisplayPort connector where you can plug in a secondary monitor. If you have a spare monitor, and the video cable required to connect it, that's all you'll need. If your video cable has a different connector than your laptop, you can buy an adapter to make ends meet.
On a desktop, you will need two video connectors on your PC, matching connectors on the two monitors, and of course appropriate cables. Some desktops come with two video ports, but if you have only one, you can add a second video adapter, or swap yours for a dual-port model. Adding or swapping a video adapter sounds geeky, but it's actually a pretty easy upgrade. After popping the hood on your system unit, the video adapter simply plugs into a slot on the motherboard. If you know how to use a screwdriver, you can do this.
Some computers, however, simply lack the capacity for internal hardware upgrades. In these unfortunate cases, there are ways to get around this limitation, such as the Matrox Graphics DualHead2Go, which functions almost identically to a standard video card, yet is actually an external device that makes use of your existing video out port. With DualHead2Go, you can add an additional display to your PC or Mac desktop, or another two monitors to a laptop.
How to Connect a Second Monitor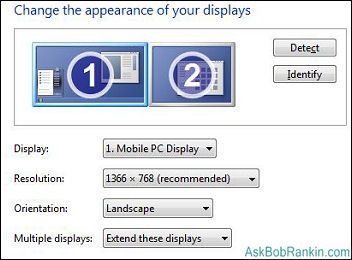 On Mac OS X and most Windows computers, your second monitor should be automatically recognized and enabled.
To set up dual monitors on Windows 7 and higher, open Control Panel, choose Hardware and Sound, then under the Display heading, choose "Connect to an external display." Connect your second monitor to the computer. The Display window will flicker (or go blank for a few seconds), then you'll see a dual-monitor setup screen like the one shown here. If you don't, click the "Detect" button. If that does not work, check the monitor's connection to your computer.
Once the second monitor is detected you need to choose how the two monitors will operate. There are three options:
"Duplicate these displays" shows the same display on both screens. This is handy when monitoring a presentation on a laptop while it is displayed on second, larger screen. "Extend these displays" makes one big screen out of the dual monitors. You can actually drag objects across the boundaries of the two monitors. This is the setting that most people use, and the one I recommend. "Show desktop only on 1" or "Show desktop only on 2" disables one of the monitors.
Adjust the screen resolution of the monitors as desired, press Apply, and you're done.
Dual monitors are not for everyone. They take up more desk space, obviously. If you are a programmer, graphic artist, website designer, author, editor, proofreader, support technician, gamer or power user, dual monitors will boost your productivity and definitely look cool on your desk. If you're just an every-day ordinary computer user, I think you'll find there are benefits you didn't expect.
Do you have something to say about dual monitors? Post your comment or question below...
Ask Your Computer or Internet Question



(Enter your question in the box above.)

---

---

| | |
| --- | --- |
| | Check out other articles in this category: |

| | |
| --- | --- |
| | Link to this article from your site or blog. Just copy and paste from this box: |
This article was posted by Bob Rankin on 24 Feb 2017
---
---
---
There's more reader feedback... See all 31 comments for this article.
Post your Comments, Questions or Suggestions
---
Article information: AskBobRankin -- Dual Monitors: Good Reasons to Upgrade (Posted: 24 Feb 2017)
Source: https://askbobrankin.com/dual_monitors_good_reasons_to_upgrade.html
Copyright © 2005 - Bob Rankin - All Rights Reserved