Geekly Update - 09 January 2015
| | |
| --- | --- |
| Will Seagate's newest hard drive eat Manhattan? How easy is it to forge someone else's fingerprint? What country uses sneakers to provide Internet connections? Have hackers been listening to your phone calls for 30 years? Get answers to these burning questions, and the scoop on the latest tech news, in this edition of the Geekly Update. It's guaranteed to make you 146% smarter. Read, think and comment! | |
The AskBobRankin Geekly Update
Game Over for mobile phone privacy, before it ever started. Vulnerabilities in SS7, a wireless signaling protocol that's been in use everywhere since 1980, make every single cell phone on Earth vulnerable to hackers. By exploiting SS7's flaws, researchers say they can track a phone even if GPS is turned off, temporarily decrypt its encrypted communications, and generally "own" almost any cellular device. I'll bet those NSA guys are jealous.
The cable TV industry will lose a million subscribers per year for the rest of this decade, predicts researcher NPD Group. Small wonder, with the average monthly bill at $123 and rising 6 per cent annually. Viewers are defecting to Netflix (subscribership up 25%), Amazon Prime (up 14%), and Hulu (up 3%). In October, 2015, more streaming options are coming from HBO, Univision, and CBS.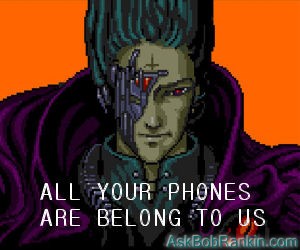 Seagate's 8 TB Archive Label hard drive should hold all the data you have, and perhaps that of everyone you know, too. It spins at 5,900, has a SATA-3 I/O interface with 128 MB of cache, and comes with or without hardware encryption. Best of all is the price: only $270. My first hard drive was 10 megabytes (8 million times smaller) and probably cost about the same.
Scammers who call end-users pretending to be Microsoft support technicians are the target of the company's Digital Crimes Unit in a civil lawsuit alleging "unfair and deceptive business practices and trademark infringement." Microsoft estimates defendant Ominitech Support and similar firms con consumers out of $1.5 billion per year.
JPMorgan Chase spent $250 million on information security last year, but neglected to implement two-factor authentication on one obscure server that became the entry point for hackers in the biggest data breach of a U.S. bank to date. All the hackers needed were login credentials stolen from a single employee to snatch the account details of 83 million customers.
The "sneaker net" lives! Internet access is tightly restricted in Cuba – less than 5% of the population has private connections. But some Cubans get around that with the Paquete Semanal (Weekly Packet), a growing network of… feet. One person with legal Internet access fills an external hard drive with "global films, TV dramas, comedies, magazines, applications and anti-virus software," then sells copies to dealers who sell copies to customers who sell more copies to family, friends and neighbors. But how many copies can they sell when the average salary of a Cuban worker is $20/month? Isn't communism great?
Before Google, librarians answered life's big and little questions. The New York Public Library is publishing vintage patron queries on Instagram each Monday using the hashtag #LetMeLibrarianThatForYou.
Tony Durham got a call from HP telling him his YouTube video had gone viral and garnered half a million hits. The caller said HP wanted to interview Durham and give him a free shopping spree in its online store. Durham ordered four HP computers. Just one catch: "I don't even know what YouTube is," says Durham. He also doesn't know how the caller got his debit card number, but his bank account has been emptied. When contacted about Mr. Durham's plight, an HP spokesperson said people should know better than to fall for calls like that. And so should you.
A number of tech pundits have egg (or maybe apple sauce) on their faces after they pounced on a survey that showed Samsung smartphone users are now more satisfied than Apple's. These "experts" speculated that the iPhone 6 and 6+ were to blame for Apple's fall, even though they were not released until three months after the survey was published.
The whole world knew that Sony's Playstation gaming network was knocked offline by a DDoS attack around Christmas. But just to make sure that the Palm Beach County Sheriff's Office was on the case, some gameboy called 911 to report the outage. The sheriff's office later tweeted, "Last time I checked that wasn't an emergency. Try going outside or read a book." Or maybe call Sony.
A white-hat hacker named Jan Krissler replicated the thumbprint of Germany's defense minister, Ursula von der Leyen, using photos taken during a press conference by a "standard camera." Security experts have long known that fingerprints are not particularly difficult to forge, but fingerprint scanners continue to proliferate as security devices on phones, laptops, and other devices.
Chinese Gmail volume dropped to zero beginning Christmas Day. Google's webmail site has been blocked in China since June, but Chinese users got around that by using POP3 and IMAP email clients. That door was closed suddenly, though traffic is gradually rising again. The Chinese government says it didn't block Gmail, but they also claim to protect human rights and fundamental freedoms of the Chinese people.
If 2015 is the year you plan to treat yourself to a solid-state drive, be sure to consider the new Samsung 850 Evo family (not to be confused with the 850 Pro). Using 3D NAND technology, which stacks flash memory cells atop silicon up to 32 layers high, the 850 Evo is able to pack more storage into less space for less money. MSRPs are $100, $150, $270 and $500 for 120GB, 250GB, 500GB and 1TB, respectively.
 

Ask Your Computer or Internet Question



  (Enter your question in the box above.)

---

---

| | |
| --- | --- |
| | Check out other articles in this category: |

| | |
| --- | --- |
| | Link to this article from your site or blog. Just copy and paste from this box: |
This article was posted by Bob Rankin on 9 Jan 2015
---
---
---
Post your Comments, Questions or Suggestions
---
Article information: AskBobRankin -- Geekly Update - 09 January 2015 (Posted: 9 Jan 2015)
Source: https://askbobrankin.com/geekly_update_09_january_2015.html
Copyright © 2005 - Bob Rankin - All Rights Reserved