HOWTO: Buy a New Computer
| | |
| --- | --- |
| A reader aks: 'I teach senior citizens in a free community based computer lab. They often ask what to look for when buying a computer, what software they need for email, basic Internet usage, word processing, etc. Many are on a limited budget. What would you suggest they need as a minimum?' | |
Recommendations For a New Computer
The good news is that computer prices have dropped a lot over the past few years, and the computing power you get for your money is going up! I don't recommend used computers for anyone, because the rate of change of computer technology will render most systems nearly obsolete within three years. If you're a computer novice, wondering what kind of computer, monitor, hard drive, memory, and operating system to get... here's some advice to get you rolling.
Windows or Mac? -- You may have friends, relatives or neighbors trying to pull you into the "Windows vs. Mac" holy wars. In my opinion, the choice of operating system really doesn't matter. From a beginner's perspective, each has point and click interfaces that are pretty easy to use.
Both will take you to the same Internet, and enable you to send and receive email. Both offer word processing, and the documents they create are interchangeable. Because Windows-based computers make up 90% of the market, they are cheaper. It's the law of supply and demand in operation.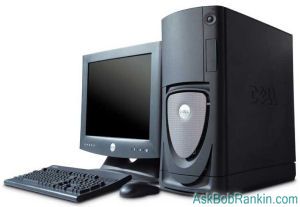 A decent entry-level Windows desktop PC with monitor can be purchased for about $500, and sometimes you even get a printer in the deal. If you can find a new computer running Windows 7, I'd recommend it, because Windows 8 has a steeper learning curve for those who already use Windows. But if Windows 8 is your only option, don't sweat it. My article Switching to Windows 8 Made Easier will help to smooth out most of the bumps.
By comparison, the Mac Mini (Apple's entry-level desktop computer) would cost at least $800, after adding the mouse, keyboard, monitor and cables that are sold separately. So if you're budget-minded, I suggest you go with a Windows-based PC.
However, if you're already familiar with the Mac OS interface or Mac software, that's an important consideration. Learning an entirely new interface can be daunting. Another factor to consider is whether you already own an Apple product such as the iPhone. Apple products and services are designed to work within the Apple/iTunes/iCloud "ecosystem," and that's something the company does rather well.
So, regardless of the PC or Mac orientation, what should a newbie look for in terms of speed, monitor, memory and hard drive specs? It doesn't have to be all that confusing...
What about Horsepower?
The CPU (central processing unit, or "processor" for short) is the brain of your computer. In general, the faster the better. Processor speeds are measured in gigahertz (GHz) and as of this writing, the fastest models available operate at about 4 GHz. Entry-level machines start at about 2.5 GHz and are more than adequate for web surfing, email and word processing.
Thanks for the Memory Chips
The next decision you have to make is how much RAM memory you need. Don't confuse RAM with hard drive (file storage) space. RAM is the temporary working memory that your computer uses to perform calculations and manipulate files. When you open a document, it is copied from the hard drive into RAM. As you and your word processor work on the file, the modified copy exists only in RAM. When you save the file, it is copied from RAM back to the hard drive, or permanent storage. And as with CPU power, the more RAM you have, the better your computer will perform. I recommend you have a minimum 4 gigabytes (GB) of RAM, but with 8 gigabytes you'll probably notice better performance, especially if you like to have more than one program open.
Hard (Drive) Decisions
The hard drive is your permanent file storage. All of your personal files, such as word processor documents, photos, music, and emails are stored here, in addition to software packages and the operating system. Most new computers come with a hard drive that's several hundred gigabytes (GB). I recommend you go with a hard drive with 500 GB capacity, but consider moving up to 1000 GB (one Terabyte) if you plan to keep lots of photos, music or videos on your computer. Hard drives that can store a terabyte of data are now available for under $100, so there's really no need to skimp on disk storage space.
Go For a Large Monitor
Here's the formula: Larger Monitor = Less Eyestrain and Less Scrolling. I recommend at least a 17-inch monitor, or even a 19-inch if you don't mind spending a bit more. Don't worry about brand names here; in my experience they're all pretty much the same. Stay away from 14 or 15-inch monitors, they're just too small to be practical. (My personal desktop setup includes DUAL 22-inch monitors!)
The Mumbo Jumbo
Don't allow yourself to get bogged down in tech jargon or acronyms. Things like processor cache, RAM clock speed, the chipset of the video card, the rotational speed of the hard drive, and the contrast ratio of your monitor are really not that important when you're buying a basic desktop computer. Most of those are things you'll never notice anyway, unless you're on the geeky side.
What About Software?
Most of the software you need will come pre-installed on your new PC. Windows comes with Internet Explorer (for web browsing) and Macs have Safari. For email, I recommend a web-based approach like Gmail or Outlook.com.
Many PC systems include a word processor, typically a trial version of Microsoft Word. If your computer doesn't come with this software, I suggest you check out Google Docs or Libre Office, both of which will give you a word processor similar to MS Word, a spreadsheet similar to MS Excel, and other useful programs, all free! You can find other free or low-cost office software in my article on Microsoft Office Alternatives. On a Mac, you'll probably want to purchase Pages (for word processing), and Numbers (for spreadsheets) for $19.99 each.
Look for a computer that comes with anti-virus software pre-installed. If yours doesn't come with an anti-virus package such as McAfee or Norton, check with your Internet service provider to see if they offer anything for free. Another option - you can download AVG Free, or another excellent free anti-virus package to replace the one that comes with your system when the free trial period expires.
Summary
So in a nutshell, here are my recommendations:
Look for a Windows based PC with monitor for around $500
Processor: 2.5 GHz or better
RAM memory: 4 GB or better
Hard Drive: 500 GB or better
Monitor: 17-inch or larger
Office Software: Libre Office or Google Docs
Security Software: Free version of AVG
Where to Buy?
Research prices online, then look at your local computer store first, as they may have some good deals and offer local support. Office supply and electronics stores such as Staples, Office Depot, and Best Buy are good options to explore too. If you're comfortable buying online, check out Dell, Gateway and other vendors to compare features and pricing.
Obviously this advice is focused on those who are looking for a desktop computer. I'll be following up this article with another on laptops and tablets, so stay tuned.
Your thoughts on this topic are welcome! Post your comment or question below...
 

Ask Your Computer or Internet Question



  (Enter your question in the box above.)

---

---

| | |
| --- | --- |
| | Check out other articles in this category: |

| | |
| --- | --- |
| | Link to this article from your site or blog. Just copy and paste from this box: |
This article was posted by Bob Rankin on 15 Jul 2013
---
---
---
There's more reader feedback... See all 34 comments for this article.
Post your Comments, Questions or Suggestions
---
Article information: AskBobRankin -- HOWTO: Buy a New Computer (Posted: 15 Jul 2013)
Source: https://askbobrankin.com/howto_buy_a_new_computer.html
Copyright © 2005 - Bob Rankin - All Rights Reserved