[HOWTO] Convert Vinyl Records to CD or MP3
| | |
| --- | --- |
| For seasoned audio purists, nothing compares to good old-fashioned analog recordings on vinyl LP records. But those old records are fragile... here's a step-by-step guide to help you convert vinyl to CD disc or MP3 files so you can enjoy them for years to come... | |
Going Digital: How to Convert Your Old Records to CD or MP3 Format
Ahhh... the warm tonal attributes, those faint pops and crackles, the life-sized artwork, just the act of setting needle to groove, they all bring to mind an immersive experience of days gone by. Although advances in audio technology may bring about improved sound quality, they also result in a new set of difficulties that music enthusiasts must overcome.
With the appearance of compact discs (CD's) in the early 1980's, the production of vinyl records began its decline. Compact discs were not nearly as susceptible to degradation from repeated playback, dust and scratches. And as digital audio reproduction improved, the CD with its greater storage capacity, physical durability, and general portability, quickly became the preferred format, leaving vinyl records to slowly fade away. (See Lifetime of a CDROM.) And how that digital downloads have become the preferred way to buy music, the MP3 file format is another alternative for converting the contents of your vinyl record collection.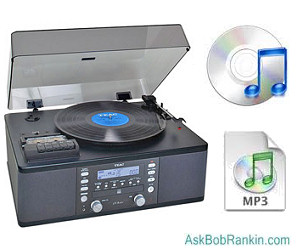 The number of recordings that ceased to exist with the declining popularity of vinyl is huge. For some audiophiles, this presents a very real problem; because of the inherently fragile form of vinyl records, as well as the slight degeneration of sound quality that comes with every listen, not to mention the fact that many simply can not be replaced, owners of these relics often leave them unplayed for years at a time, collecting dust, and relying on nostalgia to fill the void.
But just as the compact disc was largely responsible for the demise of vinyl, it is this same medium that can help resurrect and preserve these analog veterans from deterioration and obscurity. And for some, MP3 files may be even more convenient, since they allow for completely digital music collections that can be enjoyed on a computer, portable music player, smartphone or tablet. Let's look at several techniques for copying vinyl records to digital format.
All-in-One Solutions
There are a few all-in-one or combination systems that make it relatively easy to transfer your vinyl recordings to compact disc or MP3 format. DAK's LP to CD System (US$69.90) is a complete package of hardware and software that will copy your treasured vinyl records to CD discs or MP3 files. It includes a Preamp Mixer, RCA to stereo cable, and software to help you optimize the audio, then burn the CD. The DAK software will remove scratches, hum, hiss and pops, and more importantly, it automatically separates the audio stream into separate tracks. If you need a high-quality turntable, you can add that for $169 extra.
The Teac LP-R660USB-PB Turntable and CD Recorder (about US$350) is a simple all-in-one unit that lets you record both vinyl and cassettes to CD. There's no need to connect it to your computer, and no software to install. Just pop in a CD, hit the Record button, and your record or cassette will be transferred to the CD while it plays. This model also has a USB output so you can transfer music files to your computer.
Roll Your Own: Required Audio Components
Chances are, though, you already have the necessary hardware to breathe new life into your old records. Most computers have a writable CD drive (CD burner) that will accept CD-R (record-once) or CD-RW (rewritable) media. If you don't have a CD burner, external CD-R/RW drives that connect with USB cables are readily available, priced at US$30 and up.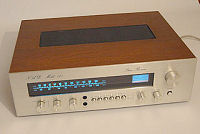 Of course, a record player (turntable) is also required. Thanks to the popularity of hip-hop and electronic music DJ cultures, there still remains a niche market for the production of turntables with both consumer and professional use in mind. Most lack built-in amplification, so a stereo amp or receiver is required to boost the signal from the player to the computer. If you need a turntable or receiver, you can find them at most large electronics stores, starting at around US $100. And of course there's always eBay.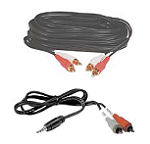 Most turntables have a pair of red and white RCA output jacks, often accompanied by a grounding terminal. Connect the color-coded outputs from the turntable to the corresponding inputs on the stereo receiver using a stereo RCA cable, ideally one that includes a third wire with U-shaped connectors that can be secured to grounding terminal screws on each component.
Your stereo receiver should include a pair of main or auxiliary outputs, which need to be connected to your computer via either a stereo RCA or RCA to 1/8-inch cable, depending upon the inputs of your computer's audio card.
For a simpler solution, the ION Audio Compact LP 3-Speed USB Conversion Turntable ($50) lets you play your treasured vinyls on this compact machine, but also comes with free downloadable audio software, and a USB cable to connect it to your computer. It may not be the highest quality turntable, but it does eliminate the need for an amplifier. RCA output jacks and RCA cables are included if you want to connect to a home stereo system.
NOTE: All of the techniques above apply equally well for transferring cassette tapes to CDs. Just substitute your cassette player for the turntable. If your cassette player does not have RCA-style audio outputs, use a 1/8-inch to RCA cable shown above.
Audio Software
In terms of software, the only real prerequisite is a simple two-track audio editor. Of course, investing $1000 in a ProTools system will certainly do the trick, but that's almost certainly more complex and expensive than you need. Instead, many shareware and freeware audio editors are available that will allow you to record, edit, and export your newly digitized audio to be burned to disc. A quick search online will produce hundreds of audio editors for both Windows and Macintosh platforms. Audacity is free audio software that comes highly recommended. See my companion article Free Audio Software for other options.
Convert vinyl to cd - Audacity audio software Most audio editors function in a similar manner. Consult the manual or help screens of your preferred application for capabilities and specifics. Be sure that your audio software is set to record the incoming signal as a 16-bit stereo .WAV or .AIF audio file with a sampling rate of 44.1 kHz, so that additional file manipulation will not be necessary prior to burning the audio onto a CD. It's also a good idea to clean the record that you are about to capture, removing as much dust and residue as possible in order to minimize noise.
Plug and Play!
Once all the wires are connected and you've fired up your audio software, just press the Record in your editing program, drop the needle in the groove, then sit back to enjoy your seldom-heard recordings. When playback is complete, stop the audio editor, at which point you will see a waveform display, serving as a visual representation of the audio signal. From here, you can keep the audio completely intact, perfectly mimicking the record itself, or you may choose to divide the recording into its constituent songs. The free Audacity can do track splitting, but it can be a bit tricky, and will require a lot of typing to enter the album, artist and song titles. But the Spin It Again software, ($35) makes converting, separating and tagging the tracks almost effortless, by integrating with online music databases. If you have a sizeable collection to convert, this will save you many hours of tedious labor.
Either way, the audio can now be burned to a CD with the aid of Windows Media Player, iTunes or the Mac OS X burning software. Commercial CD burning software such as Nero or Roxio will do the job as well. It's important to make the selection to create an Audio CD (rather than MP3, data or video). Some software also requires that you "finalize" the disc. This will ensure that your CD's are compatible with the majority of CD players. In addition, when choosing blank CD media, opt for high-quality, name brand discs; it would hardly be worth the energy if the entire process had to be repeated in just a few short years.
Digital, Safe and Portable
Getting your music collection in digital form, and having it available on your computer is good. But making sure your collection is safely backed up, easily portable, and available for listening on other devices is even better. You accomplish that by uploading your MP3 music files to cloud storage. One way is to use Google Play Music Manager. You can keep up to 50,000 songs in Google Play for free, and listen on the web or your mobile devices. The Music Manager software (Windows, Mac, or mobile) lets you upload your music collection from iTunes, Windows Media Player, or local folders.
pCloud is another option. This file sharing service lets you stash up to 20 GB of music files online, and access them on your desktop, laptop, smartphone or via a web browser. pCloud software (Windows, Mac, Linux, and mobile apps for iOS and Android) lets you easily upload and listen on the device you choose.
Got comments about converting vinyl records to digital? Post your thoughts below...
 

Ask Your Computer or Internet Question



  (Enter your question in the box above.)

---

---

| | |
| --- | --- |
| | Check out other articles in this category: |

| | |
| --- | --- |
| | Link to this article from your site or blog. Just copy and paste from this box: |
This article was posted by Bob Rankin on 1 Mar 2018
---
---
---
Post your Comments, Questions or Suggestions
---
Article information: AskBobRankin -- [HOWTO] Convert Vinyl Records to CD or MP3 (Posted: 1 Mar 2018)
Source: https://askbobrankin.com/howto_convert_vinyl_records_to_cd_or_mp3.html
Copyright © 2005 - Bob Rankin - All Rights Reserved