Is It Time to Replace Your Power Supply?
| | |
| --- | --- |
| A reader says: 'The fan inside my computer has started making an awful noise, and I'm afraid it's ready to bite the dust. Does that mean I need to replace the power supply?' The answer is MAYBE! Read on to find out if your power supply should be replaced... | |
How to Replace Your Computer's Power Supply
Your computer's power supply is a critical component, obviously. The power supply converts alternating current to direct current and feeds power to all the many components of your computer. But how can you tell if your power supply is powerful enough, or if it's about to die? How do you decide what kind and capacity of power supply to buy, and how difficult is it to replace a power supply yourself?
You know your power supply has probably died when you turn on the computer and absolutely nothing happens. If there is no monitor flicker, no fans humming, and no LED lights on the system unit, then it MIGHT time to replace the power supply. But first, let's rule out a few no-brainers. Is the computer plugged into the wall socket, or a power strip? Does the socket work when you plug something else in? If you're using an extension cord, try again without it. If none of those tests changes anything, then we can safely declare your power supply a goner.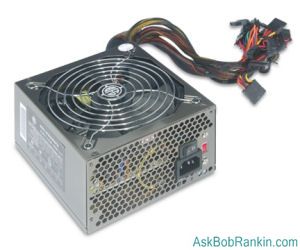 You may get early warning of a power supply that is going to die soon. It generally takes the form of a high-pitched whining noise traceable to the power supply. You may also hear a buzzing sound, which could indicate that the power supply cooling fan is going bad. In some cases, you may detect a whiff of a burning smell. Do not let these symptoms continue for long!
An overloaded or overheated power supply can send voltage surges through your computer that can fry components. I've even heard of power supplies catching fire or belching out acrid black smoke. It's much cheaper to replace a power supply now than the whole computer later.
Which Power Supply Should You Buy?
The number of watts a power supply can deliver is directly proportional to its cost. Computer makers want to save manufacturing costs, so they tend to include power supplies that barely provide enough power for the components added at the factory. There is your first clue about how to tell if your power supply is adequate.
If you add or upgrade components that consume more power (extra internal hard drives, optical drive, etc.) make sure your power supply can supply the new total requirement. And don't forget that devices connected by USB draw power as well. The power requirement of each component, in watts, should be available on the device itself or in its documentation. Add up all the requirements and compare the total to the watt rating of your power supply, which should be on the power supply's label.
Your computer's total power requirements should not be more than 80 percent of the power supply's rating. The reason for this leeway is that components are usually labeled with their "running" power requirement, and the startup power requirement may be higher. You don't want to overload the power supply when you power-up the computer.
It doesn't hurt to buy a power supply that's beefier than you need. If your computer was equipped with a wimpy 250W power supply, it won't hurt to replace it with a 450W model. High end gaming systems may require 750W or 1000W power supplies. Your existing power supply will be labeled with the wattage, so use that as a guide an bump it up a few notches just to be safe. You can probably find that number on the vendor's website as well.
I found some 450W power supplies at Tiger Direct and other online vendors for about $40, but prices do vary widely. Higher-priced power supplies tend to have better cooling fans, and by better I mean quieter. A noisy cooling fan is a great irritation. Cheaper models also may have less electronic filtering, which can cause interference with other electronic devices like wireless phones.
Do It Yourself Power Supply Replacement
The good news is that power supplies are pretty easy to replace, and are not terribly expensive. For the purposes of this article, let's limit ourselves to desktop computers. Laptop repairs can be tricker, and are best left to a professional repair staff.
A desktop computer's power supply is typically a silvery metal box held snugly in a corner of the computer's case by brackets and screws. You can easily find the location of the power supply, even without opening the system unit. Just look on the back of the unit, where the primary AC power cable plugs in.
After unplugging everything that's connected to the system unit, you can open the case by loosening a few screws and sliding the cover panel(s) off. Open up the system unit, and you'll see a tangle of wires coming out of the power supply. Pairs and triplets of wires terminate in connectors of various shapes. These connectors plug into the components that need power: motherboard, hard drive, CD/DVD drive, etc.
You can remove the power supply by unplugging all the connectors that are feeding the various components, and then removing the screws that hold the power supply to the case. When removing power connectors don't just yank them out. Always pull on the connector, and not the cable. Also, some connectors have a small tab you need to press to release it from the socket. You might want to label each of the connectors as you unplug them, to make sure they all get plugged back in.
After popping the new power supply in the system unit, reconnect the connectors to all the components. Each component will accept only a certain shape of connector, so you really can't go wrong. If the connector fits, it's the right set of wires. Just make sure you don't forget to connect anything. If you want some reassurance, check out one of these Youtube videos that demonstrate the power supply replacement process.
Research power supplies for type of system you have: basic home user, high-end gamer, business, etc. Talk to people in computer user groups and online forums; they're generally enthusiastic about the finer points of hardware and will be more than happy to tell you which power supplies are ideal for your needs and budget.
Do you have something to say about replacing a power supply? Post your comment or question below...
 

Ask Your Computer or Internet Question



  (Enter your question in the box above.)

---

---

| | |
| --- | --- |
| | Check out other articles in this category: |

| | |
| --- | --- |
| | Link to this article from your site or blog. Just copy and paste from this box: |
This article was posted by Bob Rankin on 15 Nov 2019
---
---
---
Post your Comments, Questions or Suggestions
---
Article information: AskBobRankin -- Is It Time to Replace Your Power Supply? (Posted: 15 Nov 2019)
Source: https://askbobrankin.com/is_it_time_to_replace_your_power_supply.html
Copyright © 2005 - Bob Rankin - All Rights Reserved