Is Sharing Your Netflix Password Illegal?
| | |
| --- | --- |
| The U.S. 9th Circuit Court of Appeals ruled in July 2016 that password sharing is a violation of the Computer Fraud and Abuse Act, and punishable as a criminal act. Does that mean that you can go to jail for sharing your Netflix, Hulu, or HBO account with friends and family? Let's take a look at the law, and how streaming media service providers are actually dealing with password sharing... | |
Sharing Streaming Accounts: Piracy Lite?
Have you ever seen a message like this? "Your Netflix account is in use on another device. Please stop playing on other devices to continue." That may happen if you're oversharing. But how much sharing is too much sharing? And when does it rise to the level of a crime?
Netflix recently announced increases in the monthly fee for subscriptions which allows simultaneous streaming to multiple devices. The "Standard" option ($10.99) allows streaming on two devices, and the "Premium" plan ($13.99) allows four simultaneous streams. The "Basic" plan ($7.99) allows only one stream, and is SD (standard definition) only.
A Goldman Sachs analyst says, "We believe a targeted price change like this is designed to reduce excessive password sharing by incentivizing users to switch to the 1-screen plan," which costs $3 less per month.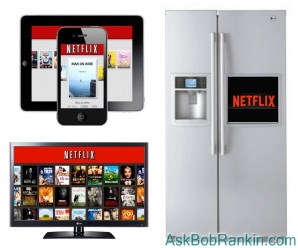 A Consumer Reports poll found that 46% of Americans have shared their streaming account passwords with someone outside of their home. About 11% of broadband-using households receive Netflix, Amazon Prime, Hulu Plus, or some other streaming services by sharing someone else's password, according to a study conducted by Parks Associates. That translates into a combined $500 million of lost revenue for all streaming service providers.
College students are the worst moochers, with 20% of 18-24 year-olds admitting they use someone else's password to get Netflix or other video streaming services for free. Usually, it's their parents' account, but students have no problem with sharing passwords among themselves.
Jail Time for Password Sharing?
The Ninth Circuit tried to clarify its ruling on password sharing, but according to the EFF, they only made it more confusing. The bottom line seems to be that sharing passwords for online services is okay as along as the non-owner has "valid authorization" to use the account. But the court did not make clear whether that "authorization" must come from the account owner, or the service provider.
On a practical level, though, Netflix, Hulu, HBO and other streaming media companies have tried to re-assure their customers that they're not going to turn you in to the Feds for sharing your account, but there are some limits to their generosity.
Officially, Netflix's terms of service warn subscribers, "The Account Owner should not reveal the password to anyone." But the truth is, they really don't care. In fact, they realize that some reasonable levels of password sharing actually boost their bottom line. "We could crack down on it, but you wouldn't suddenly turn all those folks to paid users," Netflix CFO David Wells says. CEO Reed Hastings agrees: "As kids move on in their life, they like to have control of their life, and as they have an income, we see them separately subscribe. It really hasn't been a problem."
In Tennessee, however, sharing a streaming service password is a misdemeanor under a "theft-of-services" law that was updated in 2011 to explicitly include "web entertainment services." Violators face up to a year in jail and up to a $2,500 fine. I can't find any evidence of prosecutions under this law, and one wonders why the state would have it on the books when the streaming services seems quite capable of managing the situation themselves.
How Much Sharing is Allowed?
Netflix customers have three options. As I mentioned above, there's the 1-screen account which allows no sharing. Two-screen and four-screen options cost a few dollars extra per month, and are supposed to be limited to sharing within a household. But the company doesn't enforce that restriction, nor do they assess any penalties for violators. Amazon Prime limits customers to two devices for simultaneous viewing. HBO GO allows for three, but Hulu Plus has a limit of one viewing device at a time.
Of course, these restrictions only apply to simultaneous viewing. If you share your password with 10 people, and they're all watching at different times, you won't hit any multiple screen limits. And for the most part, the content providers don't seem to have a problem with that, as long as you're becoming addicted to their product. An HBO executive says: "For us it's more important that at that age where they are not financially independent quite yet, they are habituating to using the product to ultimately aspiring to becoming paid customers."
"Piracy lite" may be morally wrong and technically illegal in Tennessee, but it's not very dangerous. Password-sharing is different from the theft and resale of passwords. There is little security risk in sharing a Netflix password with a college-bound child, a significant other, or someone else you know and trust. Streaming services don't provide opportunities to plant malware on an account holder's computer or compromise financial accounts.
On the other hand, couples who share streaming accounts while romantically involved often find it difficult to stop after they break up. An article on Slate.com asks, "Do couples need pre-nups for their shared streaming passwords?" It explores several relationships, some bittersweet and some horrifying, in which people continued to share streaming passwords after their relationships ended. Several examples left me shaking my head and mentally urging the account owners to "just change the darned password!"
Netflix, Hulu, and other streaming services are unlikely to crack down on password-sharing in the near future. Even half a billion dollars is a drop in the streaming industry's bucket, and every freeloader who becomes addicted to streaming media is a potential paying customer when Mom and Dad (or an ex-girlfriend) cut the cord. But Netflix's recent price changes suggest that password-sharing needs to be reined in, or at least "disincentivized."
Your thoughts on this topic are welcome. Post your comment or question below...
Ask Your Computer or Internet Question



(Enter your question in the box above.)

---

---

| | |
| --- | --- |
| | Check out other articles in this category: |

| | |
| --- | --- |
| | Link to this article from your site or blog. Just copy and paste from this box: |
This article was posted by Bob Rankin on 27 Oct 2017
---
---
---
Post your Comments, Questions or Suggestions
---
Article information: AskBobRankin -- Is Sharing Your Netflix Password Illegal? (Posted: 27 Oct 2017)
Source: https://askbobrankin.com/is_sharing_your_netflix_password_illegal.html
Copyright © 2005 - Bob Rankin - All Rights Reserved