Is Smartphone Addiction Real?
| | |
| --- | --- |
| Once brushed aside as "Luddite hysteria," the addictive power of technology (and smartphones in particular) is now taken quite seriously by scientists, policymakers, and even Apple shareholders. Research has shown decisively that too much "screen time" is harmful, especially to children. Here's an analysis of the problem, and some tips on breaking free... | |
Breaking Smartphone Addiction
I cringe when I see a young parent hand their smartphone or tablet to a toddler. I know the damage it will ultimately cause, because I've seen a generation of kids grow up with these gadgets glued to their hands from dawn to dusk. We've heard about the woman who fell into the fountain while texting, but the problem goes a lot deeper than soggy pants at the mall.
It's not just the number of hours spent online that do damage. Apps, games and social networks are deliberately designed to be addictive, and have the unintended consequence of destroying one of our uniquely human talents: the ability to pay attention.
Tristan Harris is a former Google product manager who left the tech giant to sound the alarm about "brain hijacking," a term Silicon Valley programmers use to describe what they do. Using principles of neuroscience and behavioral psychology, they design games, quizzes, user interfaces, and social network features that not only make you want to use them but actually compel you to keep using them, even against your better judgment.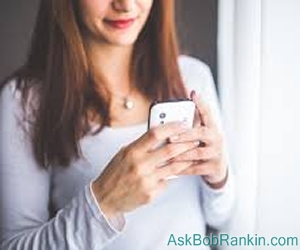 "(E)very time I check my phone," Harris told CBS News recently, I'm playing the slot machine to see, 'What did I get?' This is one way to hijack people's minds and create a habit, to form a habit. What you do is you make it so when someone pulls a lever, sometimes they get a reward, an exciting reward. And it turns out that this design technique can be embedded inside of all these products."
On Facebook, a tiny blue thumb waggles when you "like" something, an approving response that tells your brain to "like" more things. Instagram has an algorithm that predicts when you are likely to be about to log off; at such moments, Instagram hits you with a flood of "likes" because who wants to quit when they're "on a roll?" The "whoosh" sound when you send a text make you want to send more texts. Every nuance of your devices and most of the things you do on them have such insidious incentives coded into them.
Distraction Yields Engagement
Distraction is another way to increase "engagement." When you are writing a new status update, Facebook doesn't ask what you are feeling to help you express yourself better. It asks so that you will be distracted from what you are writing and spend time selecting a "feeling." Then it tempts you to select an emoji that captures that feeling. The latest distraction: select a color and background pattern for your post! (I bet you thought that was to help you emphasize your post among all the others on your friends' newsfeed.) These distractions break your focus on what you came to write.
Your brain likes to be distracted; that's a primitive survival trait. An animal that can easily and rapidly switch its perception from one object to another is more likely to spot a threat in time and live to reproduce. The human ability to focus, to pay attention to one thing for an extended period, is mainly a matter of filtering out distractions. Modern tech is undermining our ability to pay attention.
The results are seen not only in today's classrooms but in adult interactions of all kinds. Have you found yourself asking, with exasperation, "What did I just say?" more often than you did just five years ago? I have. Invariably, my absent-minded interlocutor's phone is visible, if not literally between us.
Tomorrow's adult ADD cases are in today's classrooms. Just a few years ago, a teacher would confiscate a phone if it was visible during instructional time. But no more. Teachers and administrators are powerless to intervene, because prying an iPhone from a teenager's hand is likely to induce a meltdown. Such extreme emotional reactions are a sure sign of addiction.
Technology is Neutral?
The battle for your brain is a rigged game. The old saw, "Technology is neutral, you decide how you will use it" is now a lie, if it ever was true. The software platforms that we use are deliberately designed to make us use them more, for the purpose of making more profits for the designers. And they're designed using underhanded biological and psychological tricks, not by making software that is more useful.
How can we reclaim our focus, our time, our real lives in the real world? Perhaps even more importantly, how can we help children avoid growing into mentally, emotionally, and socially crippled adults? These disturbing questions and others are being asked of tech giants in ever louder voices.
Venture capital heavyweight JANA Partners LLC and the California State Teachers' Retirement System collectively own $2 billion of Apple stock; Tim Cook pays attention to them. These entities co-authored a letter to Apple's board of directors in January, 2018, that I highly recommend to my readers.
You have your own battles to fight, for yourself and your loved ones. A new book by Catherine Price, "How to Break Up With Your Phone" gives practical advice on how to extricate yourself from online addiction, and how to immunize youngsters against it. (Hint: abstinence is not the answer.)
Nicholas Carr's book "The Shallows: What the Internet Is Doing to Our Brains" provides a great review of the scientific research into that very question. It's a bit scary.
An article in Today's Parent magazine lists 9 Signs Of Screen Addiction In Kids. Here's a smartphone addiction test, and some self-help tips for dealing with the problem.
Do you recognize symptoms of screen addiction in yourself, your spouse, or your child? I urge you to check out the resources mentioned above, and do your own research on how to find balance. Our brains are at stake.
Your thoughts on this topic are welcome. Post your comment or question below...
 

Ask Your Computer or Internet Question



  (Enter your question in the box above.)

---

---

| | |
| --- | --- |
| | Check out other articles in this category: |

| | |
| --- | --- |
| | Link to this article from your site or blog. Just copy and paste from this box: |
This article was posted by Bob Rankin on 25 May 2018
---
---
---
Post your Comments, Questions or Suggestions
---
Article information: AskBobRankin -- Is Smartphone Addiction Real? (Posted: 25 May 2018)
Source: https://askbobrankin.com/is_smartphone_addiction_real.html
Copyright © 2005 - Bob Rankin - All Rights Reserved