Is Software Piracy a Victimless Crime?
| | |
| --- | --- |
| An AskBob reader asks: "I know some of my friends are using commercial software without paying for it. They say it's no big deal to get pirated versions of games from 'warez' sites, and that I'm a fool to pay for Windows, Microsoft Office, and video games when I can download them for free. Software piracy seems like one of those 'victimless crimes', so why is it illegal?" Read on for my analysis... | |
What is Software Piracy?
Let's start with a fact: software piracy is theft, plain and simple. Dressing it up in the pseudo-romantic connotations of "piracy" doesn't change that fact. Making excuses for theft diminishes the harm that it does. Pardon the unpleasant analogy, but excuses are like flatulence: everybody has some and nobody wants to hear it. Read on, and I'll explain the harm that software piracy causes, the dangers it can pose, and why it's really pointless. (Read all the way to the end for the really good news.)
In general, software piracy is the unauthorized use of software. "Use" may have the ordinary meaning of using the software for its intended purpose, or it may mean making and distributing copies of the software. If you don't have the copyright owner's permission to use the software, you're committing piracy. You are taking the copyright owner's property - the right to control the sale or use of his software - without permission or compensation. That is theft, obviously.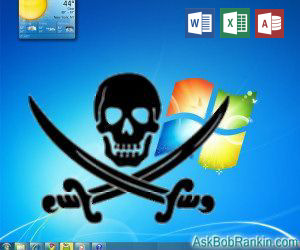 The harm done by software piracy is done to the rights owner and to society. The rights owner (the software developer) is deprived of money that would otherwise be available to help him earn a profit from his labor, distribute his software and develop new software. Of course the "him" in the preceding sentence could be an individual man or woman, a small business, or a huge corporation.
Rail against greedy corporations all you like, but piracy costs jobs at every link in the software development and distribution chain, from programmers to retail clerks. The money that those unemployed or underpaid people would have received is not spent to support other people's jobs. About the only jobs that piracy creates are for lawyers, police, and judges.
The Business Software Alliance, an anti-piracy group funded by software developers, estimates that 37 percent of software installed on personal computers is unlicensed (pirated), and 57 percent of all computer users admit to pirating software at some time. There's also a growing malware threat related to the use of unlicensed software. In their 2018 GLOBAL SOFTWARE SURVEY, you can find these and other interesting stats:
annual losses due to piracy amount to over $350 billion
malware infections are tightly linked to the use of unlicensed software
there's a one-in-three chance of encountering malware when installing unlicensed software.
Examples of Software Piracy
That report from 2018 is the latest software piracy survey from the BSA. The world is not becoming a kinder, gentler place, so it seems reasonable to assume that the problem is only getting worse. Some argue those figures are meaningless or excessive because some stolen software would not have been purchased anyhow. But stealing something that hasn't been sold is still stealing. The BSA identifies five types of software piracy:
End-user piracy: - A company employee makes unauthorized copies of software. Examples include
Using one licensed copy to install a program on multiple computers;
Copying disks for installation and distribution;
Taking advantage of upgrade offers without having a legal copy of the version to be upgraded;
Acquiring academic or other restricted or non-retail software without a license for commercial use;
Client-server overuse: - Allowing too many employees on a network to access a central copy of the software. Client-server software is typically sold with a license to have a limited number of simultaneous users. Each user over that limit constitutes an instance of theft.
Internet piracy: - Downloading unauthorized copies of software from websites or peer-to-peer networks. Buying unauthorized (stolen) copies of software from auction sites and other online venues is also Internet piracy.
Hard-disk loading occurs when you obtain a computer with free software pre-installed, if the seller hasn't obtained a license to reproduce and distribute the software in this way.
Software counterfeiting is the unauthorized duplication of software and packaging of it to mimic the legitimate packaging. Counterfeit software may include user manuals and even end-user license agreements.
Caveat, Pirator!
You may find "too good to be true" deals on software at eBay or Craigslist. Not long ago, I saw "Microsoft Office 365 (Office 2021) Pro Plus" advertised for $3.97 on an auction website. It should be obvious that this is a scam, given that no product with that name exists, and a legit copy of Office Home & Business 2021 retails for $249.
You may even see free or "cracked" versions of popular software titles on file sharing or Bittorrent sites. I advise people to steer clear, to avoid the dangers of installing pirated software, and guard against look-a-likes that have embedded malware. By installing one of these freebies, you could be opening a backdoor to your computer that allows hackers, viruses, and identity thieves to wreak havoc. This seems to happen frequently with video game titles, and expensive software used in academic/research settings.
Last year, nasty Ryuk ransomware found entry into a bio research institute, requiring a complete rebuild of the server software, and ruining a weeks' worth of vital research. The "attack vector" was a student who downloaded a "cracked" (free/unlicensed/pirated) version of a data visualization software tool, which turned out to contain malware. Oopsie.
You can help stop software piracy by reporting it via the BSA's website, where your report will remain anonymous. If you think you may have inadvertently acquired illegal Microsoft software, you may want to read Microsoft's How to Tell page to find out if your Microsoft software is genuine and licensed.
What About Free Software?
The irony is that most of this software piracy is pointless. There are many excellent FREE programs that rival the quality and features found in their expensive commercial counterparts. Did you know you can download a free office suite, with word processor, spreadsheet, database and presentation modules? It can even open and save files in Word, Excel, Access and PowerPoint formats. And that's just one example. You can find free software for accounting, productivity, image/photo/audio editing, anti-virus, password managers, games and much more.
Check out my articles
Free Microsoft Office Alternatives
Seven Free Software Downloads
Seven More Free Software Downloads
and Replace Your Paid Software with Free Alternatives.
Your thoughts on software piracy and free software are welcome. Post your comment or question below...
 

Ask Your Computer or Internet Question



  (Enter your question in the box above.)

---

---

| | |
| --- | --- |
| | Check out other articles in this category: |

| | |
| --- | --- |
| | Link to this article from your site or blog. Just copy and paste from this box: |
This article was posted by Bob Rankin on 11 Jul 2022
---
---
---
Post your Comments, Questions or Suggestions
---
Article information: AskBobRankin -- Is Software Piracy a Victimless Crime? (Posted: 11 Jul 2022)
Source: https://askbobrankin.com/is_software_piracy_a_victimless_crime.html
Copyright © 2005 - Bob Rankin - All Rights Reserved