Magic Jack - Good or Evil?
| | |
| --- | --- |
| Perhaps you've read reports about spyware in Magic Jack, or heard claims that the company sells your private information to third parties. Here's the scoop... | |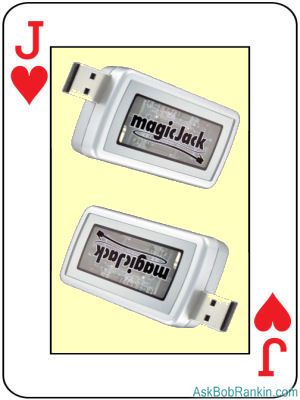 Is Magic Jack Spyware?
After writing about the Magic Jack device last month (see Magic Jack Phone Service), I've received a flood of comments. Most people who wrote seem to love this gadget, which connects your phone to your computer and provides unlimited phone service for $20 a year. Others were vocal in their dislike for the product. I can understand that some people will have voice quality problems, due to under-powered hardware, a flaky internet connection, or software conflicts. But after a few people wrote in claiming that Magic Jack contains spyware or keyloggers and that the company may be selling private information to the highest bidder, I decided to investigate for myself.
The source of most these repeated allegations seems to be this article Real Problems With Magic Jack from the BroadBand Nation blog. The author makes a lot of dubious claims that stem from his reading of the MagicJack Terms of Service (TOS) document, among them that Magic Jack is spyware, and that the company reserves the right to snoop through your files and emails -- even sell your private information to third parties. Here are some examples, in bold text below.
>BBN: In the TOS you agree that everything in your computer is fair game for them to know about, all web sites, email, and numbers called are their info.
But that's just wrong. The TOS says "Your registration data and certain other information about you are subject to this Terms of Service." Nowhere does it say that MJ software will snoop around on your hard drive, looking through your personal documents, reading your emails, or checking out what websites you've visited. And there's no evidence this is happening. Your "registration data" is your name, address, and other info you provided when you signed up. It's a big stretch of the imagination to assume that the "certain other information" includes "everything in your computer."
It's important to remember that ANY piece of software on your computer has the ability to access ANY file on that system. Your web browser, word processor, email program, even your anti-virus program -- they all have carte blanche to read, write, change, delete or transmit anything on your computer. But that doesn't mean they will.
It is true that the MJ TOS says they "may analyze the phone numbers you call and your registration information in order to improve the relevance of the ads." Okay, so they know your name, address, and who you call. I don't think most people would be concerned about that, because they're NOT listening to your conversations -- they're just looking at the numbers you dial. Let's make up a scenario... Suppose MJ determines that you are calling an auto insurance company, what's the worst that could happen? An ad for another insurance company might pop up on your screen? Horrors! Oh, and by the way... do you think that maybe your phone company ALSO knows who you are and who you call? Of course they do, and that doesn't make them evil.
>BBN: You agree to have all of your information resold to third parties.
Wrong again. The MJ TOS clearly states: "We do not provide any personal information to our advertisers or third parties." This is either an oversight or an intentionally inflammatory remark on the part of the author.
>BBN: Their TOS spells out their intent -- the intent to feed context sensitive advertising, which requires manipulation of information from your brain through their software into their processors.
Yes, the MJ software MAY serve up context sensitive ads. And hooray for context-sensitive ads! If their business model includes advertising, wouldn't you rather that the ads be relevant? Google does that with Gmail. If you're reading an email from your friend in Miami about her dog, you might see ads for dog food, or Miami hotels on the side of the screen. Yahoo and Microsoft do the same type of things when serving up ads based on the content of a web page.
This does not mean that your personal information has been compromised or shared with any third party. It means only that a computer examined the information on the screen, and served up ads that were related to the content. Oh, and from what I've heard, they aren't even serving ads yet. One friend who loves his Magic Jack told me he's not seeing any ads from Magic Jack, and I've read the same comments from other users.
>BBN: You agree that magicJack may access, preserve and disclose your account information if required to do so by law
Okay... that's pretty standard. Any company you do business with will disclose your account info when given a court order to do so.
>BBN: There is no Un-install for this program. Even if you stop using it, it gathers your information.
It's true that there is no uninstall for the MJ software, and that's not a good thing. But if you stop using the MJ software, you're not making or receiving any phone calls with it. So what could it be gathering? I agree that MJ should have an uninstall, and that not having one is a bad practice. But we can't conclude that if you stop using the software, it will silenty track your every move and report back to the mothership. BTW, if you want to stop using the device, here are some good Magic Jack uninstall instructions.
>BBN: MajicJack Spyware slows down your computer even when you are not using MagicJack.
Spyware?? Again, this is either wild speculation, or is meant to be inflammatory. There's just no evidence that MJ contains any spyware, or that it is snooping around your hard drive and sending your personal information to anyone.
>BBN: Then there is the ability of MJ to modify their software at any time, without the common user's ability to stop it, and that revision could include the spyware coding.
Oh, I see. The automatic update feature, instead of providing "updates to the Software, bug fixes, and patches" (as stated in the TOS), could actually be downloading Nasty Spyware on your system, possibly even giving Evil Hackers and Russian Spies back door access to view your family photos. Riiiight.
News Flash: Your operating system, web browser, and anti-virus programs ALL have auto-update features. This is a good thing, because if you leave this task up to the users, most will probably not bother to download and install updates and security patches.
>BBN: There is no written warranty on the box. It breaks, you buy another to maintain your service.
I've heard from several people who told me that when they had trouble with the MJ unit, the company replaced it for free.
Computer must be left on to make or receive calls.
Yup, it's a USB device. And they tend not to work when they have no power.
>BBN: Magic Jack is owned and run by YMAX. They are not a stand alone VoIP provider.
Gasp! My research shows that YMAX Communications Corporation is "a modern phone company with the largest competitive local exchange carrier (CLEC) network in the US" and that the founder formerly ran Talk America, a long distance company with four million customers. So that's bad?
What's the Verdict on Magic Jack?
I'm really not trying to defend Magic Jack here. I don't own one, and I have no financial stake in the company. But when I see a product maligned on the basis of speculation, or a deliberate attempt to misinform, that does upset me.
It's true that the Magic Jack terms of service are a little vague on some points, and that the EULA (end-user license agreement) contains that standard legalese found in so many of these documents, which attempts to absolve the company of all blame, no matter what happens. But it's just not fair to extrapolate beyond the facts, and make unfounded claims that the company is doing evil or trampling on the privacy of their customers.
Here's what I believe... based on my own research, my personal interaction with Magic Jack users, and my reading of the Terms of Service:
There is no evidence that the Magic Jack software is snooping around on hard drives, looking through documents, emails, or web browsing history.

There is no evidence that the Magic Jack software is (or contains) spyware. Neither do I give any credibility to the notion that the auto-update feature might someday dump spyware on the computers of MJ users.

There is no evidence that the company selling Magic Jack has ever sold private information to third parties, and no indication in the TOS that they might. In fact, they explicitly state that they will not.


Of course, I could be wrong. Your comments are welcome...
 

Ask Your Computer or Internet Question



  (Enter your question in the box above.)

---

---

| | |
| --- | --- |
| | Check out other articles in this category: |

| | |
| --- | --- |
| | Link to this article from your site or blog. Just copy and paste from this box: |
This article was posted by Bob Rankin on 11 Feb 2009
---
---
---
There's more reader feedback... See all 93 comments for this article.
Post your Comments, Questions or Suggestions
---
Article information: AskBobRankin -- Magic Jack - Good or Evil? (Posted: 11 Feb 2009)
Source: https://askbobrankin.com/magic_jack_good_or_evil.html
Copyright © 2005 - Bob Rankin - All Rights Reserved