Monitor Your Bandwidth Usage
| | |
| --- | --- |
| The days of unlimited Internet use are drawing to a close for many people. As metered bandwidth billing, data allowances, and exorbitant overage fees become more common, it behooves everyone who has such an Internet service plan to continually keep track of how many bytes they're using. Here's how to keep tabs on your data usage... | |
How to Keep Track of Data Usage
Does your Internet service provider (ISP) limit how much data you can use each month? If so, do you know much much they'll charge if you exceed your data allotment? Do they throttle your download speed if you consume too much data? Even if your plan is "unlimited" there's probably something buried in your Terms of Service about "excessive, abnormal, or unreasonable" usage.
It's especially important to keep an eye on your data usage if you have satellite internet, wireless broadband, or a smartphone with a mobile data plan. Outside the USA, data caps are quite common, even on high-speed consumer Internet plans. Some U.S. providers have data caps on consumer DSL and cable internet service.
So it's smart to find out if your mobile and/or internet provider has data limits, speed throttling for "excessive" use, if they provide any tools to show your usage, and if you'll get an alert when you're nearing your limit. A visit to the ISP's website, or a call to customer service should give you those answers.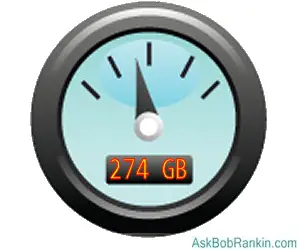 The problem is, service providers' data monitoring and overage alerts are not always reliable. This month, I've talked with several Verizon Wireless Internet customers who are getting alerts that they are at 90 per cent of their monthly data allowances, or even over them, when Verizon's own website says they are within 50 to 75 per cent of their data allowances. In case of a billing dispute, your own traffic logs can be invaluable.
Before consumer demand reached critical mass, most network monitoring software was designed for IT pros in business environments. Such programs are far too complex and expensive for the average home user. But a few simple, inexpensive or free programs are now available that provide the information and services that consumers need. The questions most users ask include:
How many gigabytes have been used since the billing period began? Who or what is using how much of our data allowance? How fast are my upload and download speeds? Who is on my home network?
Free Network Monitoring Tools
NetspeedMonitor is a free download (with donation nags every now and then) that takes up less than 200 Kbytes of disk space; its memory footprint is equally small. No configuration is necessary to start using it; just say "OK" when the installer asks if you want NetspeedMonitor on your Windows taskbar and there it goes. Numbers displayed next to the letters "U" and "D" tell you your current upload and download speeds, respectively. The program keeps track of all bytes uploaded or download, and detailed traffic logging is optional.
Note that Netspeed Monitor tracks only the traffic of the PC on which it is installed; it won't monitor multiple devices on a home WiFi network to tell you at a glance who's hogging the data allowance. But it can be installed on every PC in the home, and the parental admin can check likely suspects individually. Also, this program monitors only one network adapter at a time, e. g, your WiFi adapter or Ethernet adapter. If you switch from one adapter to another, you have to reconfigure Netspeed Monitor to monitor the new adapter.
NetWorx from SoftPerfect is another free tool to help you keep tabs on your bandwidth usage, and the speed of your Internet connection. It can monitor all network connections or a specific one, and allows you to configure a variety of alerts for network problems, unusually heavy usage, or suspicious activity. Reports on daily, weekly and monthly bandwith usage are logged on your hard drive, and can be exported in Word, Excel or HTML formats.
Another program called Online Bandwidth Monitor keeps tabs on all network adapters simultaneously. It does not store traffic logs on your hard drive; instead, you are whisked to OnlineBandWidthMonitor.com where your traffic summary is displayed by the Web server. Think about that; a record of all you upload and download is on someone else's server!
The program itself is fine but its installer is riddled with "offers" of toolbars, free gaming sites that push still more advertising honeypots at you, and other crapware. I counted no fewer than five screens of tricks and traps for the unwary user who clicks "accept" when he should "decline." (Probably why Google Chrome's anti-phishing feature will warn you that this program is "associated" with phishing and/or malicious software.) This offensive form of marketing is brought to you by CNet, which used to call itself "the technology network" but now seems bent on becoming The Spam King. (See more about CNET's ugliness in DOWNLOAD ALERT: Foistware Warning)
Data Monitoring for Mobile Devices
If you have a smartphone or tablet, you almost certainly have a metered data plan. Verizon offers the My Verizon Mobile app, which does basic data monitoring. AT&T customers can use the myAT&T app. If they're not pre-installed on your device, you can find them in the Google Play Store (for Android) or Apple Store (iPhone, iPad, iPod). Free third-party apps such as Onavo Count and 3G Watchdog offer more detailed data monitoring capabilities.
Devices running Android 4.0 or higher can use the Data Usage app found in Settings. It will show data usage for different time periods, alert you when you reach a specified data limit, and shows which apps on your device are consuming the most data. Tapping on one of those data hogs gives you the option to restrict that app to wifi connections. iPhone and iPad users with the recently released iOS 7 can find a similar (but more basic) utility in the Settings.
Lurking In the Shadows?
Home users with wifi routers should take care to prevent neighbors, strangers and other unwanted users on their wifi networks. An outsider with access to your network could download gobs of data, triggering overages, and other kinds of trouble. See my Five Common WiFi Security Mistakes for help securing your router.
If you're concerned about unauthorized users on your network, Who Is On My WiFi monitors your router, so it is aware of every device attached to your network: PCs, printers, tablets, smartphones, and that sketchy-looking guy parked outside. With a little detective work, you can sort out which devices are authorized to be on your network and flag them so Who Is On My WiFi won't sound an alarm when one logs on. The paid version of the software includes the ability to "jam" any connection so that the device and its user cannot access the Internet or other network devices. A jammed device is not prevented from joining your network, but it cannot go anywhere.
Do you monitor your data usage? Does your ISP have data caps or throttling for heavy users? Post your comment or question below...
Ask Your Computer or Internet Question



(Enter your question in the box above.)

---

---

| | |
| --- | --- |
| | Check out other articles in this category: |

| | |
| --- | --- |
| | Link to this article from your site or blog. Just copy and paste from this box: |
This article was posted by Bob Rankin on 17 Sep 2013
---
---
---
Post your Comments, Questions or Suggestions
---
Article information: AskBobRankin -- Monitor Your Bandwidth Usage (Posted: 17 Sep 2013)
Source: https://askbobrankin.com/monitor_your_bandwidth_usage.html
Copyright © 2005 - Bob Rankin - All Rights Reserved