My Cholesterol Level is Too High!
| | |
| --- | --- |
| After a routine physical, I got the news from my doctor that my cholesterol is too high. My diet is pretty healthy, and I'm not in bad shape for a 48-year-old guy. But this LDL and HDL stuff is a wakeup call for me. Clearly I need to exercise more and be aware of foods to avoid high cholesterol. So here's my 4-month plan to knock 40 or 50 points off that cholesterol number, without using any prescription drugs... | |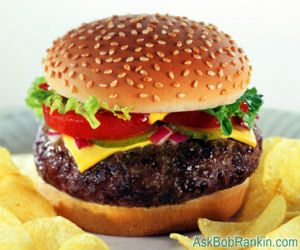 Lowering Your Cholesterol
I realize this has nothing to do with computers or the Internet, but life is more than 1's and 0's. I hope you find this personal story interesting, useful, and even inspiring.
Cholesterol is a waxy substance floating around in your bloodstream. Your body needs it to make cell membranes and hormones, but too much can put you at risk for a stroke or heart attack. And I have too much. Since getting a lower than expected grade on my heart health report card, I've been doing research into what causes high cholesterol; diets and foods that help to lower cholesterol; and tips on how to lower cholesterol naturally.
And I decided today to make a plan to reduce my cholesterol, and go public with it. I've got a plan to raise my "good cholesterol" (HDL) and reduce the "bad cholesterol" (LDL) levels, by focusing on diet, exercise, and natural supplements. My doctor says that if I don't make significant progress, I'll need to take a cholesterol lowering statin drug like Lipitor or Crestor -- for the rest of my life! I don't want to rely on prescription drugs, and I'm concerned about the potential side effects they bring. So if there's ANYTHING that can be done to lower cholesterol naturally, I'm going to try it.
But before we dive into the particulars of what I plan to do, how's YOUR cholesterol? Are your arteries clogged with lard? You might feel fine, but doctors recommend testing for high cholesterol at least once every five years. More often is better if you have a family history of heart disease, or other cardiovascular risk factors such as high blood pressure, diabetes, obesity or smoking. If you're due, get it done! And if the test shows a cholesterol level higher than 200, you need to take action.
My Plan To Lower Cholesterol Naturally
The good news is that relatively simple lifestyle modifications can bring about significant reductions in your cholesterol level. The bad news is that you have to modify your lifestyle. Like most humans, I'm a creature of habit and comfort. But I am motivated to do something about my cholesterol, because I have a family history of cardiovascular trouble. My grandparents died from stroke or heart attack, my mother died at age 72 from heart disease, and my father just had major heart surgery at age 80. He's doing fine, but that's one family tradition I don't want to uphold.
My doctor and I did consider medication, and although the statin drugs such as Zocor, Lipitor and Crestor can work wonders for some, they also have drawbacks. Statins can mess with your immune system, liver, kidneys and muscles. I know... the official story is that "most people tolerate it well, and side effects are usually minor." But I tend to be suspicious of big pharma, so cholesterol lowering drugs will be a last resort for me.
Here's my three-point cholesterol attack plan, in a nutshell:
Get more exercise
Modify my diet
Use natural supplements
Exercise to Lower Cholesterol
When it comes to exercise, everyone has different likes and dislikes. I'm not a gym person, and injuries make it impossible for me to run much. But I do enjoy a good walk, and so does my dog Bonzai. I also plan to use my bike, and a low-impact elliptical trainer, which works out your arms and legs in a cross-country skiing motion.
So my plan is to get out and walk briskly for 20-30 minutes, at least 5 times a week. The only thing that might slow me down are all the people who want to tell me how cute that dog is. If it helps to keep you on track, get a pedometer and aim for 5-10,000 steps a day. If you're chained to a desk, get up and walk around the building for five minutes every hour. If you carry a clipboard, people will think you're doing something important. Be diligent, walk with a friend or co-worker for company and accountability.
I'll hop on that NB9000 elliptical machine when it's too cold outside, or if I decide to catch the news on television. My problem with walking, or almost any exercise, is that I find it boring and tedious. I can't stop thinking of all the other things I could be doing. But when the winter is gone, I'll get my bike out and escape the drudgery of walking. There's something fantastic about flying down those hills that makes me want to climb the next one.
A Low Cholesterol Diet
I've been compiling a list of foods to avoid, and a list of foods that help to lower cholesterol. A low cholesterol diet, particularly one that is careful about avoiding saturated fats, is probably the single most important thing you can do.
We tend to think first about eggs when the subject of high cholesterol comes up. But many doctors now say that eggs are not as evil as once thought. Saturated fats are what really pumps up the cholesterol number, especially the bad LDL component. And the major offenders are meat and dairy products. My plan is to minimize my intake of beef, pork, cream, butter, cheese and ice cream.
Baked goods and fried foods, especially prepared and convenience foods, are also very high in saturated fats. Be on the lookout for cookies and crackers that contain palm oil, palm kernel oil and coconut oil.
It's a little depressing... aren't those the very foods that make life worth living? I'm reminded of a quote from fitness guru Jack LaLanne, who says the secret to a long life is "If it tastes good, spit it out!"
As for foods that actually help to lower cholesterol, or at least increase the good HDL cholesterol, here's what I'm going to focus on:
Use healthier oils when cooking, instead of vegetable oil, butter and margarine. Olive oil and canola oil are good substitutes, but some types of coconut oil -- ones that are high in medium-chain fatty acids (MCFAs) -- can be an even better choice, especially for use in baking. My wife and I use Nutiva Coconut Oil at home, as a substitute for butter.
Eat more healthy fish like salmon, albacore tuna, mackerel, herring and sardines. They're all rich in omega-3 fatty acids, EPA and DHA, which help to fight cholesterol. Fish helps to boost HDL levels, and provides protein, which you may be lacking if you cut way back on beef and dairy. The American Heart Association recommends eating fish at least two times a week.
A good plant-based source of omega-3 is nuts such as almonds, hazelnuts and walnuts. I'm going to eat a handful of nuts as a snack, instead of something sweet and gooey that comes in a plastic wrapper. Soybeans and flaxseed are also good sources of omega-3.
Eat more fiber. Whole grains, fruits and vegetables and great sources of soluble fiber, which can help lower cholesterol. I enjoy a bowl of oatmeal for breakfast, and I've even gotten in the habit of sprinkling a little flaxseed on it. If you're not crazy about fiber rich foods, you can get it in a tablet.
Develop a drinking habit. Green tea has lots of healthy anti-oxidants, and also can help lower that nasty LDL cholesterol. I've had to cut back on coffee as part of a strategy to control acid reflux, so drinking green tea will be a good substitute for me. It's also been shown that one serving of alcohol per day can boost "good" cholesterol by as much as 10 percent. There are plenty of good reasons to avoid alcohol, too, so avoid the temptation to rely completely on this factoid to solve your cholesterol problem.
Don't start smoking. For a couple of years, I've joked that my New Year's resolution was to "start smoking and gain thirty pounds." Then I could feel good about not keeping my resolutions. But there is a definite connection between smoking and heart disease. That's because cigarette smoking lowers your "good" HDL cholesterol. If you smoke, kicking the habit can help you deal with a cholesterol problem. And there's that minor lung cancer/emphysema issue, too.
Natural Cholesterol-Lowering Supplements
A traditional medical doctor may not mention that there are a variety of natural, non-prescription supplements that you can use to reduce bad cholesterol and/or increase good cholesterol. This Mayo Clinic article and others that I found discuss some natural products that you can consider. Among them are:
Artichoke Leaf
Barley
Coenzyme Q10
Fish Oil
Garlic
Niacin
Psyllium Powder
Red Yeast Rice
Some of them have potential side effects, especially niacin and red yeast rice. So do your research and check with your doctor before deciding which, if any, of these supplements to try. I've decided to add krill oil and possibly some others from that list to my daily regimen.
Will It Work?
My doctor warned me that in spite of my best efforts to attack the cholesterol problem with diet, exercise and supplements, it might not be enough. My "problem" is that I'm not obese, I don't smoke, I'm in decent physical shape, and I already eat a pretty healthy diet.
That's a good problem to have, but it also indicates that the source of my cholesterol problem may be largely hereditary. I'm still determined to do SOMETHING, to try whatever I can try, before I give up and just swallow a pill. Eating healthy and exercising can't be BAD for me, after all.
I welcome your comments, especially if you've been in my situation and have successfully lowered your cholesterol levels without prescription drugs. Please post your comments below...
 

Ask Your Computer or Internet Question



  (Enter your question in the box above.)

---

---

| | |
| --- | --- |
| | Check out other articles in this category: |

| | |
| --- | --- |
| | Link to this article from your site or blog. Just copy and paste from this box: |
This article was posted by Bob Rankin on 13 Jan 2010
---
---
---
There's more reader feedback... See all 118 comments for this article.
Post your Comments, Questions or Suggestions
---
Article information: AskBobRankin -- My Cholesterol Level is Too High! (Posted: 13 Jan 2010)
Source: https://askbobrankin.com/my_cholesterol_level_is_too_high.html
Copyright © 2005 - Bob Rankin - All Rights Reserved