Quantum Computing and the Internet
| | |
| --- | --- |
| Technology advances with ever-increasing speed, and with quantum computers promising mind-boggling speed breakthroughs, what will the future of the Internet look like? How will advances in physics affect computers, networking, encryption, and privacy? Let's look ahead to the Quantum Internet... | |
Quantum Computing and The Internet of the Future
Quantum physics describes a strange world that exists at the level of the very small; we're talking atoms and sub-atomic particles such as photons. As the basic components of computers keep shrinking – a transistor can now be only 5 nanometers wide – it seems inevitable that we will end up computing in the quantum realm. What will that mean for ordinary users and for the companies that serve their computing needs?
Two aspects of quantum mechanics are especially relevant to computing and the Internet. The first is the principle of "superposition," which states that a quantum-scale object can simultaneously be in multiple states such as up, down, or infinite combinations of those two states. Many readers are familiar with "Schrödinger's Cat", a thought experiment that illustrates superposition. In this experiment, a cat sealed in a box is both alive and dead (and all the infinite combinations of those states) until an observer opens the box to see what state the cat is in.
Writing that that reminded me of the Heisenberg Uncertainty Principle. German physicist Werner Heisenberg stated back in 1927 that the position and the velocity of an object cannot both be measured exactly, at the same time. What does all of this have to do with quantum Internet? I'm not sure, but here's a great video of the physics of falling cats, that brings both of those theories into play.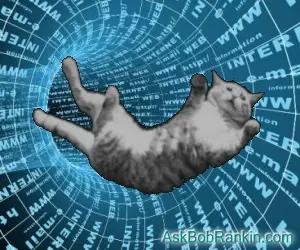 I seem to have digressed, so let's get back to the topic at hand. Superposition allows a "qubit" - a quantum bit of information – to have exponentially more values than either 1 or 0 as classical bits have. This property, in turn, allows exponentially more powerful and faster quantum computers that can perform many complex computations in parallel.
Quantum computers will be able to solve problems that are simply beyond the capabilities of the best computers based upon classical binary physics. One such problem is how to crack strong encryption in a reasonable amount of time. Today, we have classical encryption so strong that it would take the NSA hundreds of years to break it; but with quantum computers the job could be done in weeks, days or hours. That's rather ominous for privacy, but another principle of quantum physics may provide a hack-proof alternative to classical encryption.
The second principle is "entanglement," which Einstein derided as "spooky action at a distance," but which modern physicists have found actually exists. When a pair of quantum objects are entangled, changes in the state of one object are mirrored in the other instantaneously, no matter how much distance separates them. This 1997 article from the New York Times describes an experiment conducted in Geneva, Switzerland which demonstrated the entanglement principle.
The Implications For Encryption Are Profound
Imagine an information sender, "Alice," who wishes to communicate securely with "Bob." She generates a great many pairs of entangled photons and sends one of each pair to him. If the state of any of the sent photons is measured by an eavesdropper ("Eve") it will not match its counterpart in Alice's possession when it reaches Bob. Because the photons are entangled,
Alice and Bob will instantly know of Eve's interference. They will discard any intercepted photons, leaving them with a very long string of photons whose states are known only to them. A super-strong encryption key can be made from such photons. Any message encrypted with it can be decrypted only by Alice or Bob. Hopefully they'll remember where they put all those photons.
Quantum computing and networking will not replace the current system that's based on classical physics, at least not any time soon. Quantum computers (if and when they materialize) will be expensive, and so will be available to users only through the cloud ("quantum as a service" if you will) and only for tasks that require its revolutionary speed and security. Consumers may encounter quantum computing and networking in financial applications. Scientific researchers will share time on quantum computers.
IBM is heavily invested in quantum research and computing, and through their quantum cloud services, you can try the IBM Quantum Experience or Qiskit for free. More advanced quantum systems are available to business clients in the IBM Q Network.
Google is also in the race to develop quantum computing devices that can be used for practical purposes. This article from the MIT Technology Review, Inside the race to build the best quantum computer on Earth, discusses the efforts of both IBM and Google.
Of course, there will be rumors that the government is using quantum computing to extend and perfect its surveillance and control of all citizens. We'll never know if such rumors are true because any evidence will be locked down with quantum encryption.
Looking Backwards and Forward
This reminds me of the early days of mainframe computers. Because they were so enormous and expensive, you couldn't have one on your desk, or even have one all to yourself. In 1978, my high school had a Teletype with a 300-baud modem, which connected over telephone lines to a university mainframe about 30 miles away. I had a lot of fun writing programs in BASIC and FORTRAN, and even got myself into a bit of trouble.
I never dreamed that I would have a personal computer infinitely faster and more powerful right on my desk, or in the palm of my hand. I couldn't have imagined the information, services and opportunities that would become available via the Internet. Likewise, just the thought of quantum computers and quantum networking makes me a little dizzy. Toss in the rapid advances already taking place in artificial intelligence and machine learning, and I can only wonder… will that enormous power be used for good? If not, can we at least solve the mystery of falling cats?
Your thoughts on this topic are welcome. Post your comment or question below...
 

Ask Your Computer or Internet Question



  (Enter your question in the box above.)

---

---

| | |
| --- | --- |
| | Check out other articles in this category: |

| | |
| --- | --- |
| | Link to this article from your site or blog. Just copy and paste from this box: |
This article was posted by Bob Rankin on 10 Aug 2020
---
---
---
Post your Comments, Questions or Suggestions
---
Article information: AskBobRankin -- Quantum Computing and the Internet (Posted: 10 Aug 2020)
Source: https://askbobrankin.com/quantum_computing_and_the_internet.html
Copyright © 2005 - Bob Rankin - All Rights Reserved