What is Quantum Computing?
| | |
| --- | --- |
| I'm trying to wrap my head around the concept of quantum computing. Can you explain it in plain English, and tell me if this is something that's available now, or if it's still in the concept phase? | |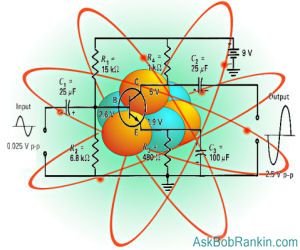 Is There a Quantum Computer in Your Future?
The overriding imperative of computing is "go faster, get smaller". The number of transistors that can be manufactured on a standard silicon wafer has doubled roughly every two years, as Moore's Law predicts. That means transistors keep growing smaller. The smaller the distance between transistors, the faster computations happen. If Moore's Law continues to be an accurate predictor, then around 2020 or 2030 we should see transistors the size of individual atoms. That's when quantum computing will come to fruition.
Quantum computing is based upon physics completely different from that observed in the electronic devices of today. In today's computing paradigm, a transistor can be in only one of two states called bits - 0 or 1, on or off. But in the realm of quantum computing a transistor can be in a state of 0, 1, or a "superposition" of 0 or 1. And there can be many superpositions. These quantum bits are called "qubits." Physically, qubits are encoded in atoms, photons, ions, or electrons.
Whereas a standard transistor can perform only one operation at a time, a qubit can perform many simultaneously. Therefore a quantum computer containing the same number of transistors as an ordinary computer of today can be a million times faster. A 30-qubit quantum computer could perform as many as 10 teraflops - 10 trillion floating-point operations per second! Today's desktop computers perform gigaflops - billions of operations per second.
So obviously, that's where the interest in quantum computing comes from - speed. A personal computer a million times faster than the one currently on your desk boggles the mind. After all, how fast can you type? But there are applications that would benefit from that type of speed, such as image recognition, cryptography, and other problems that require enormous computing power. Personally, I'd be happy with a computer that's ready to go as soon as you turn it on. I don't anticipate being able to type a million times faster than I already do. J
One problem with quantum computing is that if you observe the quantum state of a qubit, it changes. So scientists must devise an indirect method of determining the state of a qubit. To do this, they are trying to take advantage of another quantum property called "entanglement." At the quantum level, if you apply a force to two particles they become "entangled;" a change in the state of one particle is instantly reflected in the other particle's change to the opposite state. So by observing the state of the second particle, physicists hope to determine the state of the first.
Yes, quantum mechanics is rather confusing. But from a layman's perspective, it's enough to know that quantum computing is based on a new type of transistor that is represented by the changing states of atomic particles. And the promise of quantum computing is a HUGE breakthrough in speed.
Are Quantum Computers Available Today?
There is at least one firm that claims to have created a rudimentary, working quantum computer. Canada-based D-Wave Systems has demonstrated a 16-qubit quantum computer that solved sudoku puzzles and other pattern-matching problems. Some in the scientific community are skeptical about D-Wave's claims, but there is definite progress on the quantum computing front every day.
Quantum computers need at least a few dozen qubits in order to solve real-world problems usefully. It may be several years, even a couple of decades, before a practical quantum computer is put into production. But just as world records fell more rapidly after the first sub-four-minute mile was run, the breakthrough of the first commercial quantum computer will undoubtedly be followed by very rapid increases in quantum computing capabilities; reductions in costs; and shrinkage in size. In a decade or so, we can expect to find old-school transistors and simple on-off bit technology joining analog video tape in the dustbin of technology history.
Do you have something to say about quantum computing? Post your comment of question below...
 

Ask Your Computer or Internet Question



  (Enter your question in the box above.)

---

---

| | |
| --- | --- |
| | Check out other articles in this category: |

| | |
| --- | --- |
| | Link to this article from your site or blog. Just copy and paste from this box: |
This article was posted by Bob Rankin on 3 Feb 2010
---
---
---
Post your Comments, Questions or Suggestions
---
Article information: AskBobRankin -- What is Quantum Computing? (Posted: 3 Feb 2010)
Source: https://askbobrankin.com/what_is_quantum_computing.html
Copyright © 2005 - Bob Rankin - All Rights Reserved