Your CD and DVD Discs May Fail Sooner Than You Think
| | |
| --- | --- |
| If your precious memories or important files are backed up on CD, DVD or Blu-Ray discs, you might want to go looking for a medium that will protect your documents, photos and videos a bit better. Would you be surprised to learn that a U.S. government study concluded that standard optical discs have an expected lifespan of just 3 to 5 years? Would you like to learn about a data storage solution that promises 100, or even 1000 years? Read on... | |
Will Your Files and Photos Last 1000 Years?
Do you have photos, videos or other important files that you'd like to preserve for 50 years, 100 years, or longer? Recently I was looking at a photo of my great-great-grandparents, which was taken in about 1870. I scanned it and saved a digital copy on my computer's hard drive, then copied it and some other family photos to a CDROM disc. But neither of those digital copies is likely to survive nearly as long as that 150-year-old original photo has.
The U.S. National Archives and Records Administration has a report called Frequently Asked Questions (FAQs) about Optical Storage Media which says "CD/DVD experiential life expectancy is 2 to 5 years even though published life expectancies are often cited as 10 years, 25 years, or longer." They discuss various factors which can impact life expectancy and recommend that you test your media every two years to make sure it's still readable.
A study by the Canadian Conservation Institute is more optimistic, suggesting that "the lifetime of recordable optical discs can range from a couple of years to more than 200 years." The report also lists several factors that can lead to failure of discs in 2 to 10 years. Chief among those are improper storage and handling. They advise to hold the disc using the center hole and outer edge, and not to touch, write on, or use adhesive labels on the surface of the disc. For storage, the recommendation is to keep discs in a cool, dry environment, stored vertically in a jewel case. Other important factors are choosing a well-known brand name, and recording the information properly to ensure a low error rate.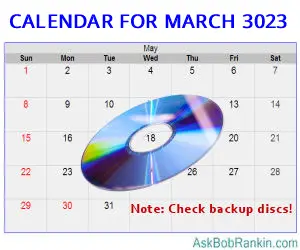 I've heard from readers over the years that their CD or DVD discs are still readable after 10, 20, or more years. But clearly there are factors that can cause premature failure of optical discs. If your discs contain music or video, a slight degradation might only cause a hiccup during playback. But if you're storing documents, spreadsheets or other important data, even a few errors could cause them to become corrupt or unreadable.
Wouldn't it be nice to have some kind of computer-readable storage medium that would last for generations? Millenniata, developer of the M-DISC storage technology, thought that would be a good idea. (Millenniata, Inc. was founded in 2010 by two Brigham Young University professors but went bankrupt in 2016. Fortunately, the debt holders were able to re-form the company and continue to sell M-DISCs and related services.)
Here is how both standard optical discs and M-DISC work. Standard CD/DVD technology uses a laser beam to heat a layer of organic dye that is sandwiched between polycarbonate sheets. The heated point, which can be very tiny, first swells like a bubble and finally collapses into a pit in the dye layer. A pattern of pit/no-pit areas on the disc's surface constitute binary code that can be read by the same laser that wrote it. That is, the pattern can be read as long as the laser-burnt pits last.
It takes just 3-5 years for the organic dye to degrade naturally; that is the maximum life expectancy of CD, DVD, or Blu-Ray discs that use dye technology. M-DISC claims to vastly exceed this life expectancy by replacing degradable organic dye with an immutable mineral compound that is melted by the writing laser beam. You can burn your own M-DISCs at home, with a compatible DVD or Blu-ray drive.
All DVD drives are capable of reading the M-DISC DVD, but it takes more power to melt "stone" than it does to boil dye. Not every optical drive contains a laser powerful enough to write M-DISC discs. LG Electronics, Samsung, Hitachi, and Pioneer offer optical drives touted as M-ready. And they don't seem to be any more expensive than regular drives. The LG Electronics Ultra Slim DVD Writer is an internal drive that sells for under $35 on Amazon. You can find dozens of other M-DISC-compatible drives here.
Minerals, Vitamins, and Baked Lasagna?
CDs last only three to five years? Surprise... you really shouldn't expect your hard drive to last much longer than that, either. See my article
How Soon Will Your Hard Drive Fail?
to learn more...
The mineral compound makes M-DISC discs longer-lived, but it does not make them indestructible as the many preposterous demonstrations conducted by Millienniata suggest. I don't care if an M-DISC baked in lasagna, boiled, or frozen remains readable. How does it do after I drop it face down on a sidewalk and step on it?
M-DISC's added value lies in its stability under archival conditions: a safe deposit box, or perhaps an attic or basement. Attics may get hot enough to degrade organic dye prematurely while minerals remain intact. But a disc made with either is still vulnerable to physical destruction if it's carried from place to place routinely.
Government agencies might benefit from using M-DISC for document storage and data management. Likewise for medical professionals needing a long-term storage solution for X-rays and compliance requirements. Financial institutions, libraries and educational institutions needing reliable long-term storage, and law enforcement with surveillance and security footage would be good use cases as well.
At home, for important personal digital artifacts such as family photos, genealogy records, tax returns, unpublished novels, etc., at least one M-DISC may be worth having. The largest Blu-ray M-DISC capacity is about 100 GB, so more than a handful shouldn't be necessary for most consumers, unless you have extensive collections of photos, music or videos that you want to preserve for centuries.
You can purchase a 15-pack of Millenniata 25GB M-DISCs for $80. For higher capacity discs, consider the 5-pack of Verbatim 100GB M-DISCs for $57.
M-DISCs are pricey compared to regular DVD or Blu-ray discs, but if you're looking for a backup solution that avoids the problem of the relatively short lifespan of consumer-grade hard drives and CD/DVD discs, as well as the privacy concerns of cloud storage, a couple of M-DISCs and a fireproof safe bolted to a concrete floor might be the best you can do right now. I'll bet Mel Brooks and Carl Reiner have already gotten theirs.
Your thoughts on this topic are welcome. Post your comment or question below…
 

Ask Your Computer or Internet Question



  (Enter your question in the box above.)

---

---

| | |
| --- | --- |
| | Check out other articles in this category: |

| | |
| --- | --- |
| | Link to this article from your site or blog. Just copy and paste from this box: |
This article was posted by Bob Rankin on 6 Mar 2023
---
---
---
There's more reader feedback... See all 23 comments for this article.
Post your Comments, Questions or Suggestions
---
Article information: AskBobRankin -- Your CD and DVD Discs May Fail Sooner Than You Think (Posted: 6 Mar 2023)
Source: https://askbobrankin.com/your_cd_and_dvd_discs_may_fail_sooner_than_you_think.html
Copyright © 2005 - Bob Rankin - All Rights Reserved