[ZAPPED!] Don't Get Shocked By ESD
| | |
| --- | --- |
| On previous occasions I have warned readers to beware of static electricity (electrostatic discharge or ESD, in geek speak) on their gadgets and computers. Today, I'm going to explain in some detail what ESD is, what it can do to electronic devices, and how protect against this common hazard. Read on...! | |
What is Electrostatic Discharge?
I must confess that one of my favorite childhood pranks was shuffling around on a shag rug, and then touching my finger to a friend's earlobe. (And on at least one occasion, my little sister.) That's the low-tech definition of ESD. And maybe that's why I had to eventually make friends with computers (and apologize to my sister). But I digress...
ESD is a high voltage, low amperage electrical current that flows suddenly and briefly between two objects when they make contact or come very close to each other. Yes, it can jump! Voltage is the difference in electrical charge between two points. Amperage is the rate of flow of an electrical current. So an ESD involves a transfer of electrical charge from an object that has a lot of it to one that has much less, but at a relatively slow rate and for a very brief period.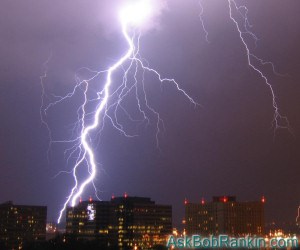 The upshot of an ESD is that its high voltage is literally shocking, but its brevity and low amperage transfer too little electrical energy to seriously harm a human being. But it can produce hilarious YouTube videos like this one .
However, electronic components are much smaller and more sensitive to ESD than human fingers (or earlobes). Tiny transistors, resistors, capacitors, etc., are designed for very precise voltages and amperages. Zap them with an ESD that is wildly outside of their operating parameters and visible holes will be burned in them. Lightning is a very large ESD, and a lightning bolt can start a forest fire.
ESD starts with a buildup of electrons on an object, creating a large voltage (difference in charges) between it and other objects. Typically, rubbing two different materials together will transfer some electrons to one of them. Some materials acquire electrons more easily than others. (Sneakers on a shag rug, for example.)
Are You High Voltage?
Studies have found that a typically clothed human body can build up charges (called "electrostatic potential") of between 500 and 2,500 volts during a workday - far more than the mere 25 volts it takes to damage electronic components, yet below humans' perception level. Many plastics, especially Styrofoam, have even higher electrostatic potential. You may have noticed this when breaking down a piece of styrofoam, that the little pieces stick to you. It is recommended to keep disposable coffee cups and other plastic items at least four inches away from electronic devices.
Even rubbing air molecules together rapidly builds up electrostatic potential, which is why blowing or vacuuming dirt out of a keyboard or computer can be hazardous. If you use "canned air," use a brand made of "anti-static" gases that do not acquire electrons easily.
There is no way to prevent buildups of electrostatic potentials in all the objects, especially people, that come into contact with electronic devices. But we can make the ESD take a path that avoids the sensitive components inside.
People can ground themselves to avoid zapping their electronic devices. Electronics assembly, testing, and repair workers often wear wristbands that keep them constantly grounded via a wire attached to a nearby electron sink. Anti-static floor mats beneath one's chair come with grounding wires that are attached to electron sinks; they're a good idea, too.
Touching an "electron sink" before touching an electronic device will discharge your electrostatic potential; it's a good thing to do each time you sit down at the computer. In practical terms, tapping an object that has a metal chassis and is plugged into a properly grounded outlet should do the trick.
Do Try THIS at Home
Mobile devices that people carry on their persons will gradually acquire the same electrostatic potential that their owners have. An ESD happens only when there is a difference in potentials between objects, as our hapless friend in the video above demonstrates. So you need not worry about the phone in your pocket or the laptop in your shoulder bag.
As mentioned above, the electrostatic potential of the human body is normally imperceptible, even when it discharges. Just because you don't feel "static shocks" or see little blue sparks is no assurance that you aren't jolting your computer with enough ESD to damage it. So take precautions even if you don't see or feel any ESD.
Your thoughts on this topic are welcome. Post your comment or question below...
 

Ask Your Computer or Internet Question



  (Enter your question in the box above.)

---

---

| | |
| --- | --- |
| | Check out other articles in this category: |

| | |
| --- | --- |
| | Link to this article from your site or blog. Just copy and paste from this box: |
This article was posted by Bob Rankin on 10 Feb 2022
---
---
---
Post your Comments, Questions or Suggestions
---
Article information: AskBobRankin -- [ZAPPED!] Don't Get Shocked By ESD (Posted: 10 Feb 2022)
Source: https://askbobrankin.com/zapped_dont_get_shocked_by_esd.html
Copyright © 2005 - Bob Rankin - All Rights Reserved