Cheap Phone Calls - MagicJack Alternatives
| | |
| --- | --- |
| I've had it with the phone company, so I'm checking out how to make free or cheap phone calls over the Internet. MagicJack seems popular, but some of the negative reviews are concerning to me. Are there any good alternatives to MagicJack that you can recommend? | |
Eliminate Your Phone Bill With Internet Phone Service
Making the move away from a traditional land line to VoIP (internet phone service) is fast becoming a popular option. As you mentioned, MagicJack has gained popularity because it lets you make unlimited calls for only $19.95 per year (or $29.95/year for MJ Plus.) But people seem to love it or hate it. See my review of the MagicJack VoIP service to learn more about how it, and works.
But MagicJack is just one of many VoIP services that you can use to make free or low-cost calls. Let's take a look at several MagicJack alternatives, and see how they compare...
Nettalk Duo is virtually a clone of MagicJack. It consists of a USB dongle that plugs into a telephone, router, and power supply, just like the MagicJack Plus. The beauty of both systems is that no PC is required, except to configure your account. However, you can plug both devices into a PC or Mac with broadband access to make calls through a computer instead of a telephone handset.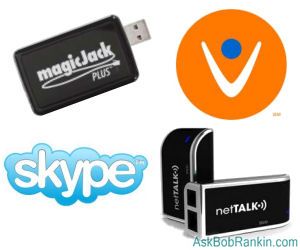 Both services offer voice mail, caller ID, call forwarding, call waiting, your own phone number and free calls to anywhere in the U.S. and Canada. International rates on both services are very cheap. In fact, calls to any other Nettalk or MagicJack user are free if both parties are on the same service.
Nettalk offers video conferencing via PC, something that MagicJack lacks at this time. Nettalk also provides live telephone tech support, while MagicJack offers only online chat support. (Poor customer service is one the primary complaints of MagicJack users.) Pricewise, the two are neck and neck. The Nettalk Duo starter kit, including dongle and first year's service, lists for $50. MagicJack Plus goes for $70 although it's discounted through Amazon. Annual service rates are $20 for both.
Vonage does not have a portable dongle. Its adapter is a larger device designed to plug into your home router. It also lacks apps for mobile phones, although such apps are "coming soon" according to the company's Web site. Instead, Vonage offers "extensions" that require you to dial an access number and enter a PIN before dialing from a secondary handset or mobile phone. Pricing starts at $26 per month and each extension is another $5. That's for unlimited calling to the U. S., Canada, and Puerto Rico. International calling plans vary.
Skype has a bewildering variety of phones, dongles, and other devices that plug into a router or PC, plus apps for mobile phones. It even has a Webcam that enables videoconferences via an HDTV widescreen set. Calls with other Skype users are always free. Calls to landline and mobile phones cost as little as 2.3 cents per minute. You can pay by the minute, by the day or month, or with a quarterly or annual subscription plan. If you love lots of options, you will love Skype.
Another option is the OBI110 adapter combined with Google Voice, which I described in 2011. See my related article Free Phone Calls With Google Voice for details. There is no annual service fee with this solution, just the one-time $49 cost of the OBI adapter. However, it's not for mobile use and calls can be placed only from within the U.S.
Ooma offers a VOIP device similar to the OBI. It provides unlimited free calling in the USA using your Internet connection and a regular phone. The Ooma Telo costs $199, and thereafter you pay only applicable taxes and fees monthly.
How Do They Stack Up?
Bottom line - Vonage does not seem to be keeping up with the times in mobility or pricing. Skype is great, but not the easiest to use. If all you want is the cheapest, simplest VoIP service to "fire your phone company", then Nettalk or MagicJack is a better choice.
MagicJack has been around for several years, and my sense is that most of the negative comments made about it pertain to the original MagicJack device, which plugged into your computer. Both NetTalk Duo and the newer MagicJack Plus plug into the router, which solves many of the problems that people complained about.
MagicJack offers a 30-day free trial, and you'll only be billed if you decide to keep it. NetTalk doesn't have a free trial, but they do offer a 30-day money back guarantee, with free return shipping. Magic Jack will allow you to port your existing number to the new service. But NetTalk has real human customer service people that will talk to you.
They cost about the same, work pretty much the same, and both provide virtually unlimited VoIP calling. For now, I give the edge to NetTalk, because they seem to be trying harder on the customer service front.
I'd like to hear your opinion, especially if you've tried both. Post your comment or question below…
How Else Can I Help You?

(Enter your question in the box above.)




---

Check out other articles in this category:
Posted by Bob Rankin on 10 Jan 2012
---
---
Link to this article from your site or blog. Just copy and paste from this box:
---
There's more reader feedback... See all 73 comments for this article.
Post your Comments, Questions or Suggestions
---
---
Article information: AskBobRankin -- Cheap Phone Calls - MagicJack Alternatives (Posted: 10 Jan 2012)
Source: http://askbobrankin.com/cheap_phone_calls_magicjack_alternatives.html
Copyright © 2005 - Bob Rankin - All Rights Reserved