How Soon Will Your Landline Be Obsolete?
| | |
| --- | --- |
| Less than two percent of U.S. adults have only a landline without cellphone service. Millions of consumers are 'cutting the cord' of landline phone service and switching to cellular or VoIP (Internet calling) services. If you're one of the holdouts, you may be forced to give up your beloved copper-based phone line in the next few years. Here is why landlines are doomed, and a look at some alternatives you should be considering... | |
Landline Alternatives May Soon Be The Only Alternatives
Just fifteen years ago, 93% of U.S. households had a landline. As of late 2020, only 36.7% of Americans still have a landline phone, and in most states, the number of landline-only households is around 3%. Among adults 25-34 years old, about 80% are living in wireless-only households. This graph from Statista shows the trend from 2004 onward. But that's only part of the story. I can't even estimate the number of cable customers who have given up their traditional landlines in favor of VoIP (Internet calling) service.
Many have done so without even realizing it. If you're using phone service that's bundled with cable TV and Internet service, you're using VoIP even if it's delivered via a hardwired cable modem. Many cable customers take the "triple play" only because it's the cheapest option, and continue to use their traditional landlines. In the near future, we may not have that ability. Certainly, there must be many households that have both cellular and VoIP service; but the point is that both have made serious dents in landline subscriber numbers, and the trend lines are clearly pointing upwards.
AT&T, Verizon, and other telephone companies desperately want to ditch the POTS (Plain Old Telephone System) and move everyone to either cellular or VoIP services. The copper wire network that first came into widespread use in the late 19th century is ancient and deteriorating. Telcos don't want to spend money maintaining a network that customers are abandoning in ever-increasing numbers. So the telcos are trying to end landline service.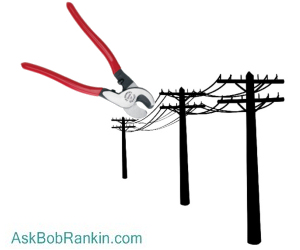 The FCC and the States are inclined to go along. In 2017, twenty state legislatures in the USA voted to give AT&T permission to end landline service, and focus more on improving wireless and internet-based phone networks. Under that agreement, AT&T would be able to terminate landline service for customers in some of those states, with just 60 days notice.
In the UK, British Telecom has set a deadline of 2025 to fully migrate customers away from landline service. But as of now, the US-based telcos seem to have softened their stance. Over the past 10 years there has been a lot of chatter that landlines would be phased out by 2018, then 2020. But there hasn't actually been widespread pressure on customers who cling to their beloved handsets with tangled cords.
I read in one online forum that an AT&T rep told one customer they are no longer planning on phasing out landlines in the near future, and will not discourage people from ordering landlines. That may be because the FCC released a ruling in November 2017 addressing the retirement of landline copper lines. It instructed carriers what that seek to discontinue legacy services to ensure their new services are accessible, compatible, and usable for persons with disabilities. In addition, fire and security alarms, medical devices, emergency systems, fax machines, and point-of-sale terminals all use the copper-based landline network, and switching all those legacy systems to wireless is not a trivial exercise.
Despite the obvious advantage of portability, mobile phones have their drawbacks. Call quality on landlines is superior to cellular in most cases. There's a reason why "Can you hear me now?" became an advertising catchphrase. And when was the last time you had trouble getting a dialtone or a dropped call on your landline? Landline phones are also orders of magnitude cheaper than mobile phones, and they don't breakwhen you drop them on a tile floor.
"It's for you..." The Atlantic published a thoughtful piece titled
How the Loss of the Landline Is Changing Family Life
. My thirty-something children grew up in the transitional period between landlines and the ubiquity of mobile phones, so I read this with some longing for the past.
Nonetheless, the writing is on the wall, and if I may quote Bob Dylan, there is a slow train coming 'round the bend. Traditional landlines WILL be unavailable in many parts of the USA within a few years. Fortunately, there are plenty of landline alternatives.
Some Landline Alternatives to Consider
If you're looking for mobile phone service, I wrote about Consumer Cellular in my September 2020 article, Do You Love Your Phone Company? Consumer Cellular has built their business by offering low rates, with a no-contract business model, and is especially popular with seniors. See also my review of one low-cost and innovative cellular service provider: Ting, and my tips on how to Stop Wasting Money on Your Cell Phone Bill.
Vonage: a pioneer of residential VoIP, Vonage provides a "Vonage adapter" - actually, a router optimized for VoIP - that plugs into your broadband modem. Then you plug a traditional phone (or cordless phone base station) into the Vonage adapter. The Vonage adapter requires its own power supply from an AC outlet. Right now, the service is $9.99/month for the first 6 months; and $26.99 per month thereafter.
Ooma Telo: provides an adapter, like Vonage, into which any regular phone can be plugged. Ooma's pricing model is virtually the opposite of Vonage's. The Ooma adapter costs $99.99 while the basic service is free. So after the initial investment, you pay almost nothing on a monthly basis. (You'll still pay about $3.50 per month in taxes and fees to the government.) Ooma even encrypts your calls while their data travels over the Internet.
Magic Jack: is an unassuming little dongle about the size of two USB drives side by side. One end sports a USB connector; the other has jacks for Ethernet and telephone cables (RJ-45 and RJ-11, respectively). You can use a supplied Ethernet cable to connect the Magic Jack directly to a cable or DSL modem, or plug the USB connector into an available port on an Internet-connected PC. If you buy one magicJack for $39.99, you get one free year of home phone service. After that, you pay just $39 per year, or $99 for three years.
Google Voice offers internet calling as well. With a Google Voice account, you get a free phone number, free voicemail, even automatic transcription of voicemail messages to text. Your free Google Voice phone number can ring on your computer, or you can forward it to another mobile or landline phone. Phone calls via Google Voice are totally free for calls to any kind of phone in the U.S. or Canada. Other international calls can be made for modest fees.
With each of these options, your existing home phone number can be transferred (or "ported") to the new service, so people can continue to reach you on the same number.
What About Emergencies?
Some security systems still rely on landlines to contact emergency services. But modern ones use cellular connectivity. And even if you have VoIP phone service, you can still make 911 calls. When you register with Vonage or another VoIP provider, you must register your residential address with the company, which is used when a 911 call is made.
Power issues are another concern. When the electricity fails, landlines typically continue to operate, as long as the lines (and your home) are not damaged by a storm. Most residential VoIP providers offer some sort of battery backup, but it's limited to about 8 hours. In a severe or extended emergency where both landline and VoIP are unavailable, a cell phone that you can charge in your car is a must, and may be your only option.
Do you still have a landline (and a hopelessly tangled 25-foot cord)? What's your plan when the telephone man comes along to pull the plug on your landline service?
Your thoughts on this topic are welcome. Post your comment or question below...
 

Ask Your Computer or Internet Question



  (Enter your question in the box above.)

---

---

| | |
| --- | --- |
| | Check out other articles in this category: |

| | |
| --- | --- |
| | Link to this article from your site or blog. Just copy and paste from this box: |
This article was posted by Bob Rankin on 10 May 2021
---
---
---
There's more reader feedback... See all 40 comments for this article.
Post your Comments, Questions or Suggestions
---
Article information: AskBobRankin -- How Soon Will Your Landline Be Obsolete? (Posted: 10 May 2021)
Source: https://askbobrankin.com/how_soon_will_your_landline_be_obsolete.html
Copyright © 2005 - Bob Rankin - All Rights Reserved