How Secure (and Private) is Cloud Storage?
| | |
| --- | --- |
| Today I have an answer to those who say "I would NEVER put my files out there on some cloud server... they're much safer on my hard drive!" If you're thinking about using cloud services like file storage, online backup, webmail and document sharing, you may wonder about the safety and security of cloud computing. The parade of high-profile data breaches in the past year may have some people worried. So are your files and sensitive data safe and secure in the cloud, or are they vulnerable to hackers, snoopers and other threats? Here's the scoop on cloud storage security... | |
Is Your Head in The Clouds?
Cloud computing – storing data and using web-based software "up there" in the cloud of Internet servers – is becoming more and more common. See my related article Try These Free Cloud Services for some examples of popular cloud services. But are they safe? Can you trust some company on the other side of the wire with your business or personal data? Can you depend on software that isn't on your computer to be available when you need it? What are the risks of cloud computing, and how can you mitigate them?
The first risk you run is being cut off from your computing resources by a breakdown in communication between you and them. But that's rather unlikely, really. The Internet was designed to route data around broken communication lines, crashed routers, and other obstacles. Unless you live in a country with a totalitarian form of government, the Internet tends to be self-healing, unlike your desktop computer. So before fuming at your cloud storage provider for going down a whole five minutes, estimate how long it would take you to obtain and install a new hard drive, then restore everything from your local backup. Half a day, at least?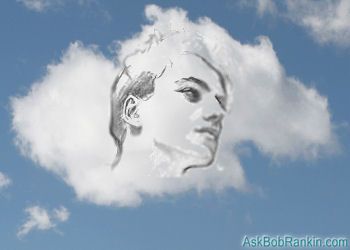 Risks of Cloud Storage
Data theft is a second and more serious concern of cloud computing. It's not that cloud-computing providers are sloppy about security. They're more conscientious about it than many large enterprises and most small users. But the bigger the castle, the more barbarians there are at the gates. As more companies deposit their top-secret data in cloud-computing providers' castles, more hackers turn their efforts to breaching those high walls. It's a never-ending battle, but fundamentally no different from you versus a lone hacker -- and most home users are no match for a skilled hacker.
To those who believe their files are safer on their hard drive than in the cloud, I say the following: Does your home have gated perimeter access, 24x7 on-site security guards, and security cameras? Do you have a fire detection and suppression system, backup power generators, and a disaster recovery plan in the event of hurricane, flood or earthquake? Do you have sophisticated network monitoring and intrusion detection software? You can bet your cloud storage provider has all that and more in place to safeguard your data.
Google's Cloud Security FAQ, for example, goes into detail about how your data is protected: "Our data centers are built with custom-designed servers, running our own operating system for security and performance. Google's 700+ security engineers, including some of the world's foremost experts, work around the clock to spot threats early and respond quickly. We get better as we learn from each incident, and even incentivize the security research community, with which we actively engage, to expose our systems' vulnerabilities... we undergo several independent third-party audits on a regular basis. For each one, an independent auditor examines our data centers, infrastructure, and operations."
Government monitoring and seizure of data is a third issue with cloud computing. The European Union has strict, high standards of privacy protecting citizens against government intrusion into their personal business. Not so in the United States, where the law gives government agents enormous latitude to spy upon and seize personal data, if they can get their hands on it. Did you know that the Electronics Communication Privacy Act passed in 1986 allows law enforcement to access emails stored in the cloud for more than 180 days without a warrant? (See the "What About Encryption?" section below.)
Another important consideration is death. What happens to your information stored online in the event that you're no longer around? Everyone should have a plan to pass along important login/password credentials in the event they die. In addition to cloud storage, make sure you think about your webmail, online banking and social media accounts. See my related article You Can't Take it With You (Digital Estate Planning).
And it's always possible that your cloud-computing provider will go out of business. But in the event that a popular, reputable cloud storage provider was planning to shut down their service, they should provide ample notice and opportunity for customers to retrieve their data. In the unlikely event that a cloud provider suddenly goes dark, what happens to your data in that case? My advice is to keep local backups, or use a second cloud-computing provider for redundancy.
What About Encryption?
Popular cloud storage services like Microsoft Onedrive, Google Drive and Dropbox will encrypt files as they travel between your computer and the cloud servers. So you don't have to worry about some hacker or wifi sniffer peeking inside your spreadsheet as it zips along the information highway. Your files are protected by strong physical security measures, so they are encrypted both while in transit and "at rest" on the cloud server. However, each of those services controls the encryption key, and could (in theory) access your files. There are good reasons for that, however. Without the encryption key on the server side, you couldn't easily view them over a web interface, share them with other users or do collaborative online editing.
If the shared encryption key issue makes you uncomfortable, or you don't trust the server-side encryption that cloud services like these offer, you do have other options. Using client-side encryption, you can encrypt the files BEFORE they leave your hard drive, and you control the keys.
Boxcryptor is a third-party add-on that works with Google Drive, Microsoft OneDrive, Dropbox, and other cloud providers to provide "zero knowledge" encryption for your files in cloud storage. With Boxcryptor, your files are encrypted on your device before transfering them to cloud storage. Only you can access your data. No third party, including Boxcryptor has the encryption key.
If you want to handle the encryption on your own, my article Is it Time to Start Encrypting Your Files? discusses VeraCrypt and some other options for encrypting your files. This can work well if you want to use a cloud storage option that doesn't offer encryption. Most cloud backup services such as Carbonite and iDrive offer you the option to use a personal encryption key so that your files are encrypted before sending to the offsite cloud backup, and only you can decrypt them.
The downside to these client-side encryption options is that if you lose or forget your encryption key, your files are locked forever.
Cloud computing is definitely here to stay, and its benefits are compelling. You shouldn't avoid cloud storage services because of imagined or falsely inflated fears, but you should be ready to deal with the real risks.
Are you storing files in the cloud? Got comments or questions about cloud storage? Post your thoughts below...
 

Ask Your Computer or Internet Question



  (Enter your question in the box above.)

---

---

| | |
| --- | --- |
| | Check out other articles in this category: |

| | |
| --- | --- |
| | Link to this article from your site or blog. Just copy and paste from this box: |
This article was posted by Bob Rankin on 8 Aug 2022
---
---
---
Post your Comments, Questions or Suggestions
---
Article information: AskBobRankin -- How Secure (and Private) is Cloud Storage? (Posted: 8 Aug 2022)
Source: https://askbobrankin.com/how_secure_and_private_is_cloud_storage.html
Copyright © 2005 - Bob Rankin - All Rights Reserved