Don't Fall For the Fake Tech Support Scam
| | |
| --- | --- |
| Have you received an unexpected phone call from a helpful customer service rep of Microsoft, or perhaps your ISP? I didn't think so. But many people have received calls from scammers posing as tech support reps, warning that their computers are infected with malware and offering help to fix the purported problem... | |
Fake Tech Support Scams
The supposed "fix" usually involves configuring your PC to grant the caller remote access to it, or downloading a program that will fix the problem automatically. Of course, what really happens is that the scammer steals the victim's financial data or installs botnet software that enslaves the victim's computer.
An alarming number of users are receiving such calls, according to a Microsoft survey of 7,000 users in the US, UK, Canada, and Ireland. Fifteen per cent of all users surveyed reported receiving such bogus calls, and in Ireland the rate hit a high of 26 per cent.
Twenty-two per cent of those who received fake tech support calls followed the instructions they were given. In some cases, that included providing credit card information to purchase a (bogus) product from the scammer.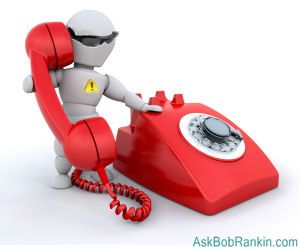 Of those who fell for the scams, 79 per cent reported some sort of financial loss; $875, on average. Seventeen per cent had money taken from their accounts. Nineteen per cent reported compromised passwords. Seventeen per cent more were victims of identity theft. Fifty-three per cent said they had "computer problems" following the fake tech support calls.
Why, you may ask, do scammers call potential victims instead of sending their pitches via email, which is a much cheaper and faster way to troll for victims? Anti-phishing protections are everywhere these days, on email servers and users' desktops. The computing public is constantly warned about the dangers of phishing emails, but more rarely told that a phone call might be phony. The immediacy of a phone call leaves little time to think, "Wait, can this be real", especially when the caller is trained to press hard for immediate action.
If It Happens To You...
Treat any unsolicited phone call as a probable scam, even if it supposedly comes from a firm you trust. Microsoft does not call Windows users; it distributes security fixes only via Windows Update.
Never reveal sensitive information, such as a credit card number, to any unsolicited caller.
Do not visit a Web site, install software, re-configure Windows, or follow any other instructions at the insistence of any unsolicited caller.
Write down the caller's name, company, and contact information. It may very well be fake, but at least you'll have something to give to the police or other authorities.
If you fall for a fake tech support scam and later realize your mistake, treat the incident as a serious security breach. Immediately change all of your passwords. Uninstall any software that you installed at the caller's behest. Disable remote access if you enabled it. Run a full anti-malware scan. See my related article System Restore, and follow the instructions there. Monitor your bank and credit card accounts closely and consider closing them if you detect any unauthorized transactions.
Have you or someone you know been victimized by fake tech support scammers? Post your comment or question below...
How Else Can I Help You?

(Enter your question in the box above.)




---

Check out other articles in this category:
Posted by Bob Rankin on 17 Jun 2011
---
---
Link to this article from your site or blog. Just copy and paste from this box:
---
Post your Comments, Questions or Suggestions
---
---
Article information: AskBobRankin -- Don't Fall For the Fake Tech Support Scam (Posted: 17 Jun 2011)
Source: http://askbobrankin.com/dont_fall_for_the_fake_tech_support_scam.html
Copyright © 2005 - Bob Rankin - All Rights Reserved