[TIPS] Trouble Seeing Your Computer Screen?
| | |
| --- | --- |
| Ben Franklin opined that nothing is certain except death and taxes. I would add "aging eyesight" because it affects everyone eventually, diminishing the pleasure and productivity of computing. Various adaptive technologies are available to compensate for loss of visual acuity. Some are built into Windows. But these options all have limitations, and using them in certain combinations can actually make it more difficult to make sense of what's before your eyes. Read on for a look at Windows display settings and how to use them to best advantage... | |
Getting Windows Display Settings Right
Before trying to improve the display it's best to reset it to default values so you know how the manufacturer intended things to look. Defaults also provide a baseline against which tweaks can be compared.
Open the "Change Display Settings" desktop app by right-clicking anywhere on the desktop and selecting "Display settings" from the dropdown menu, or type "Settings" in the search box, double-click on the Settings app, click System, then Display. On Windows 10 or 11, you will see a list of controls like the one below.
Set the following items to the values indicated to restore your display to its defaults:
Night Light: Off
Size of text, apps, and other…: 100%
Resolution: "recommended," the highest your display supports
Orientation: Landscape
On some devices you may see a Brightness control in the Display Settings panel. I recommend setting it at 50%, or as close as you can get it with the finicky slide control. (Some monitors have physical menu buttons on the front, side or underneath, that let you fine tune the brightness, hue, scaling, and other aspects of the display. If yours does, check those settings and set them to default values as well.)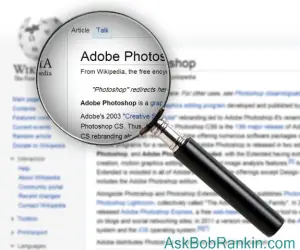 If any advanced display settings are in effect you will see a notice to that effect. If you do, follow the instructions to disable them. You will be logged out and will need to sign in again to see the default settings take effect.
On a Windows 7 system, there are fewer controls. Click Start, enter "display settings" and then click the item "Change display settings". Set your screen resolution to the highest your display supports, then click Apply. Next, click the "Make text and other items larger or smaller" link. Choose the "Smaller - 100%" option. Finally, click "Adjust ClearType text" and follow the instructions to get the sharpest-looking text on your display.
Moving Beyond Default Display Settings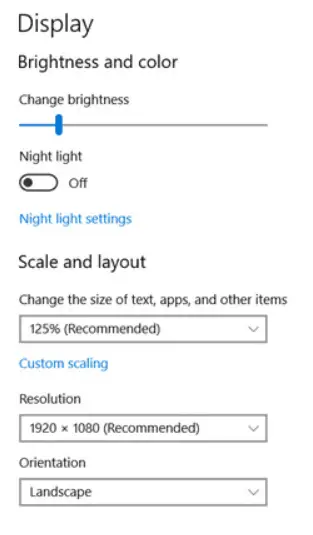 Most likely, things will look smaller, crisper, and move faster. Using default display settings has a positive effect on overall system performance because few resources are diverted to accommodating custom display settings.
But default display settings may be hard on your unique eyesight. So now let's see what we can tweak to make the screen easier to view and navigate.
One of my favorite tweaks is very easy. Hold down the Ctrl key while rolling the mouse wheel forward, away from you. All text in browsers, word processors, PDF readers, and other document display apps gets bigger! Reverse the wheel's motion and everything gets smaller. A page's left and right edges will expand or contract accordingly. This trick gives you pretty fine control over text size, and text size can be different from one window to another.
If you don't have a mouse with a wheel, you can do the same thing by pressing Ctrl and the "+" or "-" keys. I prefer this method, because I can quickly return to the default magnification setting by pressing Ctrl and "0" (zero).
But you will notice that parts of the screen do not change size. Menu bars and other fixed objects that surround text remain the same size. In some apps, the window that confines text will not change size and enlarged text overflows the edges of the window, getting lost from sight.
More Tweaking the Windows Display Settings
To avoid this problem, return to the Windows 10/11 "Change Display Settings" app. (For Windows 7, use the "Make text and other items larger or smaller" option described above.) In the "Scale and Layout" section you will find the option to "Change the size of text, apps, and other items." The dropdown menu allows settings of 100% of the default (recommended), 125%,and 150%. Play with those, logging out and back in after each change.
Notice that as you enlarge things they may no longer fit on your screen entirely. The bottom of the display settings page drops down out of sight beneath the edge of the screen. You will need to PgDn to see what you are missing, which may include important options for the app you are using. (On a related note, you may want to visit the Settings -> Ease of Access page and UNcheck "Automatically hide scroll bars in Windows." By default, Windows hides the scroll bars on some screens, making it hard to tell if there's more on the page.)
The brightness and "night light" options on the display settings page change the hue of light, mostly by adding or removing some of the blue spectrum. A warmer, less-blue hue is often easier on the eyes and can help prepare your body for sleep, so try the "night light" toggle switch. Click on "Night light settings" to see how finely you can control the warmth of light.
Back up under "Scale and Layout" you see "Advanced scaling settings". Toggle on the switch that promises to "Fix scaling for apps". It can make text look less blurry when it's enlarged or shrunk. Custom scaling percentages can also be set on this page; they will be indicated back on the main page when they are in effect. Don't neglect to click on the "Apply" button at the very bottom of this page or your custom settings will not take effect.
The resolution of your display should be left at its recommended maximum. If it's changed, there will be fewer pixels available and everything will look less sharp, blurry. The advantage of using a coarser resolution is that those tiny border items will look bigger, but blurrier. Leave "orientation" alone unless you switch to a monitor that is taller than it is wide.
The multiple displays section is for those who have more than one monitor. Writers, programmers and gamers often have dual display systems, but they can be a blessing to the visually impaired as well. You can control the settings of both types, and even specify an app to be used to test graphics settings.
Windows 11 has a Dark Mode option, which effectively flips the black/white color balance on your screen. The background of your screen will be black, with white text. In addition to extending battery life on mobile devices, some say dark mode boosts productivity and is gentler on the eyes because it reduces glare and blue light exposure. Some sources say it's NOT good for the eyes because it's harder to read long chunks of text with a light-on-dark theme. One article I found quoted an ophthalmologist saying dark mode does not affect eye health in any way, but the author wondered if it might lead to depression. Make of that what you will. Try the Dark Mode option and see for yourself. Click Settings -> Personalization -> Colors, then use the "Choose your mode" toggle to switch between Dark and Light modes.
I've noticed that as my eyes get older, annoying things like floaters and retina puckering cause text on the screen to come in and out of focus, and sometimes I lose track of the mouse pointer or text cursor. Pressing the Ctrl key repeatedly will flash a large circle on the screen to indicate the position of the mouse pointer. I also found it helpful to change the color of the mouse pointer. Go to Ease of Access -> Mouse Pointer, and you can change the size and color of the pointer. Mine is a lovely (and highly visible) shade of pink now. Likewise, you can go to Ease of Access -> Text Cursor, and fiddle with the cursor color and indicator.
I want to mention one more option that can help if you are visually impaired. The Magnifier (on Windows 7/8/10/11) can make any part of the screen larger. Press and hold the Start key and the plus (+) sign to activate the Magnifier. Move the mouse to the portion of the screen you want to magnify. You can adjust the magnification level if desired.
These are the basics of Windows display settings. Things get more complicated when you begin using display settings built into apps such as Chrome, in addition to the Windows settings. I recommend avoiding that. Do the best you can using Windows display settings alone.
Your thoughts on this topic are welcome. Post your comment or question below…
 

Ask Your Computer or Internet Question



  (Enter your question in the box above.)

---

---

| | |
| --- | --- |
| | Check out other articles in this category: |

| | |
| --- | --- |
| | Link to this article from your site or blog. Just copy and paste from this box: |
This article was posted by Bob Rankin on 17 Nov 2022
---
---
---
Post your Comments, Questions or Suggestions
---
Article information: AskBobRankin -- [TIPS] Trouble Seeing Your Computer Screen? (Posted: 17 Nov 2022)
Source: https://askbobrankin.com/tips_trouble_seeing_your_computer_screen.html
Copyright © 2005 - Bob Rankin - All Rights Reserved