Are You Fed Up With Telemarketers? (here's the answer)
| | |
| --- | --- |
| Yes, it's a dirty job, but somebody's got to do it so the rest of us can enjoy the benefits of living in a civilized society. I'm talking about actually talking to telemarketers. Why? To sue them, of course! Here's how it works, and some tips on getting relief (I'm talking real money here) from those annoying telemarketing and robocalls… | |
Tired of Telemarketers? Take Action!
Quite a few people have suffered the indignity of having a conversation with a telemarketer, in order to gather enough information to sue their persecutors. And more often than not these heroes have realized substantial monetary awards.
The world record may belong to Ms. Araceli King, who was awarded $229,500 in her federal lawsuit against Time-Warner Cable a few years ago. TWC robocalled her cell phone number over 153 times trying to reach a "Luis Perez" who previously owned that phone number and was behind on his cable bill. King told TWC repeatedly that she wasn't Perez and asked that the calls stop, but they didn't.
Even after she filed the lawsuit, TWC robocalled her 73 more times. The judge in this case awarded King $1,500 per call. That's not chump change!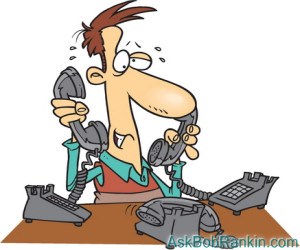 On a smaller scale, my friend, Dave, sued a finance company that called him just once, for a total of $2,500. Colorado's do-not-call law holds liable anyone who "makes or causes to be made" a telemarketing call to someone on the list. So Dave sued the caller, her manager, the company's VP of sales, its president, and the corporate "person" for $500 each. Within 24 hours of serving five small claims court summonses at the firm's HQ, he got a $1,000 settlement check in exchange for about an hour's worth of work and $35 paid to a process server. That's a pretty good return on his investment!
Finding multiple $500 causes of action in a single telemarketing call is the key to making lawsuits worthwhile. Many consumers know that the Telephone Consumer Protection Act of 1991 gives consumers the right to sue for damages when they receive phone calls that violate the Act. But most people mistakenly believe their damages are limited to $500 per call. In fact, it's $500 per violation, and most illegal calls contain several violations.
The TCPA established the national Do Not Call Registry. If you put your phone number on the do-not-call list, all telemarketers have 31 days to scrub your number from their call lists. If you get more than one telemarketing call after that, it's worth $500.
FCC Rules Limiting Telemarketers and Robocalls
If you're not feeling litigious, there are other steps you can take to stop unwanted phone calls. See my article
Choose Your Weapon in the Robocall Wars
. Check it out for tips on how to block unwanted calls on your landline, VoIP, or smartphone.
The FCC rules implementing the TCPA were updated in October 2013, to tighten protections for consumers. Unfortunately, political and charitable telemarketing calls are still immune. The following restrictions apply only to "for-profit" calls.
All regulated telemarketing calls to landline or cellphone numbers, except those that are manually dialed and do not contain a recorded message, are now prohibited without the consumer's prior written consent. Note that your number does not have to be on the Do Not Call registry to be protected against automated or even partially automated calls.
The "established business relationship" loophole has been eliminated, so a company can no longer harass you for 18 months after your last dealing with it. If you get an unwanted "follow-up" call, say you don't want any further calls. If you get one, that's another $500.
But wait, there's more money in each call! If the telemarketer blocks his caller-ID, that's another violation worth $500. If he doesn't state the name of his company at the beginning of the call, that's another $500. If he does not provide his phone number at the beginning of the call, that's another $500. If a telemarketer won't give his physical address, that's another $500 If you request a written copy of his "do not call list policy" and don't receive it in a reasonable amount of time, that's another $500.
The FCC rules change also gave consumers the right to sue in federal court; previously, TCPA violations had to be adjudicated in State courts, most often small claims courts. That lifts jurisdictional restrictions and caps on damages; the sky is the limit, as Ms. King demonstrated with TWC.
It's usually easy to find several thousand dollars' worth of damages in a single telemarketer's call. You just have to take good notes and give the caller enough rope to hang himself. That means (ugh!) talking to a live telemarketer.
Do a Little Digging...
Your objective is to get as much information out of the telemarketer as possible without revealing any sensitive information about yourself. Your strategy should be to sound interested in whatever the caller is selling; that keeps him talking while you ask questions. If you sound like a "live one" you'll eventually talk to an employee of the company you want to sue. It may take several rounds of calls to get that person on the line.
Now you can double your money by suing the telemarketing firm and its client, the business that hired the telemarketer. You can triple your damages to $1,500 per violation if the violation(s) are deemed to be "willful." Time-Warner Cable tried to claim that it didn't know Araceli King was not its deadbeat customer; the judge ruled that TWC had plenty of notice, and failed to act upon it.
It's usually unnecessary to go to court if you have well-documented evidence of TCPA violations. A hefty letter to a company's CEO containing all the evidence that you intend to present to a court and the total damages that you intend to claim will generally draw a swift settlement offer. You may have to rebut bogus claims like TWC's "we didn't know" nonsense. Just ignore threats of countersuits and other empty bluster. Declare a deadline for settling and stick to it.
If you decide to proceed with your own lawsuit, the place to file is in Small Claims court. NOLO is a well-respected source for do-it-yourself legal guides, and they have a comprehensive set of Q&A's on how the Small Claims process works. It covers questions such as "Where should I file my small claims lawsuit?," "How much can I sue for in small claims court?," and "What should I do to prepare my small claims case?"
For additional details on the TCPA and tips for successfully suing telemarketers, see Steve Ostrow's book, How To Sue A Telemarketer: A Manual For Restoring Peace On Earth One Phone Call At A Time. Ostrow is a former trial attorney and small-claims court judge who now does stand-up comedy impersonating Kramer from the TV series, "Seinfeld." His book and Web site are amusing as well as informative. You can read portions of the book via the Preview feature at Amazon.
Have you ever taken action against a telemarketer? Tell me about it! Your thoughts on this topic are welcome. Post your comment or question below...
Ask Your Computer or Internet Question



(Enter your question in the box above.)

---

---

| | |
| --- | --- |
| | Check out other articles in this category: |

| | |
| --- | --- |
| | Link to this article from your site or blog. Just copy and paste from this box: |
This article was posted by Bob Rankin on 31 Jul 2019
---
---
---
There's more reader feedback... See all 31 comments for this article.
Post your Comments, Questions or Suggestions
---
Article information: AskBobRankin -- Are You Fed Up With Telemarketers? (here's the answer) (Posted: 31 Jul 2019)
Source: https://askbobrankin.com/are_you_fed_up_with_telemarketers_heres_the_answer.html
Copyright © 2005 - Bob Rankin - All Rights Reserved