Are You in the Google Filter Bubble?
| | |
| --- | --- |
| DuckDuckGo, the privacy-focused search engine, is once again spewing FUD – Fear, Uncertainty, and Doubt – about Google Search. According to DDG's latest "study," Google is manipulating search results in undetectable ways based on its effectively omniscient knowledge of each user's likes and dislikes, surfing and shopping habits, demographics, etc. But is that really happening? Read on for my analysis... | |
Are You Seeing Search Results No One Else Sees?
According to DuckDuckGo (DDG), Google even manipulates search results when you search while in "private" browsing mode (what Google calls "Incognito" mode), thereby thwarting your presumed intent to get unbiased search results that are not "personalized" by Google's knowledge of you. (I think it likely that most Incognito searches have other motives, like concealing the fact that the user was searching for certain terms.)
The terrible result, says DDG, is that every Google Search user is trapped in a "filter bubble" that shows him mostly search results which reinforce his preconceptions and biases. Instead of fostering national unity by showing all of us the same search results, Google divides us, they claim, by showing each user search results that are significantly different from what others see.
The "study" that supports DDG's claim is flawed in more ways than I can describe here. Just for starters, it included the search experiences of only 87 U.S. residents. (Yes, that's 87... not 870, 8700, or some other statistically significant sample.) Then it excluded the 11 mobile users, despite the fact that more than half of searches are conducted on mobile devices.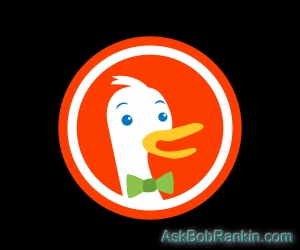 DDG's sample was way too small and skewed hopelessly far from reality. Its results and conclusions cannot be taken seriously. But the folks at DDG strive nonetheless to be taken seriously, using colorful (yet incomprehensible) infographics and impressive (yet inscrutable) phrases like, "the Damerau-Levenshtein edit distance..." If you read the "study," take it not with a grain of salt but with a liter of laughing gas.
Is Google deliberately manipulating search results to sway your thoughts and beliefs? A much more rigorous study involving over 4,500 undecided voters indicated that it is certainly possible for those who control search to control elections. But there is no hard evidence that anyone has deliberately done so.
Conspiracy theorists love this sort of FUD. There's Fear that invisible powers are controlling minds and the outcomes of elections. There's the Uncertainty of never being sure whether you are being manipulated. Finally, there is Doubt that the top 10 search results are the ones you really need to click on; "the Truth" may be buried on the tenth page of results.
Your Own Private Bubble
And yet, the "filter bubble" is real. Each of us does live in a world all his own. The thing is, it's a world of our own creation; we build our own bubbles! Think back on your day; not just time spent googling but every waking moment. How many ads did you see or hear between TV, radio, billboards, the sides of cars and buses, store facades and shelves, etc.? You don't know, because you filtered out all but one – maybe two, if they were well made and relevant to your immediate, ever-changing interests.
What's the difference between search results that are "manipulated" and those that are "personalized?" The former word has malign connotations while the latter has benign ones. But the act of personalizing always involves manipulation in some sense.
Google responded to DDG's study the same day it was published. Among the company's rebuttals are:
"(W)e do not personalize search results based on demographic profiles nor create such profiles for use in Google Search..."
"Personalization doesn't happen often & generally doesn't dramatically change search results from one person to another."
"Anyone who wants to test how lightly personalization is applied can easily check this themselves. Do a search in a fresh "Incognito" or similar private browsing window & you'll have no account-based activity that is used. You can compare to a regular search…"
Some degree of personalization is theoretically possible even if the user is anonymous. It's part of the Web protocol that when you request a web page, your browser sends your IP address to that website. That's necessary in order for the data to be sent back to you. In many cases, your IP address is a good indicator of your general geographic location. It could reveal that you live in a certain county or town, but NOT your actual street address. (Try it yourself. Use IPChicken to get your IP address, then plug it into this Geo-IP lookup tool.)
So that MIGHT translate into the possibility that the searcher is a "rich conservative" or "low income urban liberal." Google says they don't tailor search results based on demographic profiles, but that doesn't mean they don't do so based on geographic information. When, for example, I search for "injury lawyers" I get several listings from attorneys in my area. To me, that's a good thing. (Try the same search with DuckDuckGo, and you'll see the difference.)
I conclude that search engines are powerful tools that definitely COULD sway millions of minds. And I'm not knocking DuckDuckGo. Their search engine is powered by Microsoft Bing, Yahoo (owned by Verizon), Wikipedia, Yelp, and others. If you want the "truth" as provided by those sources, without the personalization, then more power to you.
But until I see a "smoking gun" I am going to assume no one's swaying my mind except me. Your thoughts on this topic are welcome. Post your comment or question below...
 

Ask Your Computer or Internet Question



  (Enter your question in the box above.)

---

---

| | |
| --- | --- |
| | Check out other articles in this category: |

| | |
| --- | --- |
| | Link to this article from your site or blog. Just copy and paste from this box: |
This article was posted by Bob Rankin on 7 Dec 2018
---
---
---
There's more reader feedback... See all 27 comments for this article.
Post your Comments, Questions or Suggestions
---
Article information: AskBobRankin -- Are You in the Google Filter Bubble? (Posted: 7 Dec 2018)
Source: https://askbobrankin.com/are_you_in_the_google_filter_bubble.html
Copyright © 2005 - Bob Rankin - All Rights Reserved