Wolfram Alpha: Search Engine or Answer Calculator?
| | |
| --- | --- |
| Untold millions use Google as their go-to search engine, but there are others you should know about. Among all the "other" search engines, one of my favorites is Wolfram|Alpha. It's not really a search engine in the traditional sense; it's more like an "answer calculator." Wolfram|Alpha surfaces online through licensing deals that make its technology available through Google Search, Bing, Siri, and other well-known brands. But it's best to experience it directly. Here's a look at what Wolfram|Alpha is, and can do for you... | |
What is Wolfram|Alpha?
Unlike most search engines, Wolfram|Alpha doesn't scan the Web, and build a searchable data base of the world's knowledge. Instead, Wolfram|Alpha uses "computational intelligence" to make sense of available data, and answer questions with proprietary algorithms and AI technology. Let's take a look at how it differs from a traditional search engine, and what kind of questions it can answer.
If, for example, you enter "New York Yankees" into Google Search, you'll get over 128 million results. Each result is a web page that contains the search query, or part of it. Any given "hit" may be exactly what you're seeking or it may be wildly off-base. In contrast, "New York Yankees" entered in Wolfram|Alpha starts a process that assembles a single page of facts about the team. If the particular fact(s) you're seeking are not there, you can refine the search with additional terms. You can also sort the columns of information when indicated.
"Wolfie" can produce answers to complex queries like "last pro baseball game with more than 9 stolen bases." This query involves a sport, date, and statistic as its variables. (The result is "San Diego Padres at Florida Marlins, Thursday, May 18, 2000.") But it's not all about sports. One example that got a chuckle from me was "How many chickens can fit in a Boeing 747?" I'll let you find the answer to that one.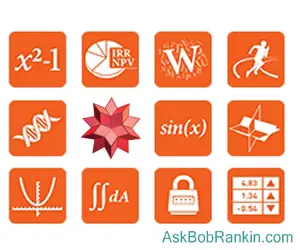 Obviously, such a tool can be indispensible to people who must come up with this sort of trivia in real time. But there are dozens of specialized searches, calculations, and conversions that it can do for you. Many categories of examples are available to help you understand the functions and uses of Wolfram|Alpha. Try exploring some of these and constructing your own queries:
Words & Linguistics (dictionary lookups, word puzzles, anagrams, emoticons),
Units and Measures (conversions, calculations, and comparisons)
People and History (genealogy, names, occupations, political leaders, historical events)
Household Science (everyday weather, astronomy, chemistry, biology or physics problems)
Money and Finance (stocks, mutual funds, futures, mortgages, currency)
Astronomy (planets, moons, comets, stars, pulsars, galaxies, nebulae)
Hobbies, Entertainment, Food & Nutrition, Statistics and many more.
Options and Operations
While Google has a limited number of operators to refine search queries, such as +, -, and quotes, Wolfie has a larger set of operators that help you specify what kind of results you want. For instance, "word" specifies that you want to know the uses of the following word, e. g., "word march" yields "march in protest" among other uses, and nothing about the month of March. Operators such as define, synonym, antonym, and even "Morse code for…" are available.
The "Surprise Me" link picks queries at random, and shows the results. My surprises included "recently released movies starring Brad Pitt," "spectral class of Barnard's star," and "people at the signing of the Declaration of Independence." The detailed answer to that last query was a surprise indeed. In addition to a list of the 56 signers, it returned their dates and places of birth, dates and places of death, leadership positions they held, and other tidbits.
Remember that this is a tool that eats facts and spits out information. So Wolfram|Alpha is a bit like a nerd at a cocktail party. It can tell you that it would take 4.39 years to reach Alpha Centauri (some 25.81 trillion miles away) if you were in a ship travelling at the speed of light. It knows who performed "Blinded By The Light" but not what songs are on the Billboard Top 40. It can answer "What song contains daniel is leaving tonight on a plane?" It knows that "Kenny Rankin" is a person's name, but not that he was a popular musician.
Every year, Wolfram|Alpha gets new capabilities, algorithms, and an expanding knowledgebase. Currently Wolfram|Alpha boasts over 10 trillion pieces of data from primary sources with continuous updating, and over 50,000 types of algorithms and equations. When I tried some of those queries 7 years ago, the answer was "Wolfram|Alpha doesn't understand your query."
Some features require a "Pro" subscription. For educators, Wolfram|Alpha Pro ($4.75/month) has a time-saving problem-generation function that creates math problems for students of various grade levels to solve. For students, Wolfram|Alpha Pro ($4.75/month) has a "step by step solutions" function that will solve those problems and "show your work." That seems to be playing both sides of the street. (Kind of like using Wikipedia to write your term paper.)
Wolfram|Alpha is never going to be the dominant search engine on the web. But it's specialized capabilities are worth bookmarking, and they will enrich more popular services such as Google Search, Siri, Alexa, and so on.
Your thoughts on this topic are welcome. Try asking Wolfie a question, and post a comment below with something interesting that you learned!
 

Ask Your Computer or Internet Question



  (Enter your question in the box above.)

---

---

| | |
| --- | --- |
| | Check out other articles in this category: |

| | |
| --- | --- |
| | Link to this article from your site or blog. Just copy and paste from this box: |
This article was posted by Bob Rankin on 30 Apr 2019
---
---
---
Post your Comments, Questions or Suggestions
---
Article information: AskBobRankin -- Wolfram Alpha: Search Engine or Answer Calculator? (Posted: 30 Apr 2019)
Source: https://askbobrankin.com/wolfram_alpha_search_engine_or_answer_calculator.html
Copyright © 2005 - Bob Rankin - All Rights Reserved