Can The Boss See What I Do Online?
| | |
| --- | --- |
| If you're like most people, you do a little personal web browsing at work. Maybe you check your email, pop into Facebook, or do a little online shopping at lunch time. But have you ever wondered... can your employer see what websites you visit? Here's what you need to know about employee internet monitoring... | |
Is Your Employer Monitoring Your Online Activities?
Would you like to know if your boss is aware that you're shopping, playing games or chatting online instead of writing that sales report or handling the pile of paperwork in your inbox? That depends on your boss. Chances are the answer is YES. There are several ways The Man can look over your digital shoulder, and some things that you can do to safeguard yourself.
A CNET study done in 2006 claimed that workers spent 20 percent of their time online for personal use or entertainment. Even more surprising, 13 percent were said to use the Internet for dating, gambling and p**nographic sites while at work. I would guess the numbers have only gone up in the past few years, with the exploding popularity of Facebook and other social media.
That translates into a lot of unproductive hours in the work day, and is a powerful motivator for your employer to crack down on Internet use that's not work-related. I'm sure you know people who seem to fritter away the entire day on the Web. That's not what they're being paid to do, and most people agree that employers have a right to stop it.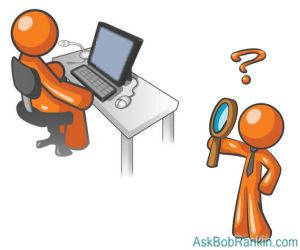 My suggestion is to assume that your employer can see EVERYTHING you do online while at work -- because they probably can. And that doesn't mean your privacy is being violated. Most employers require staff to agree to an Acceptable Use Policy (AUP), which spells out how/when you will be allowed to use the Internet and other computing resources that are owned by the company.
Employees may feel indignant or betrayed if they find out their Internet usage is being monitored without their knowledge. So it's important for employers to create and distribute to all employees an AUP disclosing any monitoring and control of their use of company assets such as the computers on their desks and Internet access.
Any business with a decent IT staff can easily monitor the activity on the company network. There are even special software packages that your employer can use to keep track of all Internet activity, even if employees are traveling or working at home. This software can send a report on all visited web sites as well as outbound and inbound communication, such as email and instant messaging.
This level of detail is necessary to document employee misconduct, but most likely nobody will ever look at it unless a problem arises. And of course, this assumes you're using a company-issued computer, or your employer's Internet connection. If you're using your own computer, with your own Internet service, you needn't worry.
Don't assume your office email is safe from prying eyes, either. It's trivial for your employer to scan all emails for certain keywords to make sure that company secrets are not being shared with outsides. A casual email to a friend containing "insider information" can violate SEC regulations, resulting in a fine for the company. Opening a virus-laden email while at work could expose your company to serious security breaches. So there are good business reasons for your employer to monitor or restrict workplace email activity.
How Much is Too Much?
Most bosses understand that life is hectic, and won't mind if you check your email once in a while, or do a little online shopping on your lunch break. But if you spend your entire work day Twittering, it would be a very good idea to never mention that your hate your job, or even jokingly threaten the boss with bodily harm. That could turn a bad hair day into a frogmarch to the parking lot, with a security escort.
If your boss can figure out your Twitter username, it would be trivial for him or her to "follow" you and see what's on your mind, besides work. And for the same reasons, if you're hanging out on Facebook instead of doing data entry, you'd better make sure the boss is not your "friend" on Facebook. Even if you're socializing via your home computer, remember that social media can be very public. I remember reading about an employee named Kyle Doyle who decided to play hooky from work by claiming he was sick after a fun night out. He posted that on Facebook and was caught. Idea: Make sure your privacy settings only allow friends to view your profile and postings. Better idea: Don't skip work and brag about it on Facebook.
Of course it's tempting to do certain types of online activity at work, because typically you have a very fast connection to the Internet. Someone asked me the other day if his boss could detect the fact that he was using a file sharing program to download gigabytes of music files at work. The answer is YES. The presence of the program on his hard drive, as well as the music files, would be a giveaway. But this would also create a noticeable drag on the company network, which could impact the ability of co-workers to do real work. Downloading from file sharing (P2P) sites at work can also expose your employer to viruses and spyware that are able to spread on the company network and wreak untold havoc.
Surfing at Work
If you just cannot resist the urge to surf the web while at work, here are some simple precautions:
Be familiar with the company's Internet usage policy.
Moderate your usage to a few minutes a day.
Never venture into "adult" territory online.
Use your personal email account for personal stuff, and your work email for all business related matters.
Use a tool like Logmein for remote access to your home computer while at work. (See Free Remote Access Tools)
None of these things is foolproof, since every keystroke can potentially be monitored. Even clearing out your web browser's history and temporary files may give you a false sense of security. If your employer is really sneaky, they can use video cameras to monitor you. Cameras can be hidden in bookshelves, air vents and other places. If you flagrantly violate your company's Internet usage policy, my advice is to assume you WILL be caught. Is it worth putting your job in danger?
Your thoughts on this topic are welcome. Post your comment or question below...
Ask Your Computer or Internet Question



(Enter your question in the box above.)

---

---

| | |
| --- | --- |
| | Check out other articles in this category: |

| | |
| --- | --- |
| | Link to this article from your site or blog. Just copy and paste from this box: |
This article was posted by Bob Rankin on 15 Oct 2012
---
---
---
Post your Comments, Questions or Suggestions
---
Article information: AskBobRankin -- Can The Boss See What I Do Online? (Posted: 15 Oct 2012)
Source: https://askbobrankin.com/can_the_boss_see_what_i_do_online.html
Copyright © 2005 - Bob Rankin - All Rights Reserved