Will You Be the Next CatPhishing Victim?
| | |
| --- | --- |
| In Johnny Lee's 1980 song "Lookin' For Love," he describes his search for love as "playing a fools game, hoping to win." Many years earlier, Ambrose Bierce wrote: "I have known men to fall in love by light so dim they would not choose a suit by it." Thanks to the Internet, today the light is not only dim but deceptive. Lonely people of all persuasions are at increasing risk of being preyed upon by phony romantic partners who not only aren't what they seem to be, but may not exist at all. Read on to learn about catphishing... | |
What is CatPhishing?
According to the Merriam-Webster dictionary, a catfish is (1): "any of an order (Siluriformes) of chiefly freshwater stout-bodied scaleless bony fishes having long tactile barbels, or (2): "a person who sets up a false personal profile on a social networking site for fraudulent or deceptive purposes. Today we'll be discussing the latter case, with the alternate spelling of "catphish" that's more common online.
San Diego Chargers linebacker Manti T'eo was the victim of such a cruel hoax during his senior year at Notre Dame, bask in 2012. The All-American football player fell in love with a "woman" sight unseen through social media. The sports press made much of Manti's dedication to "Lennay Kekau," purportedly a Stanford University student who tragically died of leukemia. But "Lennay" turned out to be a hoax, a fictitious person elaborately crafted by a male acquaintance of Manti's. This cruel trick was just a joke that went too far, apparently. But ten years later, some questions linger about Te'o's possible involvement. Don Van Natta Jr., an ESPN sports writer explains why.
Another example far more serious than a cruel hoax involved Roxanne Reed, a 66-year-old woman from North Carolina. In November 2018, Reed was charged with conspiring to kill her elderly mother. It turned out she was being scammed by a man she met on Facebook, who initiated a romantic exchange, and later claimed he needed money for medical bills. After sending over $50,000 to the man, she ran out of money and saw her mother's life insurance policy as a way to continue helping the man she thought she loved.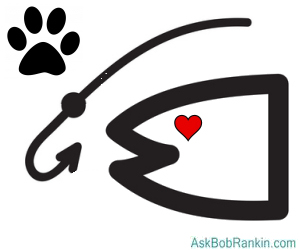 The story of Jacqueline and George follows some of the tell-tale twists and turns of catphishing (a romantic interest developing online, a request for money, excuses for not meeting in person) but has a happy (or at least happier) ending. After a year of simmering doubts came to a boil, Jacqueline discovered that "George" was a scammer who borrowed the profile photo of an Instagram model. Thanks to her instincts, she escaped the relationship without losing any money.
The practice of using a fake virtual persona to dupe a victim out of money (or just inflict emotional damage) is called "catphishing." The neologism seems to be a play on "phishing" (using deceptive email to obtain sensitive information) and a Southern sport called "noodling," in which large catfish are patiently enticed into chomping down on a probing hand which hauls them into the boat. Jeff Foxworthy meets the Internet!
Catphish lurk on dating sites and apps, passively waiting for bites. It's a well-known problem on Match.com, Tinder, Eharmony, and other places where people are looking for love. They also cast their lures around social media, making contact on LinkedIn, offering friend requests on Facebook, tweeting admiringly, and so on. Their objective is usually to fake romantic interest, engage the victim emotionally, and then pretend to have some sort of "problem" that only a generous online friend can solve with money.
Patriotism is another emotion to which catphish appeal. A Colorado mother-daughter team conned over 350 people by posing as American soldiers in Afghanistan. Their phishing holes were dating sites because that is where all the lonely people come. They sucked up over $1 million worth of "the kindness of strangers" before they were caught.
How to Spot an Online CatPhisher
Catphish are easy to spot if your vision is unclouded by emotion. Some of their telltale traits are:
They never are able to meet in person; they are only available online or via phone call
They are charming, flattering, sympathetic, and chatty;
Claim to be U.S. citizens, but are always living in distant places for "international business" or military service
They quickly talk about love and their eagerness for a romantic relationship
They ask for your home address in order to send you gifts
They often have young children, another sympathy draw
They have sudden, bizarre financial difficulties
Also, once you help catphish financially, they will soon be back with bigger needs.
I've been in the position of watching some of these scams as a middle man, and for a while, I didn't understand what was going on. In addition to my duties at AskBobRankin, I also operate FlowersFast, an online florist service. Occasionally, I see orders from "customers" using stolen credit cards and obviously fake U.S. addresses. A quick check of their IP address typically shows they're actually in Nigeria or Russia. But the recipients are real, and the messages that the senders attach to the bouquets speak of undying love. The goal of these catphishers is to gain the trust of their marks by sending flowers. Sometimes these scammers unwittingly provide enough information, that I can find their profiles on sketchy dating sites.
Of course, the Internet is just a new medium for this old scam, and "catphishing" is just a new term for this type of fraud. Still, it persists because there are always people on whom it works. Don't be one of those.
Your thoughts on this topic are welcome. Post your comment or question below...
 

Ask Your Computer or Internet Question



  (Enter your question in the box above.)

---

---

| | |
| --- | --- |
| | Check out other articles in this category: |

| | |
| --- | --- |
| | Link to this article from your site or blog. Just copy and paste from this box: |
This article was posted by Bob Rankin on 5 Apr 2022
---
---
---
Post your Comments, Questions or Suggestions
---
Article information: AskBobRankin -- Will You Be the Next CatPhishing Victim? (Posted: 5 Apr 2022)
Source: https://askbobrankin.com/will_you_be_the_next_catphishing_victim.html
Copyright © 2005 - Bob Rankin - All Rights Reserved