It's Nice to Share, But...
| | |
| --- | --- |
| Two trends are clashing on the Web today. Security is more important than ever to protect yourself against ever-increasing cyberthreats. "Sharing" is equally big, thanks to social media outlets like Facebook, Twitter, TikTok and Instagram which make money when you share your intimate thoughts, experiences, and other life-stuff with strangers. But security and sharing do not mix well. Here's what you need to know about oversharing and trauma dumping... | |
NEVER Share These Things Online...
Look at airline boarding passes as an example. People excited about going on vacation often post pictures of their boarding passes on social media. Perhaps they fear their "friends" won't believe them without proof, or they just want to brag. Unfortunately, those boarding passes may contain all the information an identity thief needs.
Some boarding passes include the E-Ticket number, booking reference, frequent flyer number and even how many bags you have checked in. Go to your airline's website and look for the "manage existing trips" option. Typically, all you need to login there is the passenger's name and E-ticket number or booking reference. That allows anyone with that info to change your seating assignment, change the date of your return flight, or even cancel your tickets!
In some cases, the barcode on an airline ticket may also contain the passenger's email, phone number, and other personal info. Few passengers realize that, so even the security-conscious fail to cover it when taking a photo. Barcode readers are cheap, and many cybercrooks have them.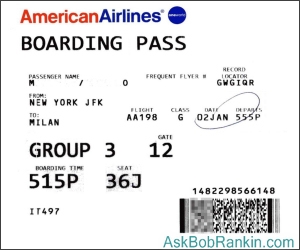 Tickets to concerts and other events should not be posted online until after you have used them. Tickets bear all the info necessary to create useable counterfeits. Many people have been disappointed at the box office to learn their tickets have already been used. If you must have bragging rights, Ticket Master has a helpful page on the Do's & Don'ts of Sharing Ticket Pics Online.
Of course, you should never post a picture of a check online. See my article, "Paper Checks Can Lead to Fraud".
Are one of those with a habit of "Checking In" everywhere you go? You should never tell the world that you are or soon will be on vacation or away on business. You might as well put a sign on your lawn that reads, "Nobody home, please rob this house." Use private messages to inform people who really need to know that you'll be away for a week or two. Wait until you get home to share vacation photos and anecdotes with everyone. I take this a step further, by not sharing my location even when I'm just out to dinner.
Is Your Slip Exposed?
It's very hard to be completely invisible online. My article
Breaking Up With the Internet (is hard to do)
goes into detail on how you can find and remove personal information that you might not have known was available in cyberspace.
Going on a date to someplace expensive? Muggers would love to know that. Throwing a bridal shower where there will be a heap of expensive gifts? A home invasion is possible if you post the place and time online weeks in advance. Your social life is full of opportunities to get ripped off, or even physically harmed. Don't share it with strangers.
Linking one of your social networks to another may prove embarrassing, at the least. When you link a Facebook account to a LinkedIn account, suddenly your professional colleagues know your personal life. One guy got fired this way; he called in sick at work and then bragged on Facebook about putting one over on the boss. His boss saw that and fired him.
Parents and grandparents love to post pictures of children, and they rarely consider the long-term effects on their offspring. A grandmother in the Netherlands was sued by her daughter because she refused to take down pictures of her grandchildren that she had posted on Facebook. The court ruled in favor of the parents and ordered Grandma to cease, desist, and delete.
Aside from causing possible embarrassment, a photo can reveal sensitive info about kids, and enables a creep to recognize a child. Mentioning the child's name enables a creep to say, "Hey, Jenny, Grandpa So-and-so sent me to pick you up today." Don't mention anything about children on social media that can help perverts find and trick them. Remember, they're kids, who trust easily.
TikTok and Trauma Dumping
TikTok, hugely popular with teens and young adults, is perhaps the ground zero of oversharing. Young women in particular often post videos with very personal content better left in private settings. Some share experiences relating to body image, mental health, assault, and abuse, hoping to find a safe space where they can receive encouraging words or emotional support. But often as not, they get harrassed by mean-spirited people who assign blame, tell them to "hit the gym," or "just get over it." It boils down to asking for free psychotherapy in a room of a million sixth graders.
The phenomenon of "trauma sumping" is so common that there are hash tags such as #oversharing, #oversharedontcare, and #oversharingontiktok where people flag their own oversharing posts. But the damage done can extend beyond the disconsolate dumpers. Psychologists say those who consume this content can suffer detrimental effects as well. In addition to triggering memories of one's own traumatic experiences, trauma dumping can be desensitizing.
More Facebook Faux Pas
I am constantly amazed by Facebook users who share their phone numbers and even home addresses with everyone. Ditto for users who leave location services enabled on Facebook or Twitter. I had to tell one single mom, via Twitter direct message, that her phone was broadcasting the street address of her home to the whole world. She had a major panic attack.
Facebook reports that 40 percent of its users leave their entire profiles open to the public. That means everything you post is available to over 2.8 billion people! Take the time to get familiar with Facebook's privacy settings and lock down your profile. Then be careful to make "friends" only of people who are friends in real life. The rest are strangers, and you don't know what they might do with your personal info.
A few months ago, I realized that I had over 1,000 "friends" on Facebook. It didn't take long to see that 90 percent of them were people I did not actually know. For years, I had been in the habit of accepting friend requests from anyone and everyone. I wanted to pare down that list to just the people that were truly friends and family members, but Facebook makes it hard. You can only remove one friend at a time, and it takes a few clicks for each one. Fortunately, I found a Chrome extension called L.O.C that allows one to remove up to 100 friends at once. It took me just a few minutes to say goodbye to 901 people that don't need to know my business.
But Wait, There's More (over-sharing)...
Even close friends, significant others, and perhaps even spouses should not have your passwords. Breakups happen, and before they happen someone often sneaks a peek at someone else's social media accounts. Facebook has become a divorce attorney's best friend, saving thousands of dollars on private investigators.
Facebook is also a place where hackers and scammers look for information that they can use to impersonate you, or gain access your online accounts. Have you shared your your mother's maiden name, the name of your first pet, the make and model or your first car, the elementary school you attended, or the town where you were born? A malicious person might be able to use these clues to answer your security questions and reset your account password. Have you ever played a game or online quiz where these questions were asked? Now you know why.
One other thing that you might be sharing is your wifi signal. If you have no password on your router, anyone in the vicinity can "share" your internet connection. And if they do something illegal, it can be difficult to prove it wasn't you. See my article Eggs and Router Security (my advice...) for tips on locking down your wifi signal.
Oh, and nobody cares what you had for breakfast, lunch, or dinner... really. Posting pictures of your Snickerdoodle Creme Brulee or Avocado Caprese Salad only makes your friends jealous, hungry or annoyed. Are you over-sharing? Your thoughts on this topic are welcome. Post your comment or question below...
 

Ask Your Computer or Internet Question



  (Enter your question in the box above.)

---

---

| | |
| --- | --- |
| | Check out other articles in this category: |

| | |
| --- | --- |
| | Link to this article from your site or blog. Just copy and paste from this box: |
This article was posted by Bob Rankin on 25 Apr 2023
---
---
---
Post your Comments, Questions or Suggestions
---
Article information: AskBobRankin -- It's Nice to Share, But... (Posted: 25 Apr 2023)
Source: https://askbobrankin.com/its_nice_to_share_but.html
Copyright © 2005 - Bob Rankin - All Rights Reserved