Forgot Your Windows 10 Password? Here's the Solution
| | |
| --- | --- |
| You forgot your Windows 10 login password? Or maybe you 'inherited' a Windows 10 computer and you can't log in. There's hope, but resetting a forgotten password for a Windows 10 PC can be complicated by several factors. In this article, I'll show you how to create a Password Reset disk as a preventive measure, and also how to reset your password if you don't have the disk. Let's dig in... | |
Windows 10 Password Recovery - It's a Bit Complicated...
First, it matters whether you are trying to reset a local password that is stored on the PC in question or a Microsoft account password that is stored in the cloud. It also matters whether you need to reset an administrator account's password or a user account's password.
If, like many users, you created just one account when you set up Win 10 and use it day to day, then it is an administrator account. If you chose to log in with a Microsoft account during setup (or later), then you should use the "forgot my password" procedure found on Microsoft Live's login page. Here is a direct link to the password reset page.
If, as I have recommended for security purposes, you created a standard (local) user account and use it for all your day-to-day computing, then Microsoft's official word on the subject is this: "You're out of lucky, buddy." Okay, I paraphrased. What they actually say is "If you forgot your local account password AND you don't have a Password Reset Disk, you can't recover it. Instead, you'll need to reset your PC." Keep reading, though...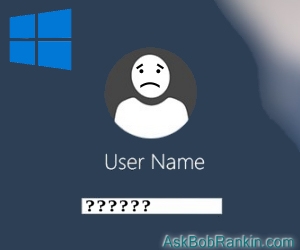 Creating a Password Reset Disk
If you're stuck in that unfortunate position (no password and no Password Reset Disk), it's too late to create a Password Reset Disk now. Skip down to "Resetting Your Windows 10 Password" if you need to do that now. If you want to create a Reset Disk, continue reading here.
Creating a Windows Password Reset Disk now is a good idea, if you are logged into your Windows account. The Reset Disk contains an encrypted backup of your password, and can be used to easily recover if you ever forget your password. Here's how to make one:
Insert a USB flash drive
Click the Start button, type Control Panel then press Enter
On the Control Panel window, click "User Accounts"
Click "Create a password reset disk".
On the Forgotten Password Wizard, click Next.
Select the USB drive that you inserted, then click Next.
Enter your current account password and click Next.
When the wizard finishes click Next, then Finish.
Label the flash drive as "Password Reset" (or maybe "Colonoscopy Report") and keep it in a safe place. Anyone who has access to this disk will be able to reset your password.
If the "Create a password reset disk" option does not appear on your User Accounts window, click the Windows button, type Create a password reset disk, and press Enter. You should see that option in the search results. If that still doesn't work, you're probably signed in with a Microsoft Account (not a local account) so this option does not apply.
Resetting Your Windows 10 Password
As I mentioned above, Microsoft will tell you to Reset your PC if you forgot your password, and you don't have a Password Reset Disk. But that's not true, and they know it.
Resetting your PC is a drastic step that will wipe out your programs, personal files, and settings. If you really want to do that, click the Power icon at the bottom right of the login screen, then hold down the Shift key and click Restart. On the Boot options menu, select "Troubleshoot" then "Reset this PC" and then "Remove everything." Your computer will restart and re-install a fresh copy of Windows. After doing that, I suggest you follow my advice in the "Creating a Password Reset Disk" section abive.
If you don't want to wipe and reset your computer, there's an unofficial trick which Microsoft has known about for years. The Windows 7 password reset method that I described in "Resetting Forgotten Windows Password" will work to reset the password for a local Windows 10 user account.
Briefly, that technique involves creating a System Repair Disc using another Windows 10 machine to which you have access. Booting from that disc, you will enter the command line and replace the file utilman.exe with cmd.exe, then remove the System Repair Disc and reboot. At the login screen, click the "accessibility features" icon and it will open a command prompt instead of utilman.exe. From the command line, you can reset a user account's password as described in the Win 7 article.
In fact, if you have a Win 7 System Repair Disc, it will work just fine for Windows 10 surgery, too. Everything described in this article was tested using a Win 7 System Repair Disc.
The one minor difference between Win 7 and Win 10 is that the "accessibility features" icon appears on the login screen's lower-left corner in Win 7 and the lower-right corner in Win 10. I've read that in some cases, the icon does not appear at all. If that happens, press WinKey+U (the Windows key and U at the same time).
What if you eschewed a Microsoft account and rely on a local password for an administrator account? You can create a new administrator account while you are at the command prompt. Just enter these commands, pressing Enter after each:
net user <username> /add
net localgroup administrators /add
Replace <username> with whatever name you wish to give to the new administrator account; do not include the < and > characters.
Note that this new administrator account is created without assigning a password to it. So when you reboot (after removing the System Repair Disc!) you won't have to enter a password to access Windows 10 as an administrator. Just click the new username, which will appear in the lower-left corner of the splash screen that appears when Windows 10 loads.
Windows 10 will spend a few minutes setting up the desktop for this new administrator. When that's done, click on the Start button and scroll down the list of apps to the folder named "Windows Administrative Tools." Click on that folder and select "Computer Management.
In the folder tree on the left, click "Local Users and Groups" and then "Users." In the middle pane of the window, highlight the username whose password you have forgotten and right-click. Then click on "Set password."
You will see a warning popup advising you that changing a user's password in this way might cause "loss of information." Or it might not, and who knows what information might be lost; Microsoft doesn't say. In my experiments, I lost nothing critical. I found I was logged out of Google Mail and some other sites, but it was easy enough to log into them again. All of my apps, settings, and data remained unchanged.
Once you have set a new password for the account in question, restart Windows 10 and log in with the account's username and new password. Now you're back in business!
It's a bad idea to leave unprotected administrator accounts lying around. So go back to that "Users" folder in "Computer Management," highlight the unprotected account, and click the red X on the toolbar to delete it. You'll have to be logged in as an administrator to do this, of course.
It's optional to restore utilman.exe to its original function; instructions are in the Windows 7 articles linked above. I advise you to do so, because leaving that link to cmd.exe on the login screen allows anyone access to the command line; as you have seen, that can give savvy persons access to your Windows account.
For completeness, I'll mention there is a program called PC Unlocker that can simplify the above process of resetting a Windows password. It's not free (US $29.99) and I've not tried it myself, but it does have good reviews. So that's another option.
Your thoughts on this topic are welcome. Post your comment or question below…
 

Ask Your Computer or Internet Question



  (Enter your question in the box above.)

---

---

| | |
| --- | --- |
| | Check out other articles in this category: |

| | |
| --- | --- |
| | Link to this article from your site or blog. Just copy and paste from this box: |
This article was posted by Bob Rankin on 27 Aug 2021
---
---
---
Post your Comments, Questions or Suggestions
---
Article information: AskBobRankin -- Forgot Your Windows 10 Password? Here's the Solution (Posted: 27 Aug 2021)
Source: https://askbobrankin.com/forgot_your_windows_10_password_heres_the_solution.html
Copyright © 2005 - Bob Rankin - All Rights Reserved