Gmail: Beyond the Basics
| | |
| --- | --- |
| You've opened a Gmail account and now you can send and receive email on the web. Lots of email... 5.2 gigs and counting. But beyond all that space, Google's Gmail can give you better control over how you manage your emails. Here are some tips and tricks for the Gmail user who wants to advance beyond the basics... | |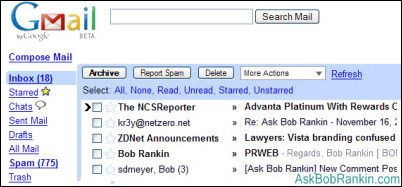 Gmail Labels and Filters
I've heard some people complain about having no folders in Gmail. I say hooray, because Gmail has something better: labels. When you view an email, you can label it, which is a lot like moving it to a folder. Only it's more powerful because your emails don't actually move. You can have an email with multiple labels, and it can still sit in your inbox. Labels you've created are listed on the left hand side of your Gmail window, and when you click on a label, Gmail will search through ALL your emails and find the ones tagged with that label. You can create as many labels as you need and when a new email comes in, select a label that is appropriate for that email. Gmail Labels can be renamed or deleted if desired. Just remember that deleting a label does NOT remove any emails that were tagged with that label.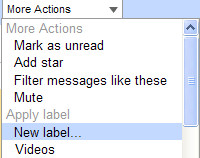 In addition, Google has a "star" feature, so you can flag conversations that are important to you. It makes those emails easier to see in your inbox, and easier to find later. Just hit the "Starred" link on the left side of the Gmail window, and all of your starred conversations will be displayed. You can even use labels and stars together, if needed.
like most email programs, Gmail has filters and rules for automatically taking certain actions when new emails arrive. If you get regular emails from Aunt Betty, you can have a filter tag them all with a Family label. Or you can automatically archive, forward or delete certain emails, based on any combination of the sender, subject, message text, or the presense of an attachment. I use Gmail filters to control spam, label or star certain messages, and even forward specific emails to my cell phone. Just click on Create a filter near the top of the Gmail window to add email filters or manage your existing filters.
Spam and Junk Mail Handling With Gmail
Gmail automatically recognizes many spam messages you get, and like other systems, moves them from your inbox to a Spam bin. Although Gmail seems to to a very good job of filtering out the bad and keeping the good, you should occasionally peruse the Spam bucket to see if anything slipped through. If you think something really is junk mail, and Gmail didn't flag it as such, just select it and then click the Report Spam button. This not only banishes it from your Inbox, it will help Gmail do a better job of filtering in the future. It's also a good idea to add friends, relatives and colleagues to your Contacts list, to prevent their emails from being accidentally labeled as spam.
I've never seen it documented, but I think Gmail uses a collaborative spam filtering system, in which the spam/not-spam decisions made by ALL Gmail users are taken into account in order to make the filters more effective and dynamic. I've come to believe this is true because I see more spam slip through in the early morning hours (when not many people are online) than I do in the afternoon when usage is highest. It seems that if lots of people get the same spam message, and report it as Spam, then the filters are tweaked and copies of that spam that come in later are automatically blocked.
Some people even use Gmail as a spam filter for other email systems. Because Gmail allows you to access messages via POP3 or IMAP, you can direct your email to a Gmail address, and pull it into a traditional email client such as Outlook, Eudora or Apple Mail -- minus the spam.
Gmail Keyboard Shortcuts
Gmail has some handy keyboard shortcuts to eliminate lots of pointing and clicking with your mouse. Using these will save you time and may even reduce your changes of getting carpal tunnel syndrome. Here are some of the keyboard shortcuts that I use often:
| | |
| --- | --- |
| c | Compose |
| / | Search |
| k | Move cursor to next item |
| j | Move cursor to previous item |
| Enter | Open the highlighted message |
| u | Return to Inbox |
| y | Archive message |
| x | Select a message |
| s | Star a message |
| ! | Report spam |
| r | Reply |
| a | Reply all |
| f | Forward |
| # | Delete |
Advanced Searching in Gmail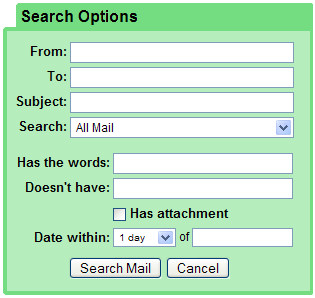 Gmail makes it super easy to find anything you've sent or received. You don't have to go poking through each and every folder one by one, or search on any specific field, such as sender, subject or keyword. Just enter your search words in the search box at the top of the Gmail window and whack that big
Search Mail
button. Gmail will display all the messages that match, if your keywords appear in the sender's name, the subject line, or the message text. I find this incredibly powerful, because it's like doing a Google search across all your emails.
Let's say I want to find an email that my friend Dave sent me a few months ago, asking about that new Panda Calc spreadsheet. I just enter dave panda in the search box, and Gmail finds it for me. If Gmail finds too many messages, you can narrow down your search by typing from:dave subject:panda or similar. Sometimes I search with a label and a keyword like this: Label:TODO johnson to narrow things down. If you know the date range of the message(s) you're after, you can specify it like this: after:2007/01/15 or before:2007/03/30.
For complex searches, you can also throw in boolean search operators such as OR (must be in CAPS), the minus (-) sign, or parentheses. I should mention that you never need to specify AND in your searches, it always implied when you give more than one search term. Oh, and you don't have to remember all those search modifiers. Just click on Show search options near the top of the Gmail windows and you can enter you search terms in a convenient form.
Tweaking Advanced Gmail Settings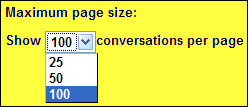 If you click the
Settings
link at the top of the Gmail window, you can customize many options that control the way Gmail works. For example, I like run with a big screen, so I changed the
Maximum page size
setting to show the maximum of 100 conversations per page. You can also customize your signature for outgoing emails, or use the built-in
vacation autoresponder
to send an automatic reply message when you're away. Only one auto-reply will be sent to a given sender within a 4 day period.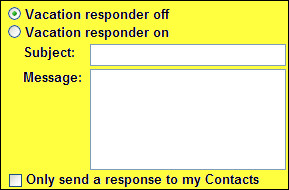 Click the Accounts tab to access even more settings. I find it very handy to be able to change my From: address so that outgoing mails are sent as "bob@rankin.org" instead of my default "bobrankin@gmail.com" address. This allows you to use Gmail and still send messages "from" a business address. Nobody need ever know that you're using Gmail and not your own email server. The Forwarding tab lets you forward a copy of incoming mail to any email address and optionall keep a copy in your Gmail inbox.
You can also use this page to configure Gmail to get mail from other email accounts via POP3 or IMAP, reset your password, or change your security question. And if you really like Gmail, you can provide a private label, industrial strength version to your employees. For $50 a year (per account), the Premier Edition gives you 25 GB of storage, a 99.9% uptime guarantee for email, the option to turn off all ads, policy management tools, access to an application progamming interface and 24/7 phone support.
Gmail's ease of use and generous storage space for emails makes it an ideal web-based email service for work or personal use. With the advanced Gmail features, it becomes easier to organize, find and filter your messages. Explore the Settings and customize Gmail to suit your own special needs.
Are you a Gmail power user? Share your own tips and tricks in the comments below...
 

Ask Your Computer or Internet Question



  (Enter your question in the box above.)

---

---

| | |
| --- | --- |
| | Check out other articles in this category: |

| | |
| --- | --- |
| | Link to this article from your site or blog. Just copy and paste from this box: |
This article was posted by Bob Rankin on 29 Nov 2007
---
---
---
There's more reader feedback... See all 21 comments for this article.
Post your Comments, Questions or Suggestions
---
Article information: AskBobRankin -- Gmail: Beyond the Basics (Posted: 29 Nov 2007)
Source: https://askbobrankin.com/gmail_beyond_the_basics.html
Copyright © 2005 - Bob Rankin - All Rights Reserved