Hey, Are You an Accidental Spammer?
| | |
| --- | --- |
| An anxious AskBob reader says: "Several of my email friends are complaining that I'm sending them spam emails. I've looked in my Sent folder and nothing odd shows up there. How can this be happening? Is it possible that someone has hacked into my email account, or is there another explanation?" Read on for the most likely answers to this mystery... | |
Your Friends Think You're Spamming Them?
For some reason, writing that headline triggered a memory from my youth. As a teen, I used to devour every monthly issue of Reader's Digest. At the bottom of the cover page, there was a line that said "Have You an Amusing Anecdote?". If you knew what an anecdote was, and you had an amusing one to share, they'd pay you up to $200 if it was selected to be published. Nowadays, people share jokes for free, via endlessly forwarded emails, which sometimes end up in the Spam Folder. Pardon my digression, at least my slip isn't showing.
Are you getting replies to email messages that you never sent? Friends complaining that you're spamming them? Are you receiving "bounce" messages from email servers about messages to non-existent accounts that you don't recognize? Do you find messages in your junk-mail folder sent from yourself? If any of these things happens to you, you may be an unwitting spammer.
First, your email account may NOT have been hacked. Often, spammers "spoof" their victims by inserting a random email address in the "From" field of their outbound spam. Spammers use mass emailing software that can insert any desired email address as the sender, and pretend to be "you" even if they're half a world away. Bounced messages that you don't recall sending are probably such spoofs. These spammers are misappropriating your email address, but they don't have access to your email inbox or contacts. They may have gotten your email address from one of those massive data breaches that happen regularly. Or you might have handed it over, by entering a contest, or playing a game on Facebook.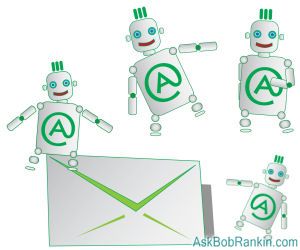 Okay, let's assume the unwanted email is a forgery, and your inbox is secure. Still, that's no reason to relax. You may find yourself on a blacklist if hundreds or thousands of people receive annoying spam ostensibly from your email address. Google's GMail is one email service provider that authenticates all the mail that is really sent from your address, so that receiving email servers won't block all mail from your address. Spoofing is a form of identity theft, and it should be reported as such to your email service provider. Your email service provider may be able to implement protections for your email address.
If your email address is blacklisted by another email service or internet service provider, you may not be able to send messages to people who use that provider. For example, you might be a Comcast user, and your emails to Mom (who uses Gmail) are being returned with messages like this:
Delivery to the following recipient failed permanently: your_mother@gmail.com Technical details of permanent failure: Message rejected. See http://mail.google.com/support/bin/answer.py?answer=69585 for more information.
Usually, you can contact the administrators and explain that your address was spoofed. In many cases, they will unblock you. If you can't find an appropriate link in the bounce message or on their website, send an email to "postmaster" at that domain.
Have You Been Hacked?
In the early days of the Internet, it was common to receive emails with
urban legends
and fake virus warnings. The Goodtimes Virus hoax circulated widely in the mid-1990s, warning people not to open emails with "GOOD TIMES!" in the subject line. One user got so frustrated with this nonsense clogging up his inbox, that he wrote
a spoof on the hoax
, which I consider a classic.
If your contacts are getting spam from you, then it's possible your email account may have been hacked. The first thing to do is attempt to log in to your email account. Often, spammers will change a hacked account's password, so if you cannot get into your own account that is a good sign that you have been hacked. You will have to go through the "forgot password" re-authentication process for your email provider, to establish your ownership of the account and regain access.
If you regain control of your email account, the first thing you should do is change all of the user-authentication information. Create a new (hopefully stronger) password, and if available, change the answers to your challenge questions. Even better, turn on two-factor authentication for your account. Did you know that when two-factor authentication is turned on, a third party cannot login to your account, even if they have your password?
For help creating a secure password, or to learn about two-factor authentication, see my related articles How Hackable is Your Password? and [DIGITAL LOCKDOWN] Authenticator Apps Protect Your Accounts
If you cannot regain access to your email account, then you will have to abandon it. Create a new email account and start all over again. This is why you should make a backup copy of your contacts (and your emails) on a regular basis. Of course, in either case you will also have to explain to all of your contacts that the spam did not come from you. (And if they did buy that cheap Rolex, it's probably fake.)
It's also possible that your email account was hijacked by an evil spamming robot (malware) on your computer. Whenever you suspect that your email account has been compromised, you should run a full scan using your favorite anti-virus tool. Do you have something to add to this topic? Post your comment or question below...
 

Ask Your Computer or Internet Question



  (Enter your question in the box above.)

---

---

| | |
| --- | --- |
| | Check out other articles in this category: |

| | |
| --- | --- |
| | Link to this article from your site or blog. Just copy and paste from this box: |
This article was posted by Bob Rankin on 24 Mar 2022
---
---
---
Post your Comments, Questions or Suggestions
---
Article information: AskBobRankin -- Hey, Are You an Accidental Spammer? (Posted: 24 Mar 2022)
Source: https://askbobrankin.com/hey_are_you_an_accidental_spammer.html
Copyright © 2005 - Bob Rankin - All Rights Reserved