Your Email Inbox Overfloweth?
| | |
| --- | --- |
| Are you spending too much time managing your email inbox? If so, it's likely you're not using filters to direct the flow of incoming emails. Learn how to automatically file messages in folders, forward them to someone else, or dump them straight into the trash. Oh, and if your Spam folder is gobbling up messages that don't belong there, I'll also show you how to solve that problem... | |
Create Your Own Email Rules and Filters
If your inbox typically has hundreds (or thousands) of unread messages, you may feel anxious just thinking about what you might have missed. And your family or friends may be wondering why you haven't replied to them.
A lot of time is spent sorting, moving, forwarding and deleting email instead of reading and acting upon it. Email filters, also called rules, relieve users of some of this administrative burden. Today I'll explain how they work, and how they can work for you!
Read on for help using filters or rules to automatically direct your incoming email messages in a way that makes sense for you. The goal is to decrease the amount of time you spend managing your inbox, and increase the time you spend actually reading and replying to your emails. Below you'll find instructions for how to do that with several of the most popular email services.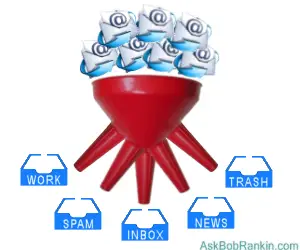 To create a filter in GMail, log in to your account and click the "Show search options" icon inside the search box at the top of the page. (See image below) A window displaying search options appears. Parts of a message that can be searched include the From, To, and Subject fields, and the message body. You can optionally select messages that have attachments, or are part of chat sessions. You can also filter based on the size or date of the message.
To find all mail from a specific contact, start typing his/her name or email address in the "From" field. Select the desired contact from those that appear. If you want to filter ALL messages from a specific domain, you can enter example.com (for example) in the From box.
When you've entered all your criteria, click the "Create filter" link in the bottom-right corner of the window. Some actions that can be applied to matching messages are obvious: Skip the Inbox (archive), delete (move to trash), and forward to another address. One action that I find very useful is "Never send to Spam." I subscribe to a few newsletters that would occasionally end up in the Spam bucket, so this ensures they always make it to my inbox.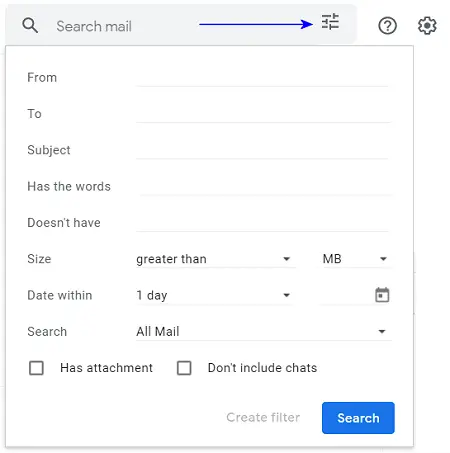 Gmail does not have user-defined folders; instead, "labels" can be created and attached to messages. You can think of them as folders, because they work in much the same way. With a filter, you can funnel all messages that match your criteria into a label. Combining the "Apply the label" option with "Skip the Inbox" is a useful trick.
IMPORTANT: If you check the box "Also apply filter to matching conversations" your new filter will be applied to existing messages, as well as new messages as they arrive. This lets you apply your filter retroactively, which can help to organize the messages you've already accumulated.
---
Outlook.com (formerly called Hotmail, and not to be confused with the Microsoft Outlook or Outlook Express desktop email programs) calls its filters "rules." To create a custom rule, start by clicking the gear icon near the top right on Outlook.com's main menu; then select "View all Outlook settings" in the dropdown window. Click the "Rules" link in the Settings dialog, then click the "+" icon to begin creating a rule.
You can filter messages based on the sender's name or email address, words in the message's subject or body, message size, whether it has attachments or not, and who the message was sent to. Matched messages can be moved to another folder, marked as junk mail, labeled with a category name, deleted immediately, flagged for followup later, or forwarded to another email address.
Outlook.com lets you create rules to automatically handle email as it comes in, but doesn't give you the option to apply your new rule to messages that have already arrived.
---
Yahoo! Mail's filtering procedure is similar to Outlook.com. Start at the main menu and select the gear icon found at the top right of the window, then "More Settings". Click the Filters link and then click "Add new filters" to create a new filter.
Areas you can search include From, To/CC, and Subject fields, and the body of messages. Operators that can be applied to the target text (search keywords) include Contains, Does Not Contain, Begins With, and Ends With. You can specify whether the filter should be case-sensitive or not. For example, if you specify "banana" as a word to look for in the Body, and you check the "Match case" box, then messages containing "banana" will match, but those with "Banana" or "BANANA" will not.
Options are somewhat limited here. You can move messages that match filter criteria to other folders (including Trash, Spam, or a filter you create), but you cannot forward a message to another email address, or apply your filter to existing messages.
---
To create filters in Apple's iCloud Mail, log in to your iCloud.com account and select the Mail app. Click the gear icon at the bottom-left corner and select "Rules" from the pop-up menu. Select "Add a Rule" to get started.
iCloud Mail's filtering options are limited compared to those in the OS X desktop Mail client. (So are Outlook.com's compared to the MS Office Outlook client.) But creating a filter is dead easy. Using drop-down menus, select a condition to be met, i.e., "If a message is from…" Second, complete the condition statement by entering text, i.e., "me@mymail.com." Third, specify the action to be taken, i.e., "Move it to…" trash, spam, some other folder, etc.
---
AOL Mail filters can divert incoming messages to specified folders or send an alert to your AIM or mobile phone (not the whole message, just an alert that you have an email from so-and-so waiting).
To create a filter in AOL Mail, start by clicking the down-arrow next to your Username in the upper-right corner of the AOL Mail screen. Click Mail Settings and then select "Filters Settings." Click "Create filter", name the new rule, then set up the condition(s) and action to be performed on messages that meet the condition(s).
---
Are you still using a desktop email client such as Microsoft Outlook or Thunderbird? If so, a bit of Googling (or the Help screens in those programs) will point you to the instructions for creating filters there. The concepts should be very similar to what I've discussed above. I've been using Gmail since 2004, and I can't imagine being tied to a single desktop for my email. Webmail services such as Gmail, Yahoo and Outlook.com allow you to manage your email from any computer (or mobile device) with an Internet connection.
It's worthwhile learning the capabilities of the filters or rules in your email client. Doing so will keep your inbox tidy and organized, and will save you time and tedium. GMail has the most flexible and powerful filtering options of all the ones I've worked with, which is one of the reasons I use it manage my inbox.
I should mention that you can avoid the need for a filter if the offending items can be squelched by simply unsubscribing. Look for the "Unsubscribe" or "Manage subscription" link that's usually buried at the bottom of the email message. Sometimes it's in a tiny font, or masked with a color that makes it hard to find.
Here's one final tip: If your email doesn't have the type of filtering you want, create a free GMail account and forward all your messages to that address, where they can be filtered according to your needs. You can even configure Gmail to send outgoing messages with your old address in the "From" line, so your friends will never know the difference.
Do you use email filters or rules to tame your inbox? If so, how? Your thoughts on this topic are welcome. Post your comment or question below...
 

Ask Your Computer or Internet Question



  (Enter your question in the box above.)

---

---

| | |
| --- | --- |
| | Check out other articles in this category: |

| | |
| --- | --- |
| | Link to this article from your site or blog. Just copy and paste from this box: |
This article was posted by Bob Rankin on 12 Apr 2022
---
---
---
Post your Comments, Questions or Suggestions
---
Article information: AskBobRankin -- Your Email Inbox Overfloweth? (Posted: 12 Apr 2022)
Source: https://askbobrankin.com/your_email_inbox_overfloweth.html
Copyright © 2005 - Bob Rankin - All Rights Reserved