Here's How to Send a Mass Email (and how NOT to...)
| | |
| --- | --- |
| An AskBob reader says: 'I need to send email updates to a large group of people on a regular basis. But I've heard that if you do it wrong, you'll get tagged as a spammer, and your emails may not be delivered. What software or services do you recommend for sending emails to a list of people?' Read on for some good options, and a few you definitely want to avoid... | |
Sending Emails to a List of Addresses
The reason this person wants to send a mass, group, or bulk email was not mentioned to me. But there are many legitimate reasons why you might want to send emails to a list of addresses. It could be as simple as keeping in touch with a group of friends or family. Perhaps you want to send out a group, club, or church newsletter. Maybe you're sending invitations to a party or event. Or you run an online business, and want to send a message to your customer list.
Hopefully, you're not thinking about sending 50,000 emails to a list of names you purchased on Craigslist for $49 from a guy named Cousin Vinnie. I happen to know Vinnie, and even though he knows a guy who lives near the police department in a major city, he is not to be trusted.
You're right to be concerned about the spam issue. Even if your intentions are the best, and your message is benign, sending the same email to a large group of people is one of the "triggers" that anti-spam filters look for, and it can result in your outgoing emails ending up in a black hole, instead of reaching the intended recipients. And it might even violate your Internet Service Provider's terms of service. You don't want to lose your account due to an honest mistake. Let's take a look at several options for mass emailing that will maximize delivery success, and minimize the chances of getting you on the Most Wanted Spammers blacklist.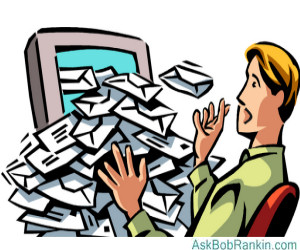 Using Your Email Program to Mail to a List
If your intentions are to simply communicate with a group of a dozen or so people, I recommend using your email program's built-in list or group feature. Every mailer is different, but in general, you'll go into your Contacts or Address Book, tag each of the intended recipients, and save it a list. You can then compose a new email and easily send to the list, instead of tediously entering each address every time you need to email your list.
Normally I love Gmail for its simplicity, but this task is surprisingly convoluted in Gmail. To create a list, you need to open your Contacts tab. To do that, you need to click on the "dashboard apps" icon, which looks like nine little squares, and is located near the top right of your Gmail window. (See illustration below.) Select the "Contacts" icon and a new Google Contacts tab will open. (If you don't see the Contacts icon, click More.)
Click "Create label" (located in the left-hand navigation list), enter the list name, and click Save.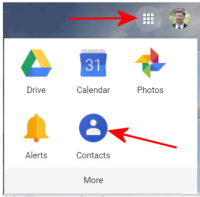 You've created your list. Now click the icon or checkbox next to the people you want in your group. After making your selections, click the icon that looks like a rectangle pointing to the right. (I told you this was obtuse.) Click the name of the list you just created, then click Apply, and your selected contacts will be added to the list. You can now close the Contacts tab and return to the Gmail tab in your browser. To email the list at any time, click the Gmail Compose button, type the list name in the "To" box, and press enter.
If you use another webmail service, such as Yahoo Mail, Outlook.com, or a desktop mailer such as Windows Mail or Thunderbird, there will be a similar capability to create a group or list of contacts, and send to that list. Keep in mind you can use the BCC (blind carbon copy) option to send to a group without revealing everyone's address to all recipients. If you're sending to a dozen or so recipients, this approach should be fine. Some people split their mailings into groups to avoid getting flagged as spam, but management of the list, including removing bad or non-deliverable addresses, can become cumbersome.
If your list is larger, or business-related, there are better options.
Online Alternatives for Group Emails
Google Groups is a free service designed specifically to help groups of people communicate. You can create a group for your club, organization, friends, Romans, or countrymen. After inviting people to join the group, you can send messages to the group by email, and they'll be distributed to all the members. Google maintains an archive of all messages, which can be viewed on the Web.
Facebook is another option for informal groups to communicate. Facebook Groups lets you have open groups, or secret groups, so only members will be able to see the group and its postings. Members can view group messages within Facebook, and there is an option to get an email notification every time there is a new posting.
Groups.io bills itself as "Email Groups, Supercharged" and promises no ads or tracking. The interface is designed to be simple, but powerful and private. In fact, their website advises you to "drop Google and Facebook groups and use this instead". Groups.io allows for topics within the group, and lets members control which messages they want to see. You can receive every message, mute individual topics, or receive only the first message in a topic, with the option to follow the topic later. You can customize the welcome message, and assign moderators to a group. Free accounts allow for up to 100 members. Premium accounts ($20/month) can have up to 500 members, and include a group calendar, chat, polls, and sections for a database, photos, and files.
What About "Bulk Email" Software?
If you're planning to email a large group of people, you may be tempted to buy software that promises to help you build, manage and broadcast to email lists. I strongly recommend against using these "bulk mailer" programs. Typically, these programs will offer a feature to extract or "harvest" email addresses from websites, and claim to help you avoid blacklists.
Sending high-volume email from a typical home Internet connection (especially if you do not have the permission of the recipients) is a bad idea for several reasons. First, your emails will have very poor deliverability. Spam filters on the receiving mail servers are very good at sensing patterns used by spammers and bulk email programs. If your messages are not silently deleted, they will be bounced back to your inbox as undeliverable. Second, your ISP may cancel or freeze your account. If your abuse of your ISP's mail server causes it to be added to a blacklist, then it could affect the ability of ALL of their customers to send email.
Bulk email software is so 1995. Read on for some better alternatives...
Email Marketing for CLubs, Groups and Businesses
If your bulk emailing is on behalf of a business or organization, my recommendation is to use a web-based email marketing service. Mailchimp's free version is popular with non-profits and small businesses because it lets you send up to 12,000 emails per month, with up to 2000 subscribers. So, for example, you could send to a list of 400 people every day of the month; a list of 1000 people twelve times a month, etc. You don't even need a credit card to sign up.
If you need to send larger volumes, check into Aweber or Constant Contact for more robust email marketing services. MailChimp, Aweber, Constant Contact and similar services all have certain benefits that are important for people who email to large groups on a regular basis. Management of your list, professionally designed email templates, handling of bounced emails, and the ability to customize messages for each recipient are lacking in the do-it-yourself approach. They also have relationships with the major ISPs, to help ensure high delivery rates. In return, they help to minimize unwanted email by requiring that senders have permission, and recipients can easily remove themselves from a mailing list.
In all cases, getting permission is key. If you're sending to people with whom you have no existing personal or business relationship, you're likely to raise red flags and possibly lose your account. Here's a list of best practices for communicating effectively via email to large groups:
DON'T: Add people to your list without their permission. Even if you have one of those sneaky pre-checked "add me to your list" opt-in boxes, visitors won't remember "opting in" and will consider your marketing messages spam.
DO: Instead, use "confirmed opt-in" which requires the new subscriber to respond to a confirmation email before they are actually added to your list.
DO: Provide a link to an easy opt-out or unsubscribe form in your email marketing messages. It's required by federal anti-spam law. Test the unsubscribe process occasionally; it's surprising how many don't work and no one ever gets around to fixing the problem.
DON'T: Include attachments or use scripting such as Javascript, in email marketing messages. Many spam filters will block such messages.
DO: Ask subscribers to add your newsletter address to their address book or "safe senders list." This helps to ensure that your messages won't be routed to the junk mail folder.
DO: Remove invalid email addresses from your mailing list as soon as your become aware of them. A large number of bounced messages can get you blacklisted.
Do you have something to say about sending bulk or mass emails? Post your comment or question below...
 

Ask Your Computer or Internet Question



  (Enter your question in the box above.)

---

---

| | |
| --- | --- |
| | Check out other articles in this category: |

| | |
| --- | --- |
| | Link to this article from your site or blog. Just copy and paste from this box: |
This article was posted by Bob Rankin on 17 Feb 2021
---
---
---
Post your Comments, Questions or Suggestions
---
Article information: AskBobRankin -- Here's How to Send a Mass Email (and how NOT to...) (Posted: 17 Feb 2021)
Source: https://askbobrankin.com/heres_how_to_send_a_mass_email_and_how_not_to.html
Copyright © 2005 - Bob Rankin - All Rights Reserved