[UPDATE] Free Cloud Storage Services
| | |
| --- | --- |
| When I first wrote about "free cloud storage services" way back in January, 2014, there were a lot from which to choose. But as the industry has consolidated and people have become more dependent upon cloud storage, the number of cloud storage providers offering free space has shrunk. Read on to learn who still offers free cloud storage for your files... | |
Cloud Storage De-Clouded
Cloud storage is simply another name for online file storage. Keeping backups or working copies of important files in the cloud, instead of your hard drive, can give you peace of mind, as well as more convenient access to your files when you need them. As long as you have a computer or a mobile device with internet access, you can access, edit, and share your files using cloud services. And if it's free, that's even better!
Three of the most popular cloud storage providers are Microsoft OneDrive, Google Drive, and Dropbox. They're all excellent, secure cloud services, they all offer some amount of free online storage, and they all provide convenient access to your files.
Microsoft OneDrive offers 5 GB of free storage. Google Drive provides a generous 15 GB, plus unlimited photo image storage if you let Google compress and enhance your photos. Dropbox is very stingy with only 2 GB of free storage before you have to pay either cash or contact; the company will give you a total of 16 GB free if you refer friends and family, complete your account setup, or follow Dropbox on Twitter.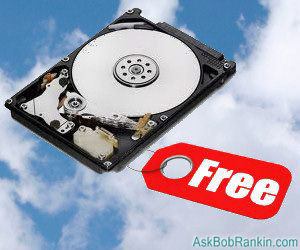 These days, most cloud storage services go for significant chunks of change after the free bytes are used up, and offer limited amounts of storage in exchange. Dropbox, for instance, won't bother to sell you 100 GB of space for, say, $3.50 per month; no, the first step into subscriberland is $8.50 a month - $102 per year - for one whole terabyte of space (1000 gigabytes). The final step up is $16.50/month - for the same 1 TB with "Professional" features that most consumers don't need.
Google has a 100 GB deal for only $1.99 per month; the next plunge is $10/month for one terabyte, and if you want to go all-in on 10 TB it's $100/month. Google keeps things simple.
Microsoft has made a fortune by making simple things complicated, and the company follows that formula in its OneDrive pricing. You can get an additional 5 TB for $100/year, but it's 1 TB for each of 5 different users. (What?!?) Plus, you get Office 365, the cloud-based version of Microsoft's flagship office product - but it's the "Home" version that lacks many advanced features of desktop Office. Just to confuse, confound, and harass you some more, you can try this bundle for free during the first month, or pay $10 on a month-to-month basis. Be very mindful of when your 30-day free trial ends or the credit card you provide in order try it "for free" will automatically be charged $99.99 if you haven't canceled by the deadline. This mind-bending morass is what Microsoft calls "consumer choice."
Lesser-Known Cloud Storage Services
IS CLOUD STORAGE SECURE? To those who say "I would NEVER put my files out there on some cloud server... they're much safer on my hard drive," I say the following: Does your home have gated perimeter access, 24x7 on-site security guards, and security cameras? Do you have a fire detection and suppression system, backup power generators, and a disaster recovery plan in the event of hurricane, flood or earthquake? Do you have sophisticated network monitoring and intrusion detection software? You can bet your cloud storage provider has all that and more in place to safeguard your data.
Beyond the big three lie many cloud storage services that you've probably never heard of. Some are downright sketchy, suspected of being havens for criminals, copyright infringers, and other ne'er-do-wells. Here are some examples so you can see what the second tier of cloud storage services is like.
Mega - or, as they like to type it, MEGA, offers end-to-end encryption of your sensitive data. MEGA was started in 2013 by the infamous cybercriminal Kim Dotcom, but he severed ties with the service in 2015. Upon arrival, MEGA presents you with two options: "Try without account" or "Create an account". The first option lets you upload files to a "temporary account" which vanishes when you close the browser tab being used. Not sure how that's useful, unless you want to use it as a means of transferring files to another user.
If you create an account, MEGA offers 15 GB of free storage, and a decent web interface to your online files. But there are some downsides (in addition to the fact that you may be storing files along with unsavory characters). MEGA tends to be slow, and your account will be deleted if you don't login at least once every three months. There's also no way to recover your account if your forget your password.
---
Box - not to be confused with Dropbox - is a cloud storage service for geeks. It takes a good deal of geekhood to even understand the sentence that greets new visitors: "Execute your GDPR Data Processing Addendum now!" What is that word salad? I don't know. Box has evolved from an early Internet pioneer into a sophisticated collaboration and cloud services company catering to businesses on the cutting edge of the digital office revolution.
Box's long track record means it's incorporated into many apps and accepted as a partner by many online services. Box is a storage option on Google Docs and Office 365, for instance. Box's Business plans feature advanced security, starting at just $5 per month per user for 100 GB of space, which sounds pretty good. Minimum of three users and a max of 10 sounds like Box is really wooing small companies. But then you learn that this bundle includes a "2 GB file upload" maximum, meaning no one file you upload can be larger than 2 GB. Why? To inconvenience you just enough that you take the plunge into the next higher price tier but no so much that you say, "Forget it" and leave the site forever.
The next higher price point is "unlimited" space (there are always "some restrictions" that apply to any "unlimited" offer), a 5 GB upload max, no maximum number of users, plus "advanced security," which can only be end-to-end encryption using 256-bit AES, encryption that would take the all-powerful NSA 200 years to crack by brute force. All of that and more for $15/month per user, minimum of 3 users. Box has an Enterprise plan that includes things of no interest to the small fry, such as "HIPAA/HITECH-eligible, FedRAMP regulatory compliance."
---
MediaFire starts you off with 10 GB of free storage space, enough for many users' backup needs. (There is a limit of 4GB per file.) Additional storage can be purchased, up to a maximum of 1 Terabyte per user. MediaFire also enables collaborative document sharing, image galleries, support for mobile devices, bulk downloads, and direct links to files that can be enclosed in emails. Note that MediaFire does not sync your files like DropBox and some other services that automatically keep files updated in multiple locations as they change.
---
NextCloud is an earthbound pony trying to masquerade as a cloud-galloping unicorn, because "cloud service" sounds sexier than "network-attached storage (NAS)." You can download free software that turns an external hard drive of any capacity into a "cloud server" that resides under your desk, right on top of the tower of your desktop PC, and is shared with other users on your home network. Seriously. Or for just $79, NextCloud will send you a preconfigured external hard drive that you can call your own "cloud server." I couldn't make this up if I tried!
---
SpiderOak is part of a "new" trend; no, not company names that seem to have been pulled out of a spilled game of Scrabble. SpiderOak is talking about "zero knowledge cloud services," companies that handle your data without having a clue what it is, or the ability to decrypt it even if presented with a valid search warrant.
Apple made "zero knowledge" a popular thing after the 2015 San Bernardino mass murders (Wkipedia: https://goo.gl/XrP04R) when it told the FBI that there was no way for Apple to crack the encryption on one of its own, obsolete iPhones or the iCloud cloud storage space associated with it. Apple was wildly applauded for simply telling the truth about its own product, and soon "zero knowledge" is what numerous cloud services promised. But SpiderOak will not release its software's source code to the security research community, so no one knows if it really does what it says it does. "NEXT, PLEASE!"
---
Finally, Flickr offers photography fans one TERABYTE (1000 GB) of free storage -- enough space for about 500,000 photos. The service is available for Windows, Mac, Linux, Android and iOS devices.
Online Backup Options
Services like Mozy and Carbonite are specifically designed as online backup providers. The difference between online file storage and online backup is subtle. The former is for people who want to store files online, with convenient access, editing and sharing. The latter is designed to safely stash a copy of your stuff, with the option to restore it to your hard drive when needed.
Carbonite offers a limited free trial, but Mozy will give you 2 GB of online backup space for free. You can also "earn" an additional 1 GB of space with Mozy for every four people you refer. Your backup storage won't expire, and there's no credit card required to sign up. On February 13, 2018, Carbonite announced its intent to acquire Mozy for $148.9 million in cash. It's not known yet if Carbonite will fold Mozy into it's offering, or if the free accounts will still be available in the future.
---
When all is said and done, Google Drive still seems to be the best option for the average consumer. You get a generous allotment of free online storage, capable online word processing and spreadsheet tools, and no annoying or confusing upsells.
In the near future, I will be taking an in-depth look at Microsoft OneDrive to see what it can offer to home users. Stay tuned, and while you are waiting please comment below.
 

Ask Your Computer or Internet Question



  (Enter your question in the box above.)

---

---

| | |
| --- | --- |
| | Check out other articles in this category: |

| | |
| --- | --- |
| | Link to this article from your site or blog. Just copy and paste from this box: |
This article was posted by Bob Rankin on 7 Mar 2018
---
---
---
There's more reader feedback... See all 28 comments for this article.
Post your Comments, Questions or Suggestions
---
Article information: AskBobRankin -- [UPDATE] Free Cloud Storage Services (Posted: 7 Mar 2018)
Source: https://askbobrankin.com/update_free_cloud_storage_services.html
Copyright © 2005 - Bob Rankin - All Rights Reserved