HOWTO: Upgrade Memory to Boost Performance
| | |
| --- | --- |
| Ask any geek how to speed up your computer and you will probably get the question, 'How much RAM do you have?' Adding more RAM memory is supposedly the panacea for sluggish performance, slow screen refreshes, thrashing hard drives, and most other symptoms of a struggling, overloaded computer. Here's what you need to know... | |
Should I Upgrade My Computer's Memory?
Adding RAM is certainly one of the fastest and easiest upgrades you can make. It will usually give a performance boost to a system that has a less than optimal amount of RAM memory installed, but it doesn't cure every problem and it's not the cheapest solution to many problems. Before adding more RAM, clean up and tune up your hard drive; that costs nothing with free versions of utilities like PrivaZer, Advanced System Care, and CCleanup.
See my related articles Clean and Sanitize Your PC With PrivaZer and "Do Those 'Speed Up Your PC' Programs Really Work? for details on those programs and where to find the download links.
Oh, and let's make sure we're asking the right question... Don't make the common mistake of confusing "computer memory" (RAM) with "hard drive space." RAM memory refers to the working memory that your computer uses to run programs and manipulate files. When you turn off the computer, everything in RAM is gone. Only the files that are saved on your hard drive remain permanently stored. And RAM memory is what this article is concerned with. (If you're running out of room on your hard drive, see my article What's Hiding On Your Hard Drive? for some tips on how to free up storage space.)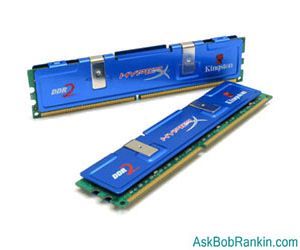 If you still want to add more RAM, start by figuring out how much you have now. In Windows, there is a System Information utility that will display the amount of RAM installed. On Windows XP, go to My Computer, then click "View System Information." On Vista, Windows 7 or Windows 8, go to Control Panel, then System and Security, then System. Look on this window to see how much "installed memory" is available.
Next, you need to know what kind of RAM it is; that is, what bus and pin standard does it fit. You need this information because the RAM slots on your computer's motherboard will take only one kind of RAM. The type of RAM on a RAM stick is printed in tiny letters somewhere on the green part of the stick. But if you do not know what you are looking for it can be easy to miss. A good alternative is to read the user manual for your computer; somewhere in it the type of RAM will be mentioned. The manual will also tell you the maximum amount of RAM your machine can accept.
Memory manufacturers try to help with online "RAM configurators" or a "computer memory finder" on their website, that take your computer's make and model, look up what kind of RAM it needs, and display various combinations of RAM stick capacities to help you buy exactly as much RAM as you need. Kingston Technology and Crucial are two places to go for a PC memory finder.
In general, 4 GB of RAM is ideal for light to medium home or small office use: Web browsing, word processing, light spreadsheet work, etc. As much as 8 to 16 GB is recommended if you do video editing, CAD, large databases, graphic layout, desktop publishing, or other applications that manipulate large amounts of data. Scientists and intense gamers are about the only people who may need to go above 16 GB.
Note that Windows XP and 32-bit versions of Vista, Windows 7 and WIndows 8 can use a maximum of 4GB of memory. The System window mentioned above will also show if you have a 32 or 64-bit operating system.
Depending on the exact type you need, you can find 2GB of RAM for $30 or less. At that price, I recommend that you install a minimum of 4GB. By maximizing your system RAM, your computer will be swapping less data between RAM and disk. That means your computer will run faster and your hard drive will last longer.
Used RAM is commonly available on eBay or Craigslist and much cheaper than new. Unless the RAM has been physically damaged, it should be just as reliable as brand-new RAM. The used RAM market is a good place to look for RAM for an older computer. Just be sure you've correctly identifed the type of RAM your computer needs before ordering.
A Few More Memory Tips
Adding or replacing RAM isn't really rocket science. On a desktop PC, the RAM sticks click into place quite easily on the motherboard. On a laptop, it's usually just a matter of opening an access panel on the underside of the machine. But if popping the hood on your computer seems intimidating, there's another option. A feature called ReadyBoost uses a USB flash drive to simulate RAM memory, so it doesn't require opening the case, and can provide a significant boost on some systems. See What is ReadyBoost? for more info on that. http://askbobrankin.com/vista_readyboost.html
You may also see ads for so-called "memory optimizers" that claim to do a better job of managing your RAM memory than the Windows operating system. I advise people to avoid these, because they're mostly useless and may actually decrease your performance.
Occasionally, a reader will ask about how to test the RAM memory that's newly purchased, or already installed in a computer. This isn't a bad idea, especially if you're getting occasional glitches such as lockups or unexpected system restarts. In my article How to Test and Fix Your Computer Hardware, you'll find information about a program called MEMTEST86+ that can do the job.
Do you have something to say about finding, buying or installing RAM memory? Post your comment or question below...
 

Ask Your Computer or Internet Question



  (Enter your question in the box above.)

---

---

| | |
| --- | --- |
| | Check out other articles in this category: |

| | |
| --- | --- |
| | Link to this article from your site or blog. Just copy and paste from this box: |
This article was posted by Bob Rankin on 9 Dec 2013
---
---
---
Post your Comments, Questions or Suggestions
---
Article information: AskBobRankin -- HOWTO: Upgrade Memory to Boost Performance (Posted: 9 Dec 2013)
Source: https://askbobrankin.com/howto_upgrade_memory_to_boost_performance.html
Copyright © 2005 - Bob Rankin - All Rights Reserved